It's essential to a well-proportioned physique to work all muscle groups. If you stick to just one or two exercises, you're leaving out a large portion of your muscles that will remain weak and undefined. By limiting yourself to squats and deadlifts only, you'll develop just the muscles you use for those exercises and won't have the support you need from unworked muscle groups to reduce the risk of injury when working out.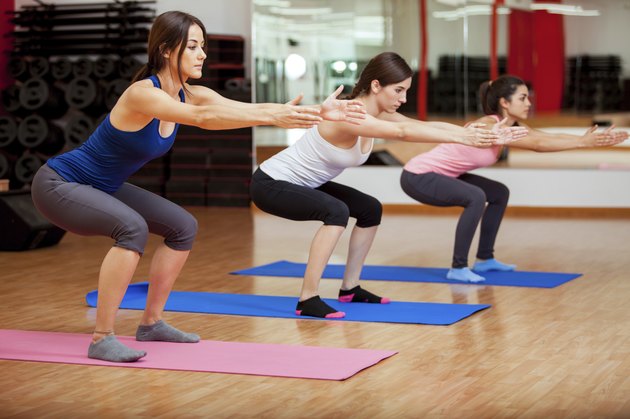 Squats Work the Lower Body
One of the top exercises, squats nonetheless focus on the lower body, engaging your glutes and all of the muscles in your legs. But if all you do are squats, your lower body will be disproportionately more developed and stronger than your upper body.
Deadlifts Work the Back Muscles
When you deadlift, you have to have a certain amount of grip strength to maintain your hold on the bar. Your legs will do a small amount of the work, but for the most part, deadlifts work to strengthen your back. This will have little effect on how your upper body looks as deadlifts don't work on your lats, so your back won't appear wider. Deadlifts do, however, help improve your posture, so although your upper body will be smaller than your lower body, at least you'll stand tall.
Injuries from Squats
Barbell squats are inherently hard on your back -- upper and lower -- and knees. With the loaded bar sitting across your shoulders, a lot of strain is being placed on your back, spine and knees as you bend them to squat down, then straighten them to push the weight up. If you haven't strengthened the muscles that support and surround these two areas, you'll experience first pain and eventually injury from a strained lower back or tendons in the knees.
Injuries from Deadlifts
Barbell deadlifts put pressure on your shoulders and your knees as well as your lower back. As you crouch to grasp the bar bearing the weight, your knees bend under no pressure at all, but as you stand to pull the weight upward, your knees have to give added support to your body. The weight you're grasping is essentially hanging from your shoulders, putting strain on your shoulder joints. And as you pull that weight upward, all of the strain settles on your lower back.