Cleansing can help you to get a flatter stomach. However, it will not be easy, and cleansing alone will probably not lead to your long-term weight-loss goals. A good cleanse can get your body back to burning fat optimally, in order to jump-start your flat stomach diet. Combine a cleanse with fasting, physical exercise and a sensible eating plan, and you will be looking down at a flat stomach in no time.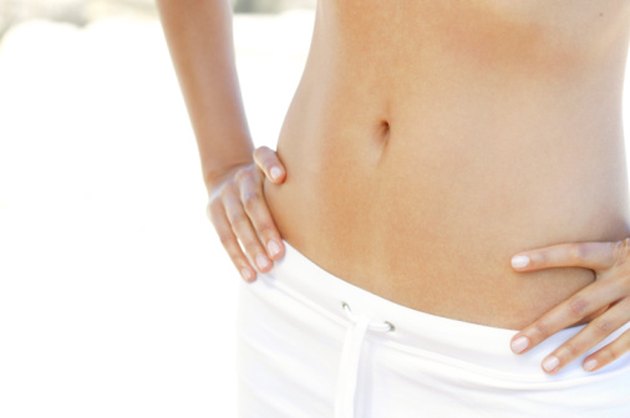 Step 1
Purchase a cleanse product that fits into your lifestyle. Many such products are available at your local health retailer. Cleansing products are kits that typically contain herbs for detoxifying the body as well as fibers to help eliminate them. Cleansing programs generally last from 7 to 30 days. Be sure to pick something gentle and stay close to a restroom while you are cleansing.
Step 2
Go on a 1- to 3-day fast. According to "The Miracle of Fasting," fasting allows the body to cleanse itself from the inside out. You do not have to starve yourself to obtain many of the benefits of fasting. Fruits, vegetables and nuts put very little stress on the digestive system, allowing the body to properly cleanse, according to Paul C. Bragg. If you do choose to fast, drink an apple cider vinegar drink three to five times per day to fight hunger and detoxify. Mix 2 tbs of Bragg apple cider vinegar, 1 tbs natural honey and 8 oz. of distilled water.
Step 3
Eat five or six smaller meals per day. According to "The Abs Diet," this diet strategy elevates your metabolic rate so that you burn more fat and store less of it. Include lean sources of protein, low-glycemic carbohydrates and fruits and vegetables, as well as healthy fats, in every meal. These nutrient-dense foods not only cleanse our bodies, but also make us feel like we are eating more, with fewer calories than unhealthy alternatives.
Step 4
Do cardiovascular exercise on an empty stomach first thing in the morning. Sweating is one of our body's methods of eliminating toxins. Besides being excellent for heart health, cardio training burns calories to help tighten that mid-section. Try 30 to 60 minutes of low-intensity cardio per day. Low-intensity burns more body fat, according to the "Muscle Nerd" Jeff Anderson. Remember that cardio is cumulative, so feel free to spread your exercise out over several smaller sessions throughout the day.
Step 5
Perform a resistance training workout every 48 hours. According to "The Abs Diet," resistance training targets abdominal fat and causes the body to burn fat for up to 48 hours after each workout. Repairing the muscle damage from even moderate resistance training requires a lot of extra calories. Three days a week should suffice for most individuals, but feel free to increase to 5 or 6 days according to your own personal fitness goals. Our muscles are constantly burning calories, even at rest, so it makes sense to build muscle as part of a stomach-flattening and cleansing diet.
Things You'll Need
Cleanse product

Apple cider vinegar

Natural honey

Distilled water