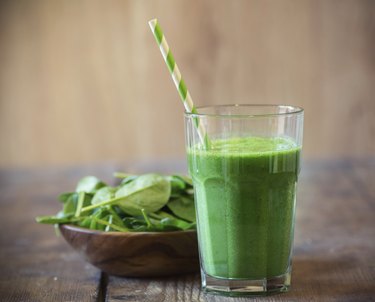 The green vegetable diet is a popular source for many vegans and vegetarians who enjoy pairing fresh and frozen greens with other healthy natural foods, such as avocado and heart-healthy oils, to reap the antioxidant benefits. A vast array of green vegetables exists in every food store, and they are all healthy and nutritious. Chlorophyll and iron-rich green vegetables can create the base for any meal, as they are incredibly versatile. Some popular greens are cucumbers, zucchini, kale, collards, Swill chard, rainbow chard, asparagus, romaine and red leaf lettuce, green beans and broccoli.
Step 1
Start your day with a green vegetable smoothie consisting of spinach, kale, avocado, cucumbers, parsley and zucchini.
Step 2
Create lunchtime salads packed with green vegetables, such as sugar snap peas, green peppers, sprouts, romaine and cilantro; toss with sliced avocado, balsamic vinegar and olive oil.
Step 3
Replace starchy side dishes, such as mashed white potatoes, with sautéed spinach and broccoli rabe with olive oil and herbs.
Step 4
Saute green vegetables, such as seaweed, with sesame oil and fresh herbs, such as cilantro and basil, to create a unique taste that will recreate your vision of green vegetables forever. Create an easy dinner for the family with vegetable-based soups, such as escarole or miso with seaweed. Stir-fry green beans, asparagus, collards and snow peas tossed with fresh herbs and green salsa.
Tip
Choose a wide variety of green vegetables with different textures and flavors to ensure your vegetable-packed meals are tasty and don't become mundane.
Purchase easy-to-eat green vegetables for snack time. You'll be surprised how long they keep you full when paired with a healthy fat, such as guacamole. Raw green veggies chopped and served as crudités make a wonderful snack anytime of the day.
Ensure that your diet is well-balanced with whole grains, lean protein sources, fruits and vegetables, and healthy unsaturated fats.
Warning
Before starting a new diet, check with your doctor.