If you weigh more than your recommended weight range, weight loss can improve your overall health. Even a modest weight loss is likely to improve blood cholesterol, blood pressure and blood sugars, according to the Centers for Disease Control and Prevention. It's recommended that you lose weight gradually, at a rate of around 1 to 2 pounds per week, to keep the weight off. During your weight loss journey, you might be wondering just what you'll look and feel like after you lose the weight. It can be hard to imagine yourself slimmer and healthier, but there are some tools that can help you do so.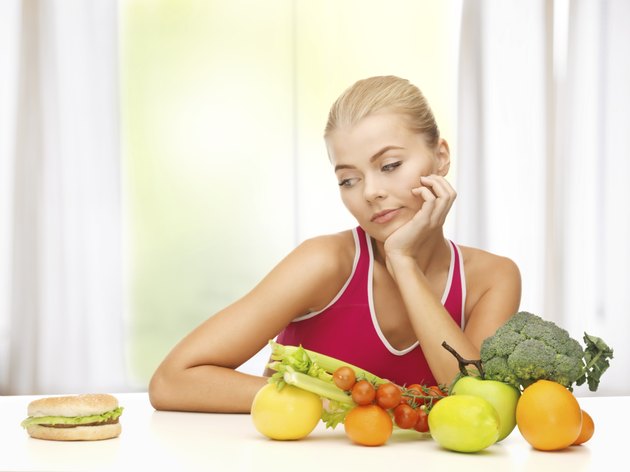 Online
Step 1
Use one of the online virtual weight loss programs, at sites such as ModiFace, Thinner View and New Lifestyle Diet, to see what you'll look like at a lower weight.
Step 2
Upload a photo of yourself or enter information, such as sex, current weight and your goal weight.
Step 3
Look at your own photo or the virtual model's photo to get an idea of what you will look like when you reach your weight loss goal.
App
Step 1
Download an app for your smartphone that helps you to visualize what your body will look like after losing weight, such as the Virtual Weight Loss Model.
Step 2
Customize the onscreen model to look more like you. Select your weight, height and goal weight.
Step 3
Adjust the goal weight to see what you'll look like during each stage of weight loss, such as after each 5-pound loss, and what you'll look like at the end of your journey.
Visualization
Step 1
Use visualization to see what you'll look like when you hit your goal weight.
Step 2
Close your eyes, relax and clear your mind. Fill the mind with positive images of yourself losing the excess weight and getting healthier.
Step 3
Envision how great you're going to look and how well you'll feel when you reach your goal.
Tip
Share your weight loss journey with close friends and family, so they can encourage you along the way.
Warning
Check with your doctor before starting any type of weight loss program.