Exercise can keep your body and your hair healthy--if you're not doing too much of it. Exercising heavily without addressing nutrition needs or exercising too much can lead to problems that cause hair loss. Other factors that can lead to hair loss include using steroids to boost physical performance and a lack of proper hair care, such as leaving chlorinated water on hair after swimming or allowing sweat to build up on the scalp for too many days.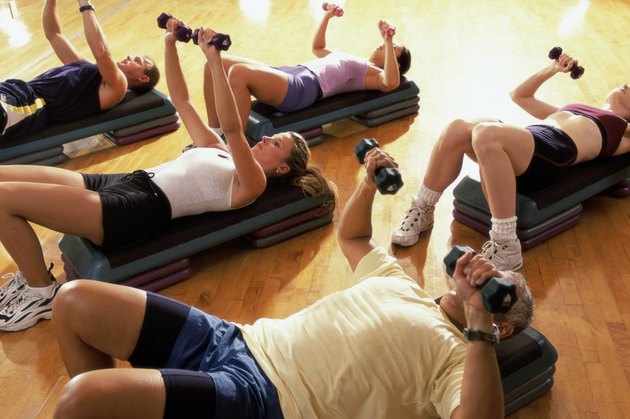 Prevention/Solution
Regular exercise can prevent some forms of hair loss because it boosts general health as well as circulation. "The condition of your hair is often a reflection of the overall health of your body," says Jerrold D. Bass, a Fort Lauderdale, Florida-based master haircutter. Bass advises exercising, eating well, getting enough sleep, drinking lots of water and reducing stress to promote scalp health. Exercise also is a key component of improving health in people who have peripheral artery disease, which can cause hair loss on the legs.
Warning
Excessive exercise over a long period of time puts the body into a state of chronic stress, advises Ann Louise Gittleman, nationally known nutritionist and author of the "The Fat Flush Fitness Plan." Chronic stress is one of the top two causes of telogen effluvium (TE), a condition in which hair follicles go into a resting phase prematurely and shed hair rather than continuing to grow it, the American Hair Loss Association explains. Poor nutrition is the other top cause of TE, which shows up as thinning hair all over the scalp. This shedding might not be even, with some areas of the scalp losing more hair than others.
Anemia
Female athletes are at higher risk for iron-deficiency anemia, the U.S. Department of Health and Human Services advises. One consequence of iron deficiency can be hair loss, the University of Maryland says. Termed alopecia, this type of hair loss can happen in circular areas or all over the head. There may be a receding hair line or inflammation, and a person may lose eyebrows, eyelashes or pubic hair.
Steroids
Athletes and others who use anabolic steroids to boost the intensity or effectiveness of their workouts can lose hair. These steroids are similar to testosterone, a main contributor to hair loss. In some extremely rare cases, excessive exercise without steroids can raise testosterone levels and lead to hair loss, advises Teen Health FX, a service of New Jersey's Morristown Memorial and Overlook hospitals.
Sweat Buildup
Salty buildup on the scalp can cause hair to shed or just break and get dull and dry. You can prevent sweat damage to hair, however, by controlling salt buildup and moisture, according to the Harvard School of Public Health. Control this buildup by washing hair with a shampoo that is mild and pH-balanced at least once a week. Condition weekly with a moisturizing protein conditioner as well. Also limit your use of hot tools such as curling irons and blow driers that damage hair.
Chlorine
Swimming in chlorinated pools can cause hair to dry out and break off. That's because pools need to keep high levels of chemicals such as chlorine in them for public health. One of the best ways to protect hair is to wet it with non-chlorinated water so it absorbs the regular water prior to entering the pool, the Hair Loss Expert advises. If you can, rinse with non-chlorinated water every 30 minutes. Wearing a swim cap and washing and conditioning your hair after swimming will help, too, the Harvard School of Public Health says.