The spleen is a soft organ on the left side of the abdomen that helps to filter used red blood cells out of the body. Although humans can survive without a spleen, our ability to fight off certain infections may be impaired without it. The spleen is easily injured by accidents or blows to the abdomen and can become enlarged as a result of underlying illness. Symptoms involving the spleen can become serious, so contact your doctor if you note any of the signs described below.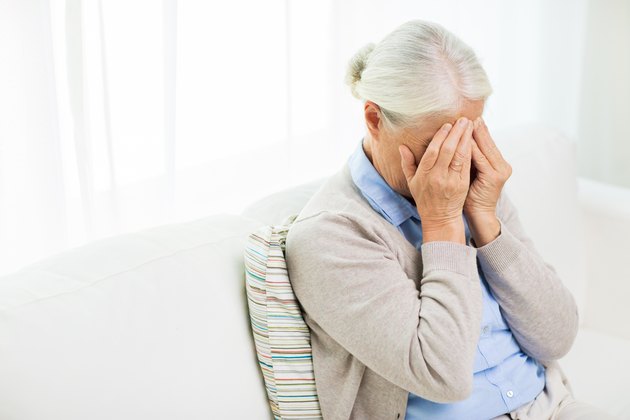 General Symptoms
Injury and inflammation of the spleen can cause a number of common symptoms. General symptoms associated with injury to the spleen include pain in the left side of the abdomen that spreads to the left shoulder, fatigue, lightheadedness and a weak pulse. Those with an enlarged spleen may also have pain in the left abdomen and shoulder, and they may feel full after eating only a very small amount of food if the swollen spleen starts to press on the stomach, according to the Mayo Clinic. Back pain in the area of the spleen can also develop.
Many people with an enlarged spleen, however, experience no symptoms at all and may not know their spleen is enlarged unless it is big enough to be felt manually during a physical examination or additional blood tests are run.
Anemia and Infection
According to the Mayo Clinic, an enlarged or swollen spleen can adversely affect the number of healthy red blood cells, white blood cells and platelets in your bloodstream. An abnormally low red blood cell count reduces the amount of oxygen that reaches your vital organs and can lead to anemia, a condition that may cause severe fatigue, dizziness, headaches, shortness of breath during exertion and more serious effects on the heart. Reductions in white blood cells can lead to increased likelihood of infection, and an abnormally low platelet count can interfere with the blood's ability to clot, leading to increased bleeding.
Serious Symptoms
If your spleen is enlarged, it may be more easily ruptured, according to the Mayo Clinic. Injury can also cause the spleen to become perforated. According to the Merck Manuals Online Medical Library, injury that causes a hematoma or bruise on the spleen may lead to a rupture in a few days--or not for weeks or months.
After rupture occurs, the spleen may begin bleeding into the abdominal cavity. Bleeding may cause pain in the upper left side of the abdomen and sometimes in the left shoulder. If bleeding is heavy, blood pressure may drop, causing dizziness, confusion, blurred vision and loss of consciousness or fainting. If you experience any of these symptoms, seek emergency medical care.