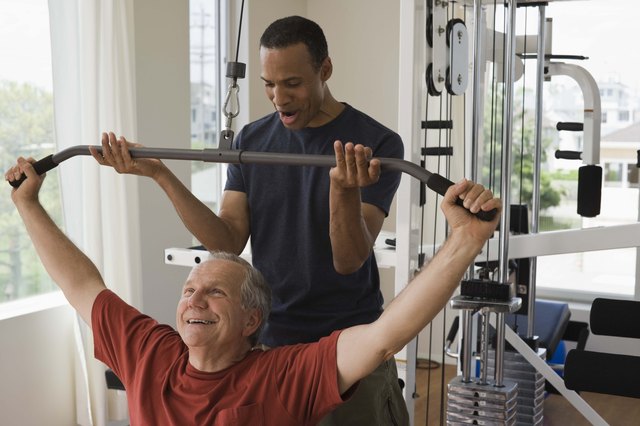 Even when you hit the 50-year mark, you can build and maintain lean muscle mass. To build muscle, you need to create an appropriate workout plan suitable for your age. It needs to include strength-training exercises for muscle gains, as well as an adequate amount of cardio to keep your body fat percentage low so you can show off that muscle. Don't forget to spend some time on ensuring you're following a proper diet too.
How the Body Works
Your body changes as you get older. As the American Council on Exercise reports, adults on average lose one-half pound of muscle each year. If you're not getting enough exercise and following a proper diet, this decrease in muscle is only going to get worse over time. Strength-training exercises are essential, to keep your muscle-to-fat ratio high and maintain strength of your bones, muscles and connective tissues.
Where Weights Weigh In
Vary your program every couple of weeks to every month, to keep yourself interested and avoid plateauing. Weight training exercises not only help you maintain the muscle you have now and build more muscle, but it also offers other significant benefits. That includes boosting your energy, raising your resting metabolic rate, relieving stress, and preventing disease and degenerative conditions such as high blood pressure, diabetes and obesity. You should aim to include at least three workouts a week, completing two to three sets of 12 reps of each exercise each time, according to "Fitness" magazine. Include exercises such as dumbbell squats, barbell rear lunges, dumbbell step-ups, glute-ham raises and weighted crunches to get big muscle gains.
Cardio is Cool
Cardio is also extremely important to include in your workout regimen after the age of 50. Not only does it help you lose body fat, which is harder than ever to lose as you get older, but it also improves your cardiovascular system, increases your energy and helps prevent disease. Try for three to five sessions lasting at least 30 minutes each during the week. Include mild to moderate intensity cardio exercises such as brisk walking, jogging, cycling, jumping rope and rowing -- these are all effective forms of cardio at the age of 50.
Get Those Stretches In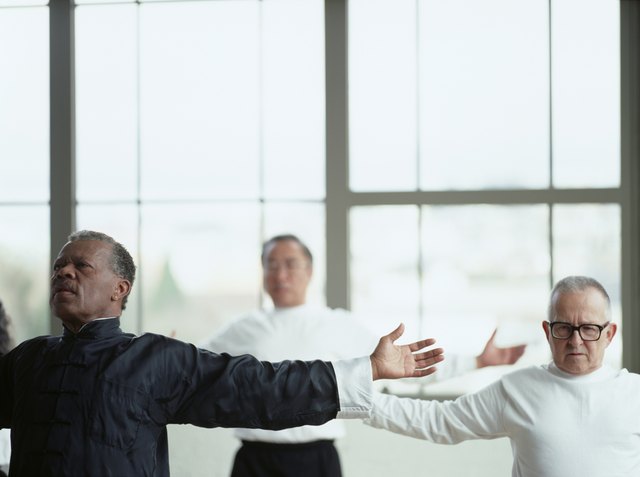 Stretching is important after your workouts to help cool your muscles down and prevent muscle stiffness and soreness after your workout. Static stretching is best post-workout to relax the muscles and promote flexibility, so include stretches such as the trunk rotation, hip flexor stretch and hamstring stretch. Hold each stretch for 30 seconds to adequately stretch the muscles without risking injury. You should only feel a light stretching in your muscles, never any pain.
Tips for the Kitchen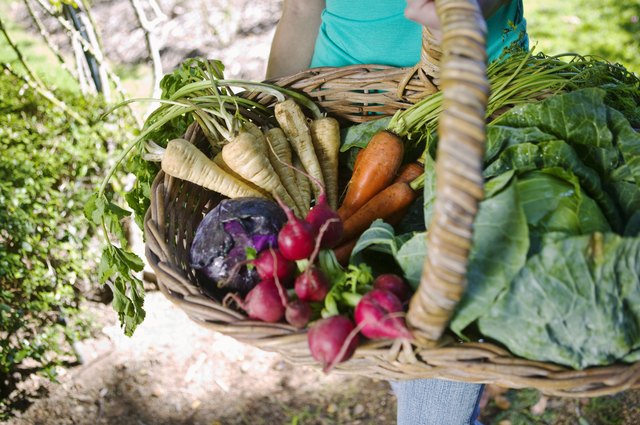 No matter how hard you work out, if you're not eating right, you're going to notice a decrease in lean muscle mass and an increase in body fat. At the age of 50, it's easier than ever to accumulate body fat, so you have to be even more careful about the kinds of food you're putting in your body. Stick to a clean diet full of vitamin-rich fruits and veggies, foods that are high in protein such as eggs, nuts and cottage cheese, and stay hydrated by drinking plenty of water throughout the day.
Safety First
As you get older, staying active and healthy is as important as ever, but you are more prone to injury. Especially when using weights with your exercises, take the proper precautions and always consult with your doctor before starting on any new exercise program. Only use a weight you can manage, which is challenging but without making you strain, and only increase the amount of weight used by 5 to 10 percent increments at the most each time.