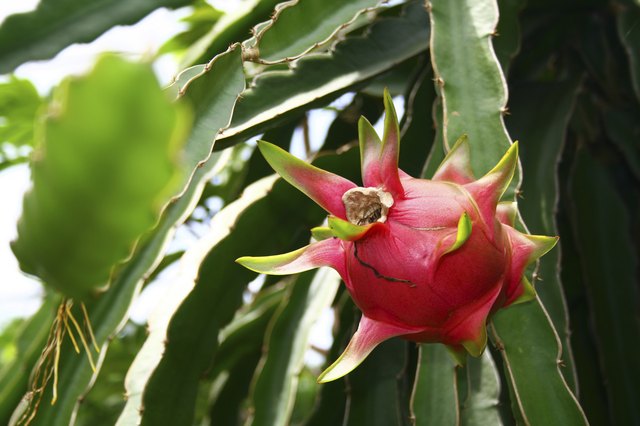 Its exotic look may scare you away, but its sweet and juicy taste will keep you coming back for more. The U.S. Department of Agriculture only started allowing dragon fruit into the country in 2008 due to fears of the types of pests the fruit might bring with it. Now that this newcomer to the produce section is irradiated before it enters the country, you can find it in most grocery stores. Like other fruits, the dragon fruit is low in calories and a good source of essential nutrients you need for good health.
Good for the Waistline
Low in calories and filling, dragon fruit makes a good choice for anyone watching his calories. One small dragon fruit, weighing 198 grams, has just 60 calories. With only 0.3 calories per gram, the dragon fruit has a very low energy density, which means it has very few calories compared to its serving size. The Centers for Disease Control and Prevention says filling your diet with more low-energy-dense foods can help you lose weight and make it easier for you to maintain a healthy weight.
Mostly Carbs With Some Protein and Fat
Most of the calories in the dragon fruit come from its carb content, but the fruit also has a small amount of fat and protein. One small dragon fruit contains 14 grams of carbs, 1 gram of fiber, 2 grams of protein and 0.4 grams of fat. Carbs are often blamed for causing weight gain, but they're not all bad. When it comes to choosing carbs, you want to make sure you include healthy carbs, which are unprocessed and naturally rich in nutrients -- like those in the dragon fruit -- to promote good health. Eating too many unhealthy carbs, like those found in highly processed foods such as white bread and french fries, can lead to weight gain and an increase risk of heart disease.
Rich in Vitamin C
Dragon fruit is a good source of vitamin C, meeting 15 percent of the daily value in one small fruit. Vitamin C is a water-soluble vitamin you need to make collagen, the amino acid L-carnitine and neurotransmitters. It also acts as an antioxidant, protecting your cells from oxidative damage by free radicals, which may help lower your risk of heart disease and cancer. Vitamin C has also been shown to regenerate other antioxidants in your body, such as vitamin E.
Good for Bones and Blood
With its calcium and iron content, the dragon fruit is also good for your bones and blood. The Food and Agricultural Organization of the United Nations considers dragon fruit a fruit of "high nutritional value" due to its calcium content. One small fruit meets 1 percent of the daily value. The dragon fruit is an even better source of iron, meeting 8 percent of the daily value. In addition to promoting bone health, calcium is needed for proper muscle function and nerve transmission. Iron, meanwhile, is necessary for carrying oxygen throughout your body. The dragon fruit's high vitamin C content enhances the body's ability to absorb more iron from the fruit.