If your six-pack has turned into a muffin top, blame the couch, your age, the television and your diet. A sedentary lifestyle and middle age contribute to a fattened belly, but so do the foods you eat. Along with being aesthetically unappealing, belly fat presents health problems. An expanded waist size -- 37 inches or larger for men or 31.5 inches for women -- often indicates an accelerated health risk. The growing circumference is due to visceral fat deep inside your abdominal cavity, surrounding internal organs and promoting inflammation. Visceral fat shrinks fairly readily when you exercise and watch your diet. Certain foods contribute to the development of belly fat, so avoid them to slim down and improve your health.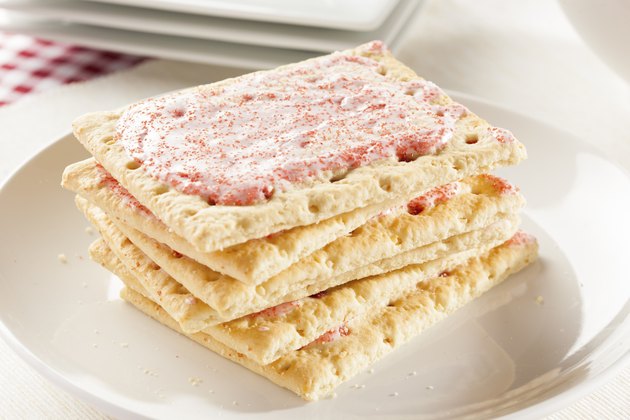 Belly Fat and Fructose
High-fructose corn syrup gets a bad rap, and research shows it's well-deserved. Overconsumption of this sweetener, found in snacks, sauces, salad dressings, soft drinks and sweets, may lead to a protruding tummy, suggests 2010 research on rats from Princeton University. Researchers found that the animals whose rat chow diet was augmented with high-fructose corn syrup experienced abnormal weight gain, especially in the abdomen. The weight was predominately in the form of visceral fat.
Any added dietary fructose, though, when consumed in excess -- and especially in beverages -- may lead to excess belly fat. Another study published in the Journal of Clinical Investigation in 2009 determined that people fed fructose-sweetened beverages for 25 percent of their calories for 10 weeks experienced visceral fat gain in their abdomens at a rate significantly greater than counterparts who consumed an equal amount of glucose-sweetened beverages.
Refined Grains Promote Belly Fat
Refined carbohydrates, such as white bread and pasta, may also be responsible for your expanding waistline. These refined grains are everywhere, including the bun on your hamburger, the white rice with your stir-fry, the crust of your pizza, the pancakes with your eggs and the noodles in your frozen lasagna. In a 2010 issue of the American Journal of Clinical Nutrition, a study compared the impact on visceral fat in people who increased their whole-grain consumption vs. those who ate more refined grains. The researchers discovered that people who increased their intake of whole grains did not experience the gains in either visceral or subcutaneous belly fat that people who increased their intake of refined grains did.
Trans Fat and Belly Fat
In June 2015, the U.S. Food and Drug Administration directed all food manufacturers to phase trans fats out of the food supply within three years. Trans fats, once labeled as "generally recognized as safe," have been linked to higher body weight, increases in bad cholesterol with simultaneous decreases in good cholesterol and certain types of cancer. Trans fats are created when manufacturers add hydrogen to liquid oils to make them solids, as can be done with margarine or shortening. These fats enhance the flavor and shelf life of snack foods and are a convenient way to fry fast food in restaurants.
In a study using monkeys, published in Obesity in 2007, trans fats caused weight gain and the development of extra belly fat, even when calorie intake was not excessive. Diligently check labels and avoid fast food to keep this fat out of your diet. The motion by the USDA isn't a complete ban, either. Companies may still petition to add them as an ingredient in some foods. Watch for trans fats in fried fast foods and foods that list "partially hydrogenated oil" as an ingredient, including ready-made frosting, microwave popcorn and sprinkles.
Saturated Fat Goes to the Belly
A study published in the journal Diabetes in 2014 found that overconsumption of saturated fat, as compared to polyunsaturated fat, builds more fat and less muscle all over the body. Saturated fat contributes more heavily to the development of visceral fat in the abdomen, too. Moderate consumption of saturated fat is OK, but to keep it in check, the American Heart Association recommends you limit saturated fat intake to no more than 5 to 6 percent of your total calories daily.
The biggest sources of saturated fat in the American diet include pizza and cheese. Fatty cuts of meat, poultry with the skin and full-fat dairy also supply this belly-increasing fat. Instead, opt for polyunsaturated fats found in sunflower oil, salmon and walnuts.