The Centers for Disease Control and Prevention warn that excessive abdominal fat—defined as a waist circumference of more than 40 inches for a man, or more than 35 inches for a non-pregnant woman—may place you at increased risk of obesity-related conditions. The University of Illinois at Urbana-Champaign, McKinley Health Center, cites a World Health Organization recommendation that Asians should be evaluated as at increased risk if the woman's waist circumference measures more than 31 inches or the man's waist circumference is more than 35 inches.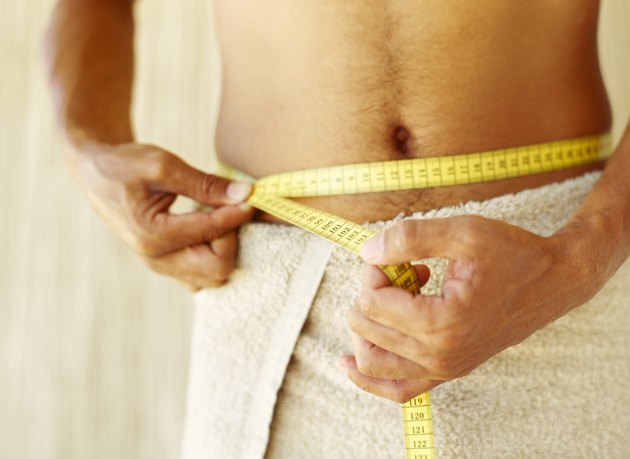 Step 1
Press your fingers gently into your sides, if necessary, to locate the upper edge, or crest, of your hip bone on each side of your body.
Step 2
Lower the waistband of your pants or skirt enough to measure all the way around your body just above the crest of your hip bone. You may need a friend's help to do the actual measuring; consider doing this in a private area for the sake of modesty.
Step 3
Wrap the measuring tape around your bare abdomen. Keep the tape parallel to the floor and make sure that it sits just above the level of your hipbone crest on each side. The tape should be snug against your skin but not tight enough to pinch or compress your skin. This is where a friend may be very helpful, since she can help you make sure the tape is level and help hold it in place if need be.
Step 4
Exhale naturally, snug the tape up again—if necessary—then read the measurement on the tape or have your friend do so for you. This is your waist circumference.
Tips
The McKinley Health Center recommends waist circumference as an especially useful way of measuring body fat for individuals with high body mass indexes (BMI).