Working out with a rowing machine is a great way to burn calories, improve your cardiovascular fitness and tone up many of your major muscles. Because rowing is low impact, it's ideally suited for exercisers who are concerned about knee pain from activities such as running. To get the most from using a rowing machine, make sure you use good technique and seek expert guidance from a personal trainer or rowing coach if you are unsure how to row properly.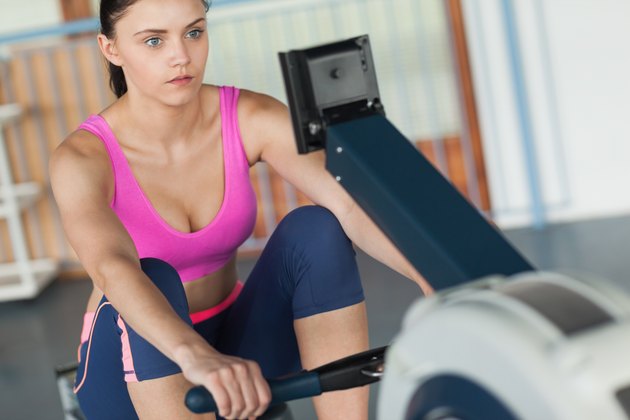 Leg Muscles
A rowing stroke starts with a powerful leg push -- called the catch in rowing terminology. Extending your knees and hips uses some of the largest muscles in your body, namely your quadriceps, hamstrings and gluteus maximus, which are located on the front of your thighs, the back of your thighs and the back of your hips, respectively.
Midsection Muscles
The force generated by your legs must be transmitted to the handle of the rower through your back and arms. To prevent your lower back from collapsing, which would reduce your rowing power and increase your risk of back injury, your core muscles that surround your midsection contract to stabilize your lumbar or lower spine. Your core includes your rectus abdominis, transverse abdominis, obliques and erector spinae. Your erector spinae also actively extends your lower back as you lean backward slightly.
Upper Back Muscles
Pulling your arms and shoulders back as you draw the rower's handle into your midsection involves several muscles around your upper back and shoulders. Your upper trapezius and rhomboids, located between your shoulder blades, pull your shoulders back while your latissimus dorsi, located beneath your armpits and shaped not unlike wings, pull your upper arms back and into extension.
Arm Muscles
Located on the front of your upper arm, your biceps are responsible for bending your elbows and pulling the handle of the rower into your midsection to complete your rowing stroke. Your triceps, working with your anterior deltoids and chest muscles, then extend your arms forward in readiness for another stroke, although this forward movement is against little resistance.
Hip Muscles
Sliding forward ready to perform another movement is partly the result of the momentum from driving your arms forward and partly due to a contraction of your hip flexor muscles and hamstrings. Located on the front of your hips and properly called iliopsoas, your hip flexors muscles work alongside your rectus femoris, one of your quadriceps, to flex your hip and pull you forward into your next stroke. Your hamstrings contract to bend your knees and add to your forward momentum.