Unlike more common calcium kidney stones, struvite stones are formed by bacterial waste products during a kidney or urinary tract infection (UTI). Struvite stones are more common in women, infants and the elderly as such individuals are more likely to have UTI. The combination of a struvite stone with a UTI is a very serious condition. If you experience symptoms of a kidney stone or infection, contact a doctor right away.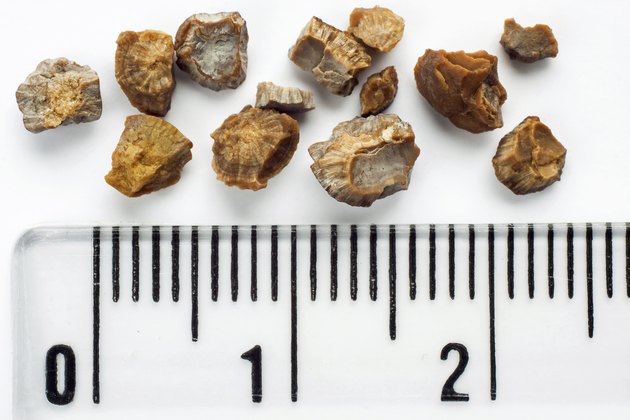 Fever, Chills and Nausea
The National Institute of Diabetes and Digestive and Kidney Diseases explains that struvite stones are formed from magnesium and ammonia through the action of bacteria during a kidney infection or UTI. Struvite stone symptoms mirror those of such infections and include fever, chills, loss of appetite and nausea. If you experience abdominal pain with such symptoms, contact a doctor immediately as kidney infections are a serious medical condition.
Abdominal Pain
Struvite stones are typically associated with a burning-like abdominal pain, similar to pain of a kidney or urinary tract infection. The pain associated with a struvite stone may not be stinging and cramping like the pain associated with calcium stones. Struvite stone pain tends to be less localized, dull, burning and aching and less likely to come in waves of pain.
Blood in the Urine
Struvite stones and an accompanying infection may damage the inner lining of the urinary tract and lead to the appearance of blood in the urine. The presence of an accompanying kidney or urinary tract infection may also cause urine to be cloudy and take on unusual odor.