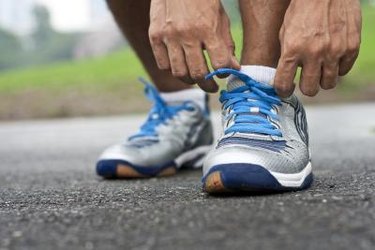 Whether you are a novice, experienced or competitive runner, there is one item that can make the difference between having a great run or a lousy one: your shoes. Today, the choices when walking into a specialty running shop can be overwhelming--the number of brands, styles and types of shoes on the market can leave even the most educated consumer flustered and confused. Adding to the confusion for many runners is whether or not trail shoes are needed while running.
Considerations
Both types of shoes, whether you choose a road or tail shoe, offer benefits to the runner. Shoes are designed with two purposes in mind. First, to protect the feet and body from injury that can result from the repeated impact of striking the ground. Second, to maximize forward speed by by gripping the road or trail surface to provide traction, aiding forward momentum. Additionally, shoes are manufactured to compensate for conditions such as overpronation or supination through motion-control or stability-based shoes. For nearly any condition, shoe manufacturers produce a shoe to correct these bio-mechanical "failings." Whether you are completing a 5K race or a trail run, the manufacturer's and user's goals are the same: to give runners an edge toward achieving their personal-best times.
Benefits
The main difference between the two types of shoes lies in the types of materials used in their manufacture. Road shoes are generally made from lighter-weight materials and have thinner treads Trail shoes are heavier, with a thicker sole that can help maintain the integrity of the shoe, even in the toughest of conditions. Most runners run on pavement, smooth surfaces and groomed trails. Under these types of conditions, road shoes are sufficient to meet the needs of most of these runners.
Features
For the small percentage of runners who run on off-road trails, or a mix of road and trail, a trail shoe may be appropriate. The first thing to consider when you are about to purchase a pair of trail runners is the type of terrain you will be running on. Are you going to run on bridle paths/horse trails, bike paths, recreational trails, fire roads or hiking trails? Are these trails hilly, rocky or have streams traversing various points? Will they require that you clear large objects like fallen trees? Many trail runners recommend running on trails in shoes.
Considerations
When you have identified the type of surface you expect most of your running will take place on, you can begin considering the types of features you will need from your shoes. Most trail shoes feature added cushioning and support, which provides protection to the joints and support to the ankles, especially on uneven surfaces. The soles vary from model to model. Compared to a typical road shoe, the trail shoe has a thicker and nubbier sole. The added density provides more stability on rugged and uneven terrain. The nubbier or more "aggressive" the shoe, the more grip and traction the shoe provides.
Selection
If you typically run on rocky or extremely hilly, mountainous, or root-covered trails, some trail shoes provide additional protection for your toes and the soles of your feet with bumpers and reinforced soles to reduce the bruising that can occur on these surfaces. Another thing to consider when looking for a trail shoe is the type of protection that the shoe can offer from trail debris entering the shoe. The final choice is whether or not to purchase shoes that feature Gore-Tex surfaces to protect the foot against moisture. Remember: If the material does not let the water in, it also does not let it out, which can get uncomfortable in cold conditions.
Conclusion
There are many choices and considerations to make when deciding whether or not a road or trail shoe is beneficial to you and your bio-mechanics and running style. What matters most when deciding on a shoe is that the shoe fits your foot and that you don't try to make your foot fit the shoe. Blisters, black toenails or pain all result in an uncomfortable run and even injury. If you find that trail shoes with their increased shock absorption and stability are the right shoe for you, no matter the terrain you are running on, then that is the appropriate shoe for you. The same applies for road shoes. Finding a shoe that fits will ensure years of healthy, happy running.