Non-communicable diseases (NCDs) are disease processes that are not contagious or transferable from one human to another. Random genetic abnormalities, heredity, lifestyle or environment can cause non-communicable diseases, such as cancer, diabetes, asthma, hypertension and osteoporosis. Autoimmune diseases, trauma, fractures, mental disorders, malnutrition, poisoning and hormonal conditions are in the category of non-communicable diseases.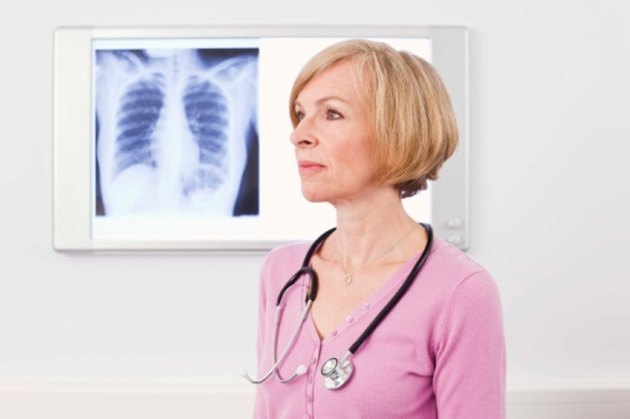 Cancer
Cancer is a non-communicable disease that affects all ages. As stated by the CDC in 2005, the three most common cancers among women are breast, lung and colorectal. The three most common cancers among men are prostate, lung and colorectal. Lung cancer is at the top of the list for cancer deaths in men and women.
Diabetes
Diabetes affects the way the body uses blood glucose. The Mayo Clinic states that type 1 diabetes develops when the immune system destroys the insulin-producing cells in the pancreas, allowing a buildup of glucose in the blood. In type 2 diabetes, the cells resist the insulin and cause an increase of glucose in the blood.
Hypertension
Hypertension is a non-communicable disease diagnosed when the systolic reading (top number of the blood pressure reading) is consistently higher than 140 and/or the bottom number, or diastolic reading, registers higher than 90. A blood pressure of 140/90 millimeters of mercury (mmHg) or higher indicates hypertension. Causes of hypertension include excessive salt intake, smoking, diabetes, obesity and kidney disease.
Osteoporosis
Osteoporosis, also known as porous bone, is a non-communicable disease resulting from low bone mass. Brittle bones weaken and break from a minor fall or movement. The National Osteoporosis Foundation states that of the 10 million Americans with osteoporosis, 80 percent are women. High risk factors for osteoporosis include low sex hormone levels, inactivity, smoking and diseases such as rheumatoid arthritis.
Alzheimer's
Alzheimer's disease is the leading cause of dementia among people over the age of 60. Symptoms progress from memory loss to include difficulty managing money and daily tasks, getting lost, personality changes, delusions and loss of bodily function control.
Heart Disease
Heart disease is a broad category of non-communicable diseases that affect the way the heart and circulatory system performs. Heart disease includes rhythm irregularities, heart attack, congenital heart disease, heart failure, mitral valve prolapse, unstable angina, mitral stenosis, endocarditis, aortic regurgitation and cardiogenic shock.
Fibromyalgia
Fibromyalgia is a non-communicable disease involving the soft tissues of the body. Common symptoms include widespread pain, sleep disturbance patterns, irregular heartbeat and extreme exhaustion. Symptoms that intensify at times include memory and concentration difficulty, jaw pain, headaches, nasal congestion and irritable bowel syndrome.