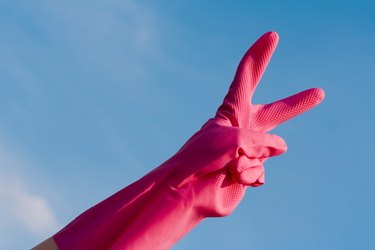 Skin cancer is the most common form of cancer in the United States, affecting more than 1 million people every year, according to the American Cancer Society. The protective ingredient in sunscreens is zinc oxide. Making your own sunscreen lets you control the chemicals that come into contact with your skin by adding zinc oxide to your favorite commercially available lotion.
Step 1
Put on protective gloves and mask. These protection is essential because inhaling zinc oxide can cause serious health problems.
Step 2
Measure 8 oz. of lotion into your bowl.
Step 3
Measure zinc oxide. For an SPF of 12 to 19, measure out 1.2 to 1.5 oz. of zinc oxide. For an SPF higher than 20, measure out 2 oz. of zinc oxide. For an SPF between 6 and 11, measure 0.8 oz. For a very low SPF, between 2 and 5, measure out 0.4 oz. of zinc oxide.
Step 4
Add the zinc oxide to the lotion in the bowl. Use a spoon or a chopstick to thoroughly incorporate the zinc oxide into the lotion. Thorough mixing is essential to ensure that all the lotion gets sun-protective benefits.
Step 5
Transfer the lotion mixture to a new container and store it in a cool place.
Things You'll Need
Protective gloves

Protective mask

Purchased lotion

Bowl

Plastic container

Zinc oxide
Tip
To easily transfer your homemade sunscreen to its new container, spoon or pour the mixture into a plastic food storage bag, seal the bag and snip one of the corners. Squeeze the sunscreen from the plastic bag into its new container.
Zinc oxide is readily available from numerous online suppliers. Be sure to choose regular zinc oxide rather than micronized zinc oxide for this recipe.