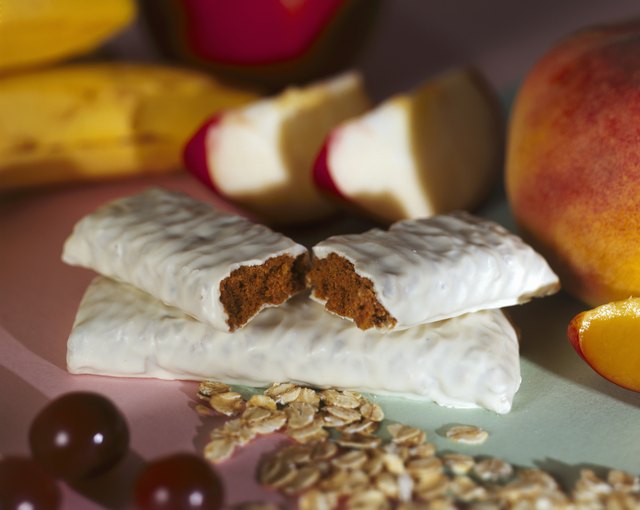 Meal-replacement bars contain a similar level of nutrients and calories as a full meal and provide an option when on the go or when aiming to decrease calories for weight loss. Skipping meals can lead to hunger, which can cause you to overeat at your next meal, so having meal-replacement bars on hand can help when you're in a pinch. However, some meal-replacement bars contain excess sugar and saturated fat -- something you want to avoid in general, but especially when following a weight-loss meal plan. Opt for the healthiest meal bar options and use them in moderation -- not as a replacement for every meal -- to lose weight.
Meal Replacements Boost Weight Loss
When added to a weight-loss eating plan, meal replacements reliably boost weight loss more than reduced-calorie diets that do not implement them, according to a review published in Obesity in 2011. Dieters who incorporate meal replacements lose an additional 5.5 pounds at the three-month mark and 5.2 extra pounds at 12 months than dieters who don't use them.
One reason meal replacements effectively boost weight loss is because they provide a set number of calories, so you know exactly how many calories you're getting. When preparing their own meals, dieters often underestimate the calorie content by roughly 40 to 50 percent, according to the Obesity review.
When it comes to meal replacements, bars keep you fuller longer than shakes. In men and women, meal-replacement bars kept participants full for about five hours, whereas shakes kept them full for roughly three hours, according to a study published in the International Journal of Food Sciences and Nutrition in May 2004.
Hallmarks of the Best Meal-Replacement Bars
Learn what to look for and scour the ingredients to find out which meal-replacement bar is best to incorporate in your weight-loss meal plan. A key aspect of the success of a meal-replacement bar is that it must keep you full until your next meal.
Fiber, protein and fat play a pivotal role in stimulating appetite-suppressing hormones that keep you feeling full and satisfied, so a balanced amount of these macronutrients is crucial. While many meal-replacement bars boast very low fat, the truth is these types of bars often won't keep you full long enough. The best options have enough fat to keep you full without providing excess fat. Look for a meal-replacement bar with 8 or more grams of mostly unsaturated fat, at least 14 grams of protein and at least 4 grams of fiber.
The best bars also contain enough carbohydrates to keep your energy levels up, without being high in added sugar. Low-carb meal-replacement bars can leave you feeling tired, and bars high in added sugar contribute excess empty calories, thus sabotaging your weight-loss efforts. A good amount to shoot for is at least 30 grams of carbohydrates. Look for a total calorie content similar to that of a low-calorie meal -- about 300 to 400 calories.
Homemade Bars
Consider making your own meal-replacement bars at home from whole, nutritious foods. Making them yourself gives you control of the ingredients. This way you avoid artificial ingredients and added sugars. It's also more economical. Make a large batch at once and store them for when you need a quick meal replacement to hold you over.
Try blending rice protein powder with oat flour and almond milk to make a good base and add some healthy fat such as peanut butter or coconut. With this no-bake meal-replacement bar, all you have to do is shape the dough into bars or balls and let it set in the fridge overnight.
Dates are naturally energy-boosting and make a good base for a satisfying meal-replacement bar. Try blending dates with whey protein and nuts for healthy fat to keep your appetite in check. You can also mix in some shredded coconut for an added dimension of flavor.
Alternative to Meal-Replacement Bars
It's always better to get your calories from food, especially since meal-replacement bars are not a permanent solution. Learning to make easy, portable, low-calorie meals eliminates the need for meal-replacement bars. The key is to fill up on foods that have a lower number of calories per volume like vegetables. Grilled chicken salad, veggie wraps, tuna salad or smoked turkey on whole wheat bread are all quick to make, easy to carry, filling and contain a balanced number of calories and nutrients. Avoid calorie-dense additions such as creamy dressings, croutons and fatty cheeses. Purchase some lunch-size containers and zip bags and prepare quick, low-calorie meals ahead of time. This way you need only grab and go.
Learn Portion Control
Meal-replacement bars are a temporary tool to help you manage your weight. They work because they prevent you from underestimating how many calories you're getting. To keep the weight off, however, you must learn proper portion sizes so you don't gain the weight back when you return to eating regular foods. Once you're familiar with how recommended portion sizes look, you'll remember how much to dole out for staples such as protein, fruit, vegetables and whole grains. Create a cheat sheet to stick on the fridge as a reminder of the appropriate portion sizes.
One easy way to remember portion sizes is to use the hand method, which uses your hand and fingers to demonstrate proper portions for each food group. A serving size of meat is equivalent to the palm of your hand, while your fist represents a proper portion of fruit, vegetables, dry cereal, milk and yogurt. A portion of noodles, rice or cooked cereal is about a handful, while a portion of salad is two fists. A serving of bread is equivalent to your palm held out flat, and a portion of nut butter is equal to the size of your thumb.