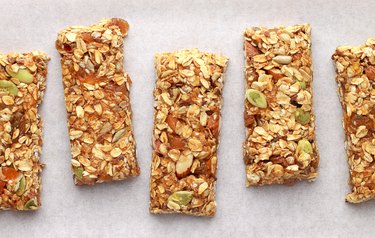 If you're struggling to lose weight, don't be afraid to use aids like meal replacement bars to regulate your diet. Meal replacement bars are a useful tool if you want to shed extra pounds. The best bar will give you a balanced mix of nutrients and ‌fill you up‌.
Lose Weight With Protein Bars
To lose weight you have to consume fewer calories than you burn. This is called a negative energy balance because you're expending more energy than you take in. It seems simple, but figuring out how to consume fewer calories is difficult and complex.
Tracking your calories is the easiest way to monitor how much you're eating. You can use a calorie counting app to track your daily food intake. It will give you a breakdown of the nutrients you eat as well.
Reducing your portion size at each meal is a strategy to reduce your ‌overall calorie intake‌. However, you have to have the discipline to limit yourself from taking more food than you truly need. Meal replacement bars offer an alternative because they're already measured out.
A meal replacement bar is a substitute for one of your meals. A January 2019 study in ‌Obesity Reviews‌ found that replacing one or more of your daily meals with a meal replacement bar or shake can ‌help you lose weight‌.
The researchers collected 23 studies that looked at using meal replacements versus diets with regular food. In the end, the meal replacement was more effective at helping subjects lose weight over one year.
A November 2018 study published in ‌Obesity‌ showed that an entire meal replacement regime caused more weight loss than dieting with regular food. The positive results from these studies show that there's some benefit to using meal replacement bars as part of your diet, but the reason isn't clear.
It could be that meal replacement bars are smaller than the average meal that people eat. The aim of meal replacement bars is to supply your body the nutrients it needs without excess calories. In other words, it's stripping the extra energy out of food and giving you the most important parts.
From a health standpoint, it might be better to eat whole foods rather than bars, but for weight loss, meal replacements seem better. To find the best bar for you, consider your own dietary restrictions and whether or not the product you're looking at has the nutrients you need.
The United States Department of Agriculture's website lists dietary guidelines for optimal health. A balanced diet, according to their site, includes fruit and vegetables. There should also be carbohydrates, particularly whole grains, and protein. To make sure you're getting enough of each kind of food, you can have something from ‌each major food group‌ at each meal.
The guidelines also recommend limiting sugar, sodium and saturated fat. Your meal replacement bar should include elements from these health guidelines to constitute a meal. You need carbohydrates but limited sugar, protein, vitamins and minerals from fruits and vegetables and fiber.
You should also consider your own dietary preferences when selecting a meal replacement bar. There are products for ‌vegetarians and vegans‌ that use soy or other vegetarian protein sources. There are also options for those who have a gluten intolerance, lactose intolerance or nut allergies. Make sure you select the best protein bars for your needs.
Best Meal Replacement Bars
Atkins is a popular diet program that offers its own meal replacement products. The diet itself is low in carbohydrates and high in protein and fat, so if you're getting your carbohydrate sources from whole food then this bar is a useful option.
15 grams of protein
9 grams of fat
1 gram of sugar
11 grams of fiber
190 calories
Various vitamins and minerals
This bar is ideal for someone who needs more fiber and doesn't have any dietary restrictions, since the bar contains whey protein which is derived from dairy.
The Pro Bar Almond Crunch bar is ideal for vegetarians, vegans and those with gluten intolerance. There are also no ingredients from genetically modified organisms. The bar is made without any animal ingredients. The nutrition facts for one bar are:
18 grams of fat
48 grams of carbohydrates
6 grams of fiber
19 grams of sugar
9 grams of protein
370 calories
This bar has more carbohydrates than a typical bar, which is ideal if you need more carbohydrates in your diet. There's 18 grams of fat but only 2 grams of saturated fat. The biggest drawback is the 19 grams of sugar, but the bulk of the sugar ‌comes from dates‌.
The bar also contains 370 calories, which might seem like a lot if you're trying to lose weight. However, if you're using it as a true meal replacement, it has to have enough energy to sustain you for a few hours. If you're looking for a substantial bar this product will work for you.
Isagenix, a company that has a weight-loss meal plan complete with their own meal replacement products, has a meal replacement bar that you can use as part of their program or on its own. The nutrition facts are:
270 calories
9 grams of fat
28 grams of carbohydrates
18 grams of sugar
18 grams of protein
Various vitamins and minerals
The bar contains whey protein, which is not ideal for someone with lactose intolerance. It has plenty of protein and relatively low-fat content, which is ideal for someone who needs a lean protein source in their diet.
Met-Rx, a supplement company, makes a protein bar with its own ‌signature protein blend‌. The nutrition facts are:
410 calories
14 grams of fat
42 grams of carbohydrates
3 grams of fiber
27 grams of sugar
32 grams of protein
Various vitamins and minerals
This bar is high in calories, carbohydrates, protein and sugar. It's not ideal if you want a light snack, but if you need a substantial meal replacement bar then this product will work for you. Most meal replacement bars have fewer calories, which is challenging if you want to use the bar to replace an entire meal, such as lunch. In that case, it needs enough nutrients to sustain you for quite some time.