Glutathione is a nonprotein amino acid that is very important for the immune system. This tri-peptide substance is made up of the three amino acids: glutamic acid, cysteine and glycine. Found in high concentrations in the liver, heart, brain and muscle tissues, glutathione is one of the body's most potent-free, radical-fighting antioxidants. In fact, intense training and the natural process of aging decrease your glutathione level. However, taking supplemental glutathione is not the best way to boost your body's level of amino acids. There are specific foods, as well as supplements, that you can add to your diet to increase your glutathione level.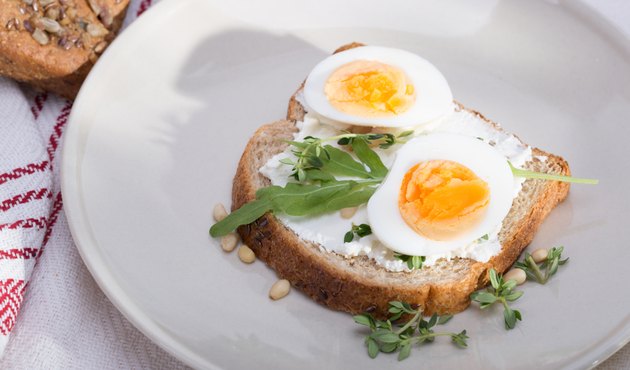 Step 1
Eat more foods that contain glutathione precursors to boost your body's level. Fish, eggs, fresh fruits and vegetables, avocados, walnuts and asparagus all contain natural components that are necessary for the synthesis of glutathione.
Step 2
Take an omega-3 supplement that contains DHA, or docosahexaenoic, acid. This fatty acid substance can increase your level of glutathione, according to the Life Extension Foundation. DHA is a natural component of fish oil, but it can also be obtained from algae, a vegetarian marine source of DHA. Take one to six soft gels (containing 120 mg of DHA) per day, split amongst meals or before bed.
Step 3
Supplement with the amino acid L-cysteine to increase your body's natural production of glutathione. Take 150 to 300 mg of L-cysteine three to four times per day. Cysteine is the amino acid precursor that is in shortest supply, so it can be a limiting factor on your production of glutathione. Make sure to take vitamin C with L-cysteine in a 2 to 1 ratio to prevent the formation of cysteine stones. For example, take 600 mg of vitamin C to 300 mg of L-cysteine.
Step 4
Add a quercetin supplement to your regimen to further increase glutathione production. Take at least 130 mg or more of quercetin per day. Besides having its own potent anti-aging effects, quercetin helps to fight inflammation and can improve exercise endurance. Moreover, the Life Extension Foundations says that quercetin elevates the level and function of enzymes responsible for glutathione synthesis in the body.
Step 5
Use whey protein as a dietary staple and supplemental source of high-quality protein. One scoop of whey protein contains approximately 20 to 24 g of protein and a high level of the amino acid precursor cysteine. Take one to three scoops per day, depending on your protein needs. Mix and blend one scoop of whey, half a frozen banana and 4 to 6 oz. of water for a glutathione-boosting smoothie.
Things You'll Need
Fish

Eggs

Fruits

Vegetables

Avocados

Walnuts

Asparagus

Omega-3 supplement; fish oil (120 mg DHA)

L-cysteine

Quercetin

Whey protein