Brazil nuts get their name from their host tree, the Brazil tree. A hard-shelled nut, they grow inside a round fruit that looks similar to a coconut. Also known as cream and Para nuts, Brazil nuts are a source of non-animal based protein and are rich in selenium. You can eat them raw or roasted -- but just be careful not to eat too many at a time.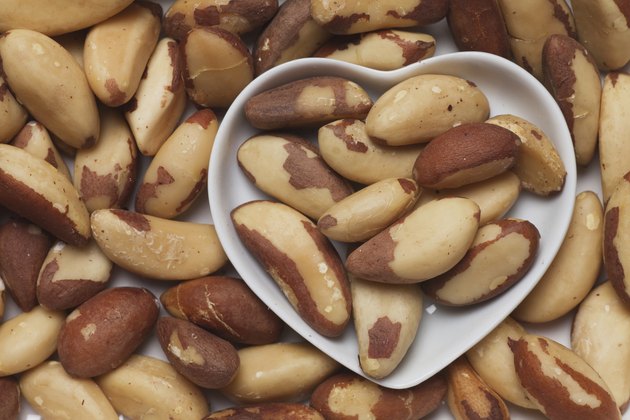 Selenium Content
Brazil nuts are known for their selenium content, with a 1-ounce serving, or approximately six nuts, containing 544 micrograms of selenium. A trace element, selenium is essential for producing selenoproteins, which are enzymes that support your immune system, as well as regulate your thyroid gland function. The tolerable upper intake level of selenium is 400 micrograms per day for adults, although the recommended dietary allowance is much lower, at 55 micrograms. Ingesting too much selenium in one sitting or on a regular basis can lead to selenium toxicity.
Brittle Hair and Nails
A consequence of selenium toxicity is brittle nails and hair -- and eventually, possible hair and nail loss. These two symptoms are common when you ingest regular, small-sized doses of selenium over an extended period of time. Brittle hair and nails can also occur from ingesting a large amount of selenium in a single dose, although this is most common when you take selenium supplements, not when you consume foods rich in selenium like Brazil nuts.
Digestive Complications
Less common side effects of eating too many Brazil nuts include problems with your digestive system. This can include a garlic smell on your breath, a metallic taste in your mouth, rashes or lesions on your skin, diarrhea, spotty colored teeth, fatigue, irritability and irregularity with your nervous system. As with brittle hair and nails, a sudden onset of these symptoms most commonly occurs with taking too high a dose of selenium supplements, although, because Brazil nuts are high in selenium, eating too many could lead to selenium poisoning.
High in Calories and Fat
A 1-ounce serving of Brazil nuts has 186 calories and almost 19 grams of total fat per serving. As this is approximately six nuts total, eating too many Brazil nuts can cause you to take in too many calories and accidentally increase your total fat intake per day, which, if it occurs on a regular basis, can lead to weight gain as well as other potential health problems including high blood pressure and diabetes. However, the majority of the fat in Brazil nuts is unsaturated fat, which may help lower your cholesterol levels if it replaces saturated or trans fats in your diet. Your total fat intake should make up no more than 25 to 35 percent of your total calories, which, for a 2,000-calorie per day diet, is between 56 and 77 grams of total fat. This means that a single serving of Brazil nuts would provide 25 to 34 percent of your total fat requirement if you consume 2,000 calories per day.