When a person is under a lot of stress, she can experience symptoms of anxiety. Anxiety can make a person feel tense, restless and irritable. She can also have problems concentrating, feel that her mind has gone blank and be constantly worried. But since anxiety is a result of the body's fight-or-flight response, the person can also have physical symptoms, some of which resemble the flu.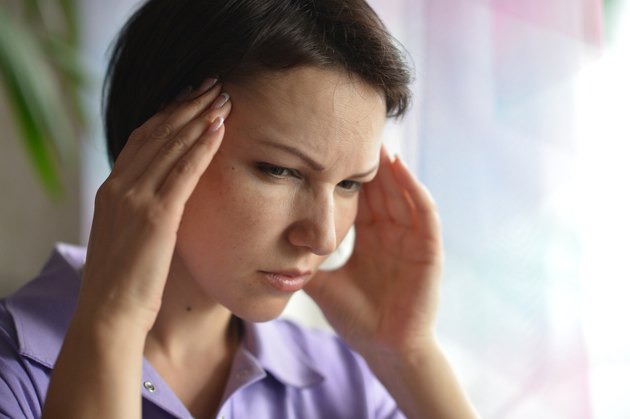 Fatigue
The Mayo Clinic states that when a patient has influenza, or the flu, he can feel fatigued and not have enough energy to get through the day. The fatigue can also make the patient feel weak. Anxiety can also cause a person to have fatigue, or feel dizzy when standing or moving. The patient may even feel like he is about to pass out. Helpguide.org notes that although anxiety can cause fatigue, the patient can also have problems falling or staying asleep at night. The insomnia results from worrying at night.
Muscle Tensions
When a patient is under a lot of stress, she can have unexplained aches and pains. Flu-like symptoms include headaches and muscles pains, which the Mayo Clinic notes occur in the patient's back, arms and legs. The patient also can have tremors and twitches--uncontrollable muscle movements.
Sweating
During an anxiety attack, the patient can experience sweating and chills, which is a symptom also seen with the flu; a pounding heart can also occur with the sweating, according to Helpguide.org. Sweating during the flu differs slightly, since the patient typically has a fever over 101 degrees F, according to the Mayo Clinic.
Gastrointestinal Problems
Flu-like symptoms in children include diarrhea and vomiting. An adult with flu-like symptoms also can lose her appetite. These gastrointestinal symptoms are more prevalent in anxiety. For example, the patient can have diarrhea as well as frequent urination. The patient may also have stomach pain during an anxiety attack.