Big booties are all the rage these days, and slimming down your waist can make your tush look even bigger. By training your glutes, you can shape your butt—the only caveat is that you'll need to lift weights to get it to grow.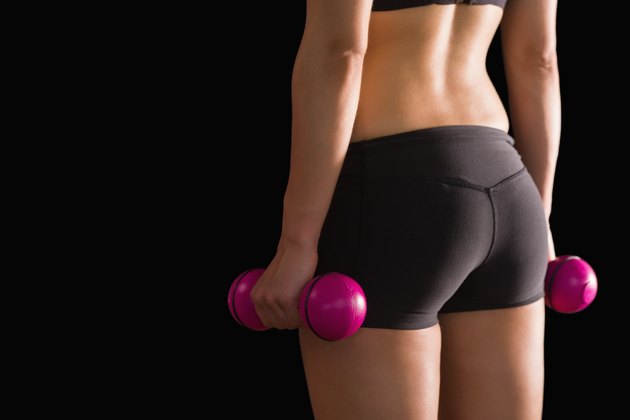 To slim down your waist, cardio exercises that make you breathe hard and sweat are going to be your best friend. Sprinting and jumping, in particular, will get your booty in shape because your glutes power both of those movements.
Don't be afraid to use challenging weights when you do the resistance exercises. Your glutes will respond positively because they are such a big muscle and require a lot of work to grow.
1. Hip Thrust
This is a simple movement that encourages maximal glute engagement, according to Leanne Weiner, a Philadelphia-based personal trainer and corrective exercise specialist. That's why it's one of her favorite exercises to use to build a bigger booty.
HOW TO DO IT: Start by sitting next to a bench with your butt on the ground and upper back pressed against the side. Plant your feet flat on the ground, 1 to 2 feet in front of your butt. Fold your hands across your chest and lean back into the bench as you drive through your heels to push your hips up.
Keep thrusting your hips up until your body forms a straight line from your knees to your shoulders. Then, slowly lower back down until you're a few inches above the ground. To make this exercise harder, you can set up a barbell on the ground and the center across your lap as you drive your hips up.
2. Lateral Band Walk
According to Weiner, CPT, lateral band walks target the side of your butt, which helps to lift and even out its shape.
HOW TO DO IT: Start standing with a resistance band around your ankles. Get into a quarter squat or athletic position with your knees slightly bent and butt back. Your feet start hip-width apart, and your toes are pointed forward. Step to one side in a slow and controlled motion and then bring the back foot forward to return to your starting position. Weiner likes to have her clients do 10 to 15 reps on each side for two to three sets.
3. Jump Squats
Jumping not only works the booty, it burns the calories that help flatten out your stomach.
HOW TO DO IT: Start standing tall with feet shoulder-width apart. Squat down as low as you can, then jump up as high as you can. As soon as you land, get back down into a squat and jump again. Do 15 to 20 repetitions to feel a burn in your lungs and buns.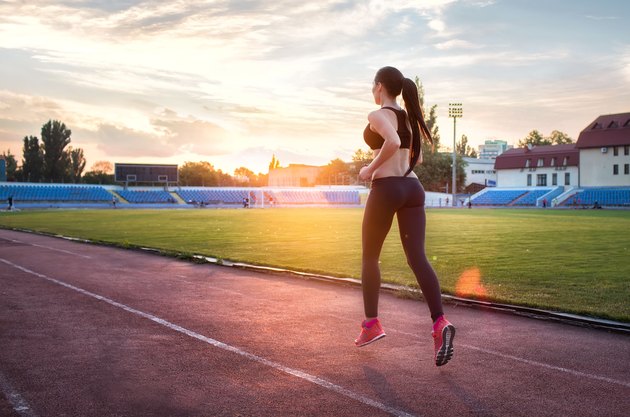 4. Interval Sprints
Once again, you can combine butt-shaping with fat-burning in one exercise: interval sprints. You can do these on a treadmill, a track,or another strip of land with plenty of room to run.
HOW TO DO IT: Run at a pace slightly slower than sprinting but faster than jogging for 30 seconds. Then, take a break for 90 seconds, then sprint again. Alternate between these two speeds seven times.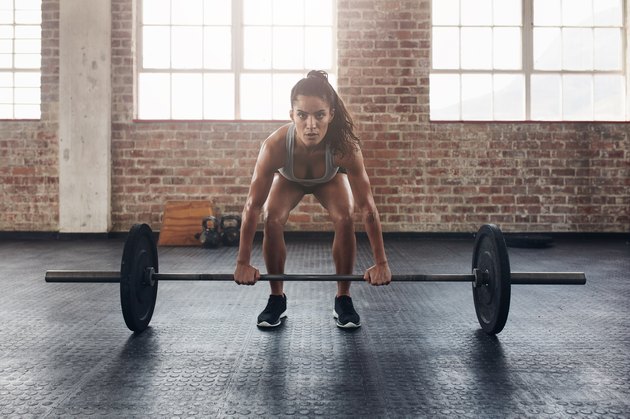 5. Deadlift
One of the best booty builders is the deadlift, because you can lift a lot of weight compared to other exercises, which will stimulate your glutes.
HOW TO DO IT: Start with a barbell on the ground. It should either have bumper plates on the side or be raised on a platform, so the bar is a little lower than mid-shin level. Stand in the center with your feet shoulder-width apart. Stick your butt back and bend down to the bar, grabbing it with both hands right outside of your legs. Keep your back flat, chest out and shoulders back as you pull the bar up and push your hips forward. Then, push your butt back and bend your knees to put the bar down.