1 of 22
What makes a great lunch? Any meal that's hearty, healthy and filling. But oftentimes, your work schedule keeps you away from the kitchen. Instead of settling for fast food (or going hungry), you can create a quick, easy, on-the-go option. These LIVESTRONG.COM creations can be made quickly each morning — without sacrificing your lunchtime nutrition needs.
Image Credit:

Adobe Stock/StockPhotoPro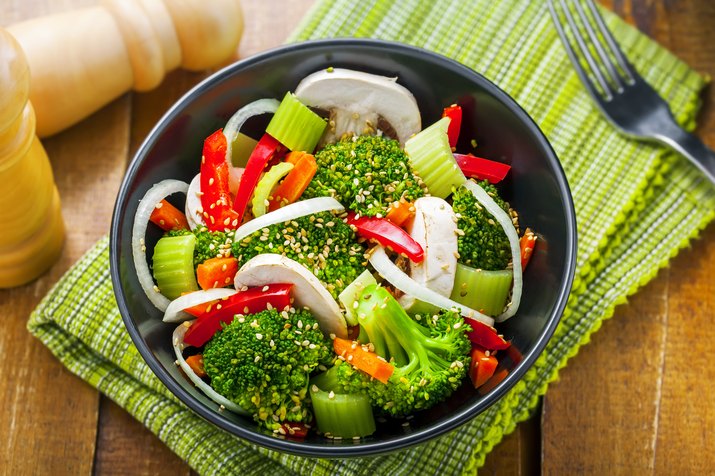 2 of 22
Chances are your daily meals are a little lacking in vegetables. But like mom always said, you need to eat your veggies. So fill a to-go container with cherry tomatoes, baby carrots, cucumber slices, broccoli and mushrooms, and then sprinkle cilantro and chili flakes on top and drizzle with lemon. If you need a protein boost, grab a handful of almonds or some string cheese to go with it. Easy, fast and delicious!
Read more: Meet the Women Who Are Changing Health and Wellness
Image Credit:

Derkien/iStock/Getty Images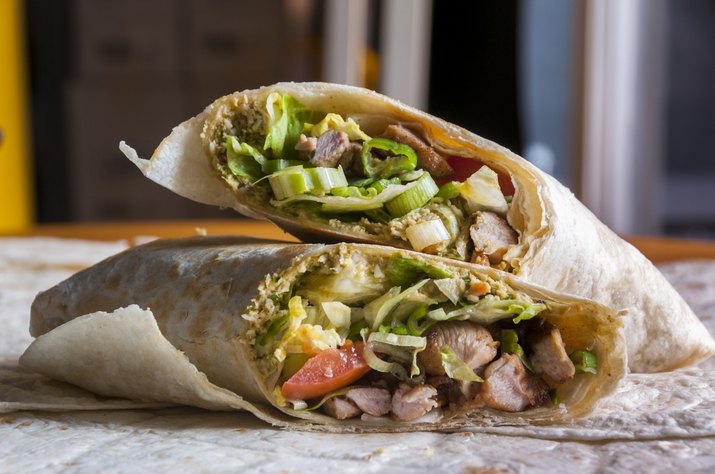 3 of 22
Wraps are one of the most portable lunch options out there. Wherever you need to go on your lunch break (like running errands), your wrap goes with you. Simply take a lavash wrap, spread honey mustard on it and add spinach, bell peppers and sliced chicken breast (or substitute fake chicken tofu strips if you're a vegetarian). Wrap it up, and you're good to go!
Read more: How to Build the Ultimate Healthy Burrito
Image Credit:

mahroch/iStock/Getty Images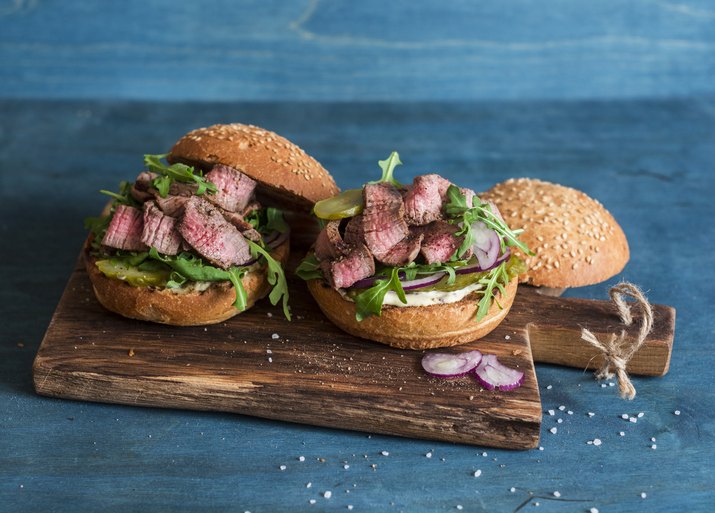 4 of 22
Image Credit:

OksanaKiian/iStock/Getty Images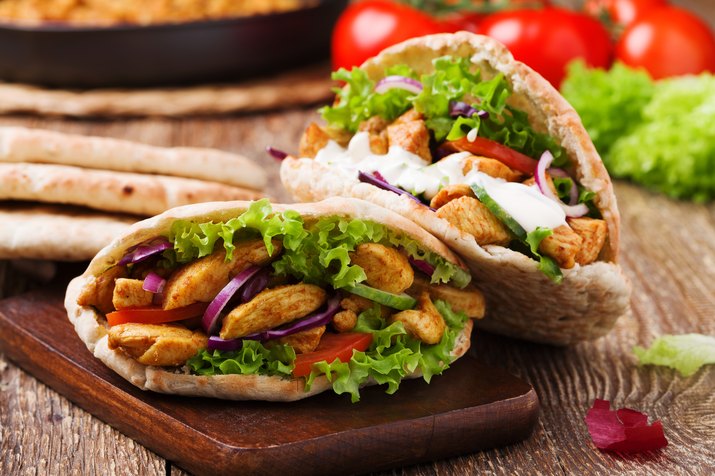 5 of 22
4. Chicken Flatbread Pita Sandwich
Not all your sandwiches need to use plain white or wheat bread — experiment with flatbread pita. Use a whole wheat grilled pita and layer green bell peppers, half a grilled chicken breast, tomato and romaine lettuce on top.
Read more: 9 Easy No-Cook Dinner Recipes
Image Credit:

gkrphoto/iStock/Getty Images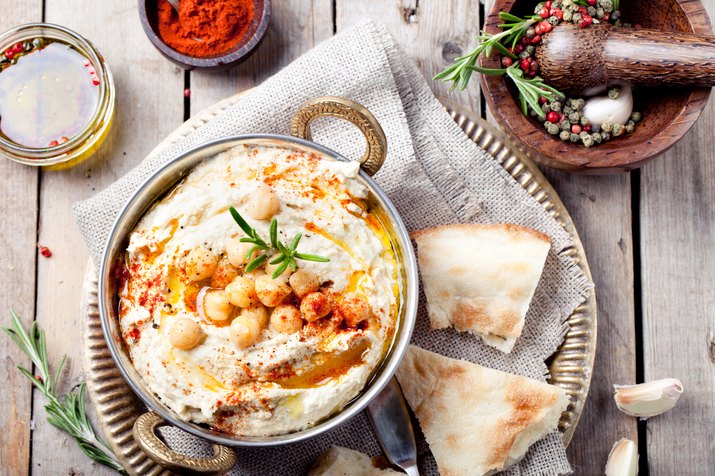 6 of 22
Here's a great option for all you vegetarians craving a quick, healthy and filling lunch option. Or consider it as an option for Meatless Monday. Take an herb tortilla wrap, spread two tablespoons hummus and add 1/4 cup matchstick cut carrots, 1/4 cup sliced red peppers and lettuce.
Image Credit:

AnnaPustynnikova/iStock/Getty Images
7 of 22
Another great vegetarian option, make a big bowl of this on Sunday and enjoy it for lunches throughout the week. Mix quinoa, spinach, chickpeas and vegetable of your choice (arugula is a great, nutrient-dense option) in a bowl. Toss with a light Italian or balsamic dressing on top if so desired and sprinkle with feta cheese.
Read more: 8 New Ways to Enjoy Quinoa That You May Not Have Tried
Image Credit:

mpessaris/iStock/Getty Images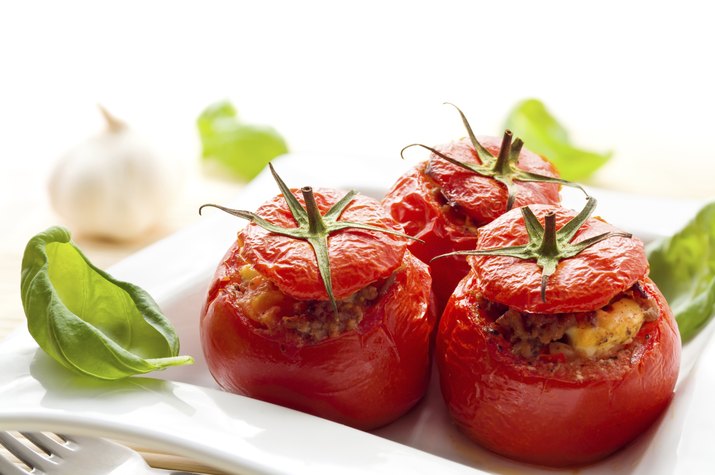 8 of 22
7. Mediterranean Stuffed Tomato
You don't need to have access to an oven to make a delicious stuffed tomato for lunch. Just cut and gut one large tomato and fill it with 1/4 cup canned tuna, one tablespoon low-fat feta cheese, two tablespoons tabbouleh salad and a dash of hot sauce (if you want).
Image Credit:

IngaNielsen/iStock/Getty Images
9 of 22
This is a great option to make the night before and either enjoy cold or heat up in the office toaster oven (if you have one). On a pre-made pizza crust, layer three tablespoons of marinara sauce, three ounces of sliced chicken breast and a 1/2 cup of mozzarella cheese. Bake at 350 degrees Fahrenheit for 15 to 20 minutes. Or enjoy raw and uncooked — just make sure the chicken is cooked!
Image Credit:

Camrocker/iStock/Getty Images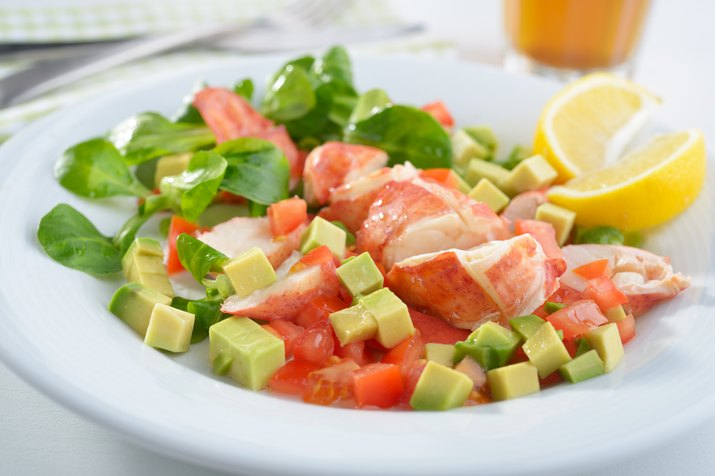 10 of 22
9. Lobster, Mango and Avocado Salad
Five ingredients, one delicious lunch in a single bowl! Combine the meat from one lobster tail, a half cup of mango and half an avocado. Drizzle lemon and olive oil on top. And voila! You'll be the envy of the office cafeteria.
Read more: 8 Cool Things You Can Do With Avocados
Image Credit:

-lvinst-/iStock/Getty Images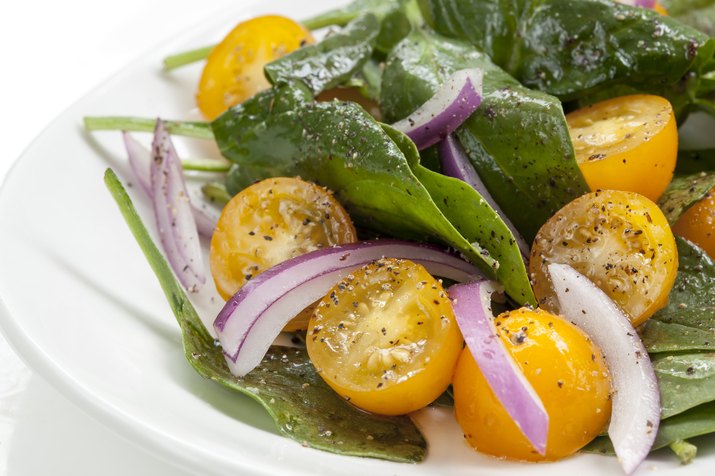 11 of 22
Hit up your local famers market for some fresh, locally grown produce to throw into your lunchtime salad. Your body will thank you for all the nutritious and delicious ingredients. In a bowl, combine spinach, mixed greens, heirloom tomatoes, Persian cucumber, the egg whites of two hard-boiled eggs and raw almond slices. Add your favorite dressing on top and enjoy.
Read more: 13 Reasons to Shop at a Farmers Market
Image Credit:

robynmac/iStock/Getty Images
12 of 22
No meat, no cheese, no problem! On sprouted whole grain bread, layer five olive oil-packed sun-dried tomatoes, one slice of extra-firm tofu, one tablespoon of vegan mayonnaise and spinach. Even your meat-eating friends will be envious of your amazing sandwich.
Image Credit:

zi3000/iStock/Getty Images
13 of 22
Here's another option you can mix up a big batch of during your weekly meal prep and take for lunch with you throughout the week. Mix together chopped broccoli, squash, corn, spinach and edamame. Drizzle olive oil over the top and store in your refrigerator until lunch (if you can wait that long!).
Image Credit:

Manuta/iStock/Getty Images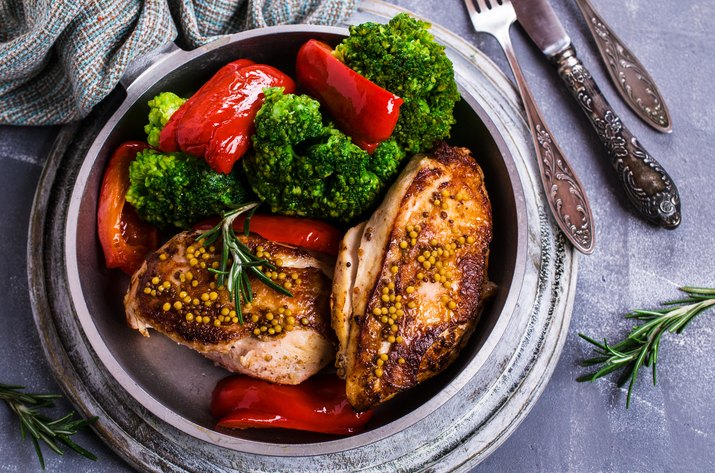 14 of 22
13. Broccoli Chicken Salad
Broccoli and chicken have long been the mealtime staples of those seeking lean muscles and six-pack abs. So why not bring them together in a single salad? Start with two cups baby spinach and add one chicken breast (chopped), cherry tomatoes and broccoli. After all, abs are made in the kitchen!
Read more: The 20 Best Muscle-Building Foods
Image Credit:

zia_shusha/iStock/Getty Images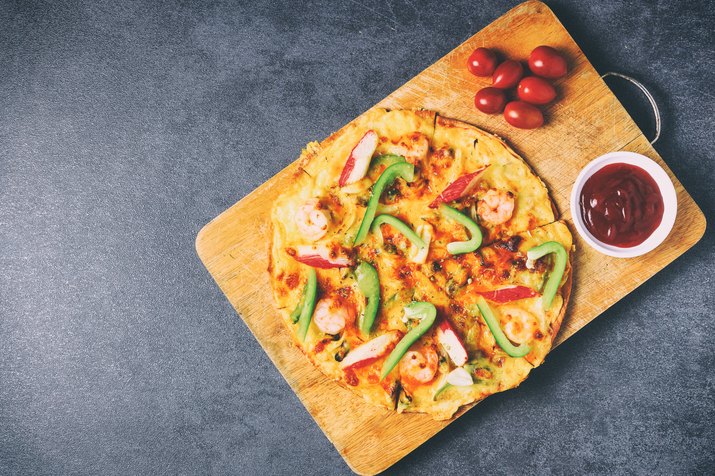 15 of 22
14. Shrimp and Basil Pizza
Did someone say pizza! Yes, even pizza can be a part of a healthy lunch that doesn't blow your entire day's worth of calories. Use a gluten-free pizza crust, and spread a half cup of marinara sauce on top. Then layer 10 boiled shrimp, one sliced orange bell pepper, half a cup of Parmesan cheese and half a cup of basil. You can either eat this cooked or raw.
Image Credit:

iam555man/iStock/Getty Images
16 of 22
15. Not-So-by-the-Sea Burrito
You don't have to live in an island paradise or blocks away from the beach to enjoy this seafood burrito. To make, use one large flour tortilla and fill it with a half of a sliced red pepper, one tablespoon light cream cheese, one cup of spinach and three ounces of crab meat.
Image Credit:

Adobe Stock/Oran Tantapakul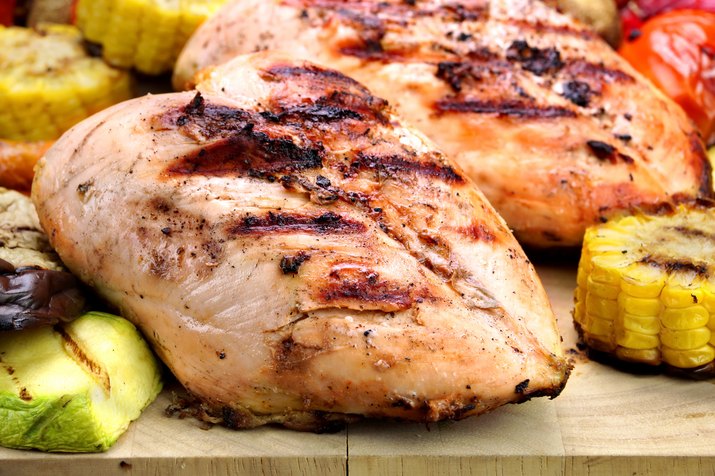 17 of 22
16. Grilled Chicken and Zucchini
Image Credit:

AVNphotolab/iStock/Getty Images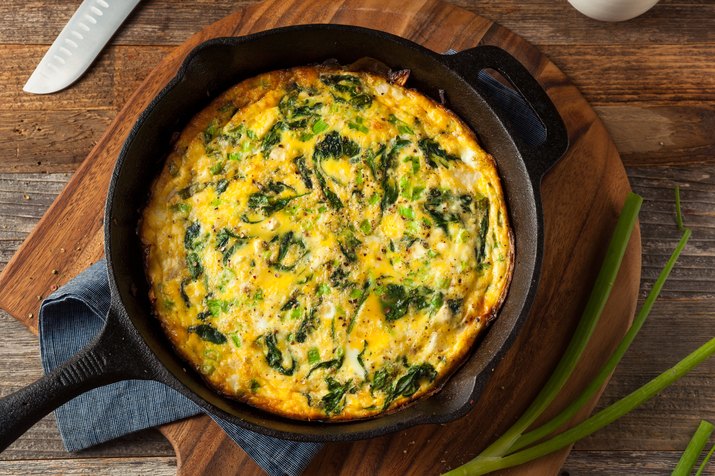 18 of 22
17. Open-Faced Spinach Omelette
Again, we have two meals in one! Make this yummy omelette for breakfast and take the rest for lunch. Or you could even make breakfast for dinner. Whisk four egg whites in an oiled skillet and add one cup of spinach and two tablespoons of feta cheese. Let it sit in the skillet until it's cooked thoroughly on one side, and then flip it over to cook the other side. Dig in!
Image Credit:

bhofack2/iStock/Getty Images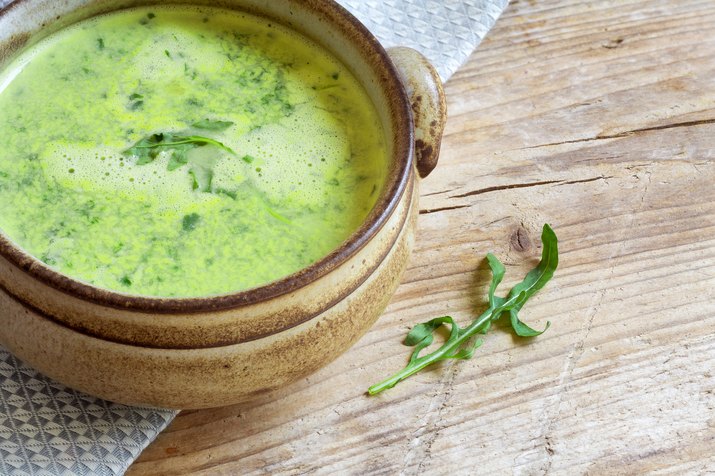 19 of 22
Take advantage of Sunday meal prep days by expanding your culinary horizons. Make enough of this soup for multiple lunches or do your coworkers a favor and bring some of them. Combine one can low-sodium chicken broth, one cup of pureed spinach and the sliced egg whites of two hard-boiled eggs.
Read more: 9 Things You May Not Know About Eggs
Image Credit:

fermate/iStock/Getty Images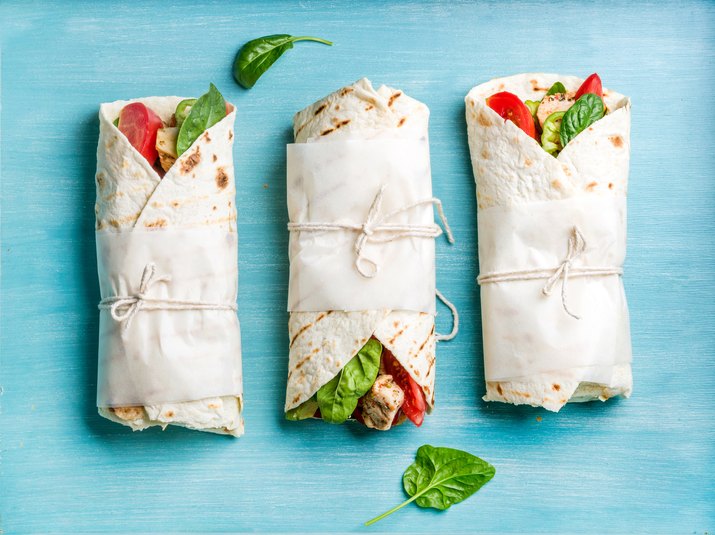 20 of 22
Need more ideas for your lunchtime wraps? Try a whole wheat tortilla, one grilled chicken breast, lettuce and sprinkle of shredded jack cheese. Simple but filling.
Image Credit:

Foxys_forest_manufacture/iStock/Getty Images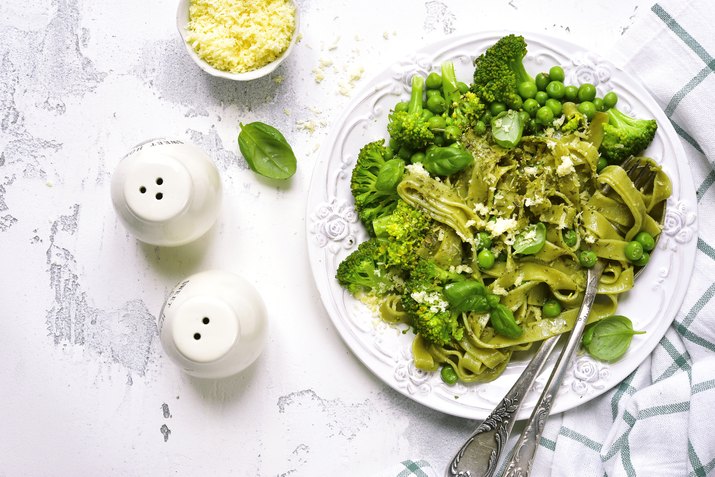 21 of 22
20. Whole Wheat Pasta Primavera
Pasta doesn't have to be a total calorie-bomb if you pack your dish full of vegetables. Use whole wheat pasta, and then add chopped broccoli, cherry tomatoes, cauliflower and olive oil. Mangia!
Image Credit:

Lilechka75/iStock/Getty Images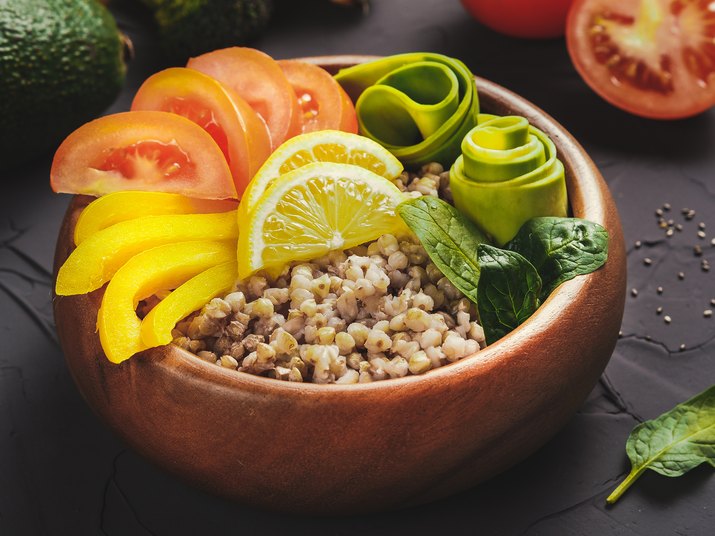 22 of 22
What are some of your favorite lunches? Do you have any quick fixes for when you're on the go? Have you tried any of the ones on the list? What would you add? Share your suggestions in the comments below, and give the rest of our readers some lunch inspiration!
Read more: 12 MORE On-the-Go Lunch Recipes
Image Credit:

Fascinadora/iStock/Getty Images
---