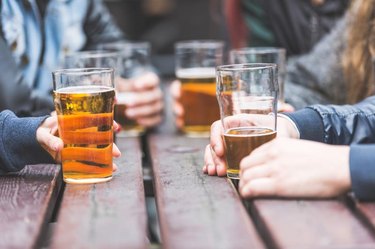 It turns out that the trend of hoppy beers and IPAs is not only delicious, but also good for your health. According to a recent study published in the Oxford University Press, drinking beers with higher levels of hops can mitigate the negative effects of alcohol on the liver. Cheers to that!
A group of German researchers tested this theory by feeding a group of mice (oddly referred to as a "binge-drinking mouse model" in the study) regular beer, hoppy beer, straight ethanol, and a control solution. The scientists then measured the effects on the liver, intestines and plasma after two hours and after 12 hours.
The results were pretty astounding. Scientists noted that alcohol-induced hepatic fat accumulation (the fat accumulation that leads to fatty liver disease, or hepatic steatosis) was significantly less in the mice that consumed hoppy beer than in those that consumed regular beer or straight ethanol.
So not only did Germany bestow the gift that is Oktoberfest upon us all, we also now have its scientists to thank for a study that gives us permission to fully enjoy the festival in all its hops-filled splendor. And for that we say, "danke schön."
This study comes out just in the nick of time for optimal Oktoberfest enjoyment. So in order to help you celebrate properly — and more healthfully — we've put together a list of the best hoppy beers out there.
Our 5 Favorite Hoppy Beers to Cheers With: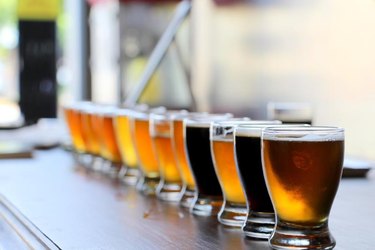 1. Pliny the Elder: This imperial double IPA from Sonoma Coast's Russian River Valley Brewery is a cult favorite with beer aficionados. With its bitter, complex taste, fragrant nose and amber color, there's little more you could possibly want in a beer.
2. Barley Brown's Headshake IPA: Described as an "IPA and a half," Oregon's Barley Brown Brewery is putting out one of the state's most reputable IPAs. A notable feat in a state that's such a force to be reckoned with in the craft brew scene.
3. Stone Brewing "Enjoy By" IPA: Not only does this beer from San Diego contain more than 10 different types of hops, it also is brewed to be consumed in a short window of time for optimal freshness and taste.
4. Sierra Nevada Torpedo Extra IPA: For those who want the benefits of hops without going crazy in the bitterness department, look no further than the Sierra Nevada Torpedo. With its hoppy nose and smooth taste, you're getting the best of both worlds.
5. Ballast Point Grapefruit Sculpin: This IPA is made light and crisp from an infusion of grapefruit in the brewing process for an easy-drinking, bright, hoppy beer. Perfect for the IPA newbie.
What Do YOU Think?
Do you drink IPAs? Do you enjoy bitter beer? Would you consider finding a new favorite if it helped your health? Are you able to think of a beer as being healthy, or should it still be considered a treat?