A cough during pregnancy is often a symptom of a cold or upper respiratory infection. While most coughs are not known to harm the baby, treating coughs can be challenging since only a small number of cold and cough medications are considered safe to use during pregnancy. The first step for cough relief is to try home remedies to manage symptoms, but if the cough is severe or if symptoms persist, certain medications can be used under a doctor's guidance.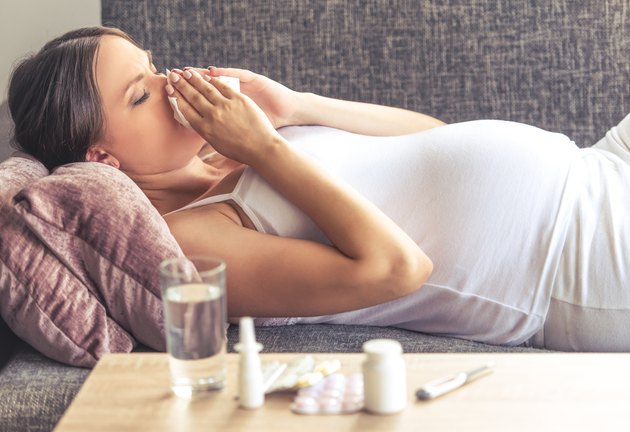 Fluids
A cough can be aggravated by dehydration, and drinking plenty of fluids can be an effective natural cough remedy. Fluids help thin mucus secretions, including the post-nasal drip which may be triggering the cough. Water is an optimal choice, although warm tea with honey and lemon can soothe the sore throat that may accompany a cough. Other liquids to try include broth-based soups or mint teas.
Moisture
Dry air can also worsen a cough, so adding moisture to the indoor air can lessen cough frequency and improve symptoms. Using a humidifier in the bedroom at night is one way to add moisture to the air. Taking a long, hot shower or even staying in the bathroom while a hot shower is running can provide the same type of temporary relief.
Pain Relief
Depending on your symptoms, some over-the-counter (OTC) cough medications may be advised by your doctor. Sometimes pain management is the most helpful strategy in relieving the discomfort caused by a cough. Acetaminophen (Tylenol) is generally considered safe in pregnancy, and can be used short-term in pregnancy to relieve pain, according to a report published in the October 2014 issue of "American Family Physician."
Cough Medications
Dextromethorphan is a cough suppressant found in many OTC cough medications, including pills, liquids and lozenges. An article published in the May 2008 issue of "Canadian Family Physician" reports this ingredient is generally assumed to be safe in pregnancy -- based on data from several human studies. Cough drops are a common OTC item used for coughs, with menthol as a common cough-suppressing ingredient. However, a March 2006 review in "U.S. Pharmacist" reports menthol has not been well studied in pregnancy. Pregnant women may opt for cough drops that instead contain honey, lemon or other soothing ingredients to help relieve symptoms. Due to limited research, OTC cold and cough medications should only be used under doctor's supervision, and only when the benefits outweigh the potential risks.
Warnings
If you have a cough during pregnancy, drinking more fluids, adding moisture to the air, and getting adequate rest can help ease your symptoms. If you think you need to use a pain reliever or cough or cold medication, talk to your doctor about options. According to the American Academy of Family Physicians, it's best to avoid any medications, if possible, in the first trimester of pregnancy -- when the risk to the fetus is the greatest. If you have a cough with a fever, or if you cough up green or yellow mucus, or if your cough is severe and painful, call your doctor. Also, if you have chest pain or wheezing along with your cough, see your doctor.