When a patient is infected with the human immunodeficiency virus, or HIV, there are some symptoms that can identify the infection early. The initial stage of HIV, according to National Health Services UK, is called primary infection. Sixty percent of patients with the disease will develop symptoms usually within two to six weeks after infection with the virus. Forty percent of patients will experience no initial symptoms.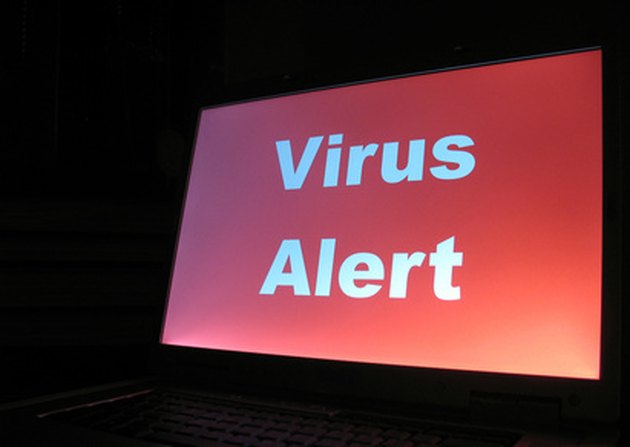 Fever
The symptoms of primary HIV infection can resemble a case of the common cold. One of the most common symptoms according to Freedom Health is fever. The fever can be very high, but respond to medication. The fever is the body's normal response to any viral infection.
Sore Throat
Patients with HIV can experience a sore throat that occurs within weeks of initial infection. This symptom can mimic the sore throat that is usually seen with other viral infections. Patients can also have swollen lymph nodes, which can contribute to the sore throat.
Rash
Along with fever and sore throat, rash is one of the three symptoms most HIV patients experience, according to Freedom Health. The rash is described as maculopapular, which means that the rash is a mix of flat red spots and small raised bumps. The whole body can be affected, or the rash can be limited to one area like the chest. This rash along with a high fever, fatigue and sore throat usually points to an infection of some form and may indicate an HIV infection.
Fatigue
A common symptom of all viral diseases is fatigue. The fatigue is manifested as a general feeling of tiredness. This symptom is usually accompanied by full body muscles aches or weakness, which is called myalgia. Medline Plus, a website of the National Institutes of Health, reports that the human immunodeficiency virus can cause a similar fatigue. Like most symptoms of HIV infection, the fatigue is not unique to HIV, but along with the other symptoms on this list, it may point to the need for medical advice.
Mouth Sores
Some HIV patients experience many mouth sores, according to Medline Plus. This is usually because the virus affects the oral mucosa, or lining of the mouth. These patients can have mouth sores more frequently and often complain that the sores take longer to heal.
Joint Pain
Along with muscle pain and fatigue, patients with HIV can be affected by joint pain. This pain is similar to what other patients with viral infections experience. This pain usually begins early in the infection period and disappears during the middle stages of the disease.