Getting a flat stomach at 50 requires close attention to diet and exercise. With age, the body decreases hormone production, metabolic rate and lean muscle mass. To counteract these forces, choose the right foods and work out efficiently. Follow a few simple guidelines to get a flat stomach at 50.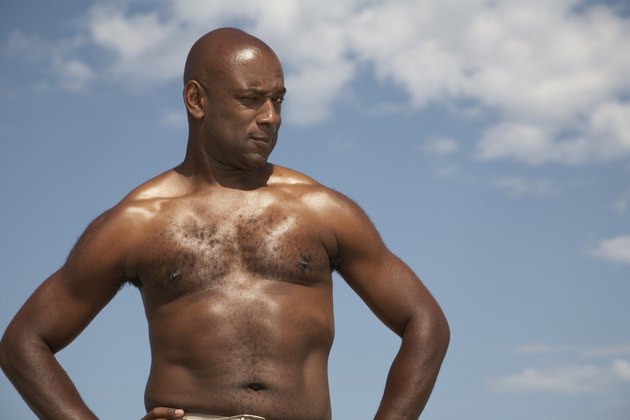 Step 1
Eat six smaller meals a day, spaced two to three hours apart. More frequent meals help suppress hunger, stabilize blood sugar and build metabolically active muscle, according to "The Abs Diet." Most important, this technique elevates metabolic rate, which declines sharply with age.
Step 2
Select clean foods that do not readily store as body fat. This becomes more important when you face a declining metabolic rate. With age, your body tends to store more fat with fewer calories, making your food choices more important than ever. Eat lean proteins such as fish, turkey or chicken. For carbohydrates, choose low-glycemic oatmeal, brown rice, whole-grain breads or pastas and fresh fruits and vegetables. Get healthy fats from sources like flaxseed or fish oil, avocado, natural peanut butter or olive oil.
Step 3
Increase your protein intake to 1.2 to 1.5 grams per pound of body weight. At 50, the body battles muscle wasting and metabolic decline, which can counteract your weight-loss efforts. Taking in more protein fights both of these factors, according to "Xtreme Lean" authors Jonathan Lawson and Steve Holman. Consider a protein supplement that blends whey protein, casein, egg or soy.
Step 4
Take in more calcium and dietary fiber while limiting sodium intake. Some people need to reduce carbohydrate intake to achieve a flat stomach, which can decrease dietary fiber intake. Consider a fiber supplement such as psyllium husk, which can be added to protein shakes. Limit sodium intake, especially if you have high blood pressure, to keep from storing excess fluid, which can obscure a flat stomach with bloating. Try to get a daily total if 1,200 to 1,500 milligrams of calcium, which plays a direct role in building bone mass and burning fat, according to "The Fat Burning Bible."
Step 5
Do resistance training workouts three to five days per week. Weight lifting maintains strong bones, elevates fat-burning hormones, builds muscle and speeds up metabolism, according to "The Abs Diet." Resistance training not only burns fat while you work out, it also elevates metabolic rate for up to 48 hours after, according to author David Zinczenko. If you work out every other day (Monday, Wednesday and Friday), you would be burn more fat all week long.
Step 6
Do joint-friendly cardio for 30 minutes up to six days per week and twice a day if needed. Low-impact cardio, for those with ailing joints, can include the elliptical machine, swimming or walking on the treadmill. Experiment with different forms of cardio to find one you enjoy and can tolerate. Follow best-selling fitness author Jeff Anderson's advice and do your cardio immediately after resistance training to help directly target your stomach.
Step 7
Include strength training exercises that target the ab muscles in your regime. Perform bicycles, crunches and medicine ball trunk rotations to target the muscles of your upper and lower abdominals, as well as your obliques -- the muscles located along your sides.
Things You'll Need
Blended protein

Psyllium husk

Calcium supplement
Tip
Consult your physician before beginning a new exercise program.