The vertical jump is a plyometric move used primarily to strengthen the lower body. Plyometric exercises incorporate fast, powerful movements, and are often used to improve athletic performance. With only minimal equipment needed, the vertical jump can be incorporated into any workout to increase heart rate between sets, or used as a strengthening exercise by itself.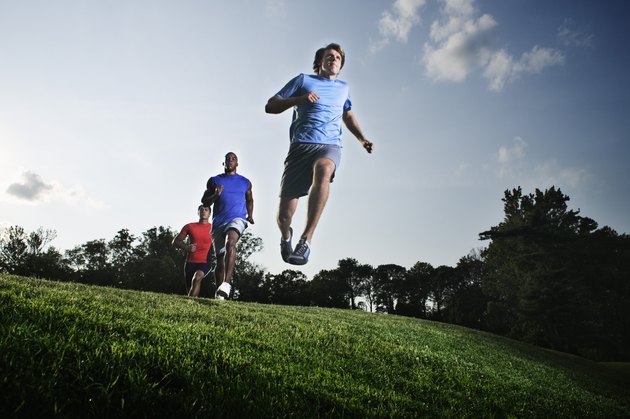 Hip Extension
Hip extension is the action performed when you stand up from sitting in a chair. Hip extension occurs at the beginning of the jumping phase, before your feet leave the ground. Muscles involved in hip extension are the gluteus maximus, semitendinosus, semimembranosus, the long head of the biceps femoris, and the adductor magnus. All of these muscles are located in the upper leg or gluteal area.
Knee Extension
Knee extension is the movement of straightening the leg at the knee joint. Knee extension occurs almost simultaneously with hip extension in a vertical jump. One muscle is involved in knee extension: the quadriceps femoris. This muscle can be broken down into four separate muscles of the anterior thigh: Rectus femoris, vastus lateralis, vastus intermedius, and vastus medialis. These four muscles work together to perform knee extension.
Ankle Plantarflexion
Ankle plantarflexion is also known as "pointing your toes." This is the final movement the lower leg performs before leaving the ground during a jump. The primary muscles involved are the gastrocnemius and soleus, or the large muscles in the calf.
Shoulder Abduction and Flexion
Vertical jumps may be performed with or without arm movements. If arm movement is used, it's typically performed as a final upward reach while in the air. This movement involves two types of motion in the shoulder: abduction and flexion. Muscles involved in shoulder abduction are the deltoid, supraspinatus, and pectoralis major.