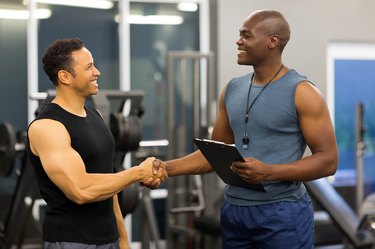 If you enjoy sports and exercise, becoming a certified personal trainer or a certified strength and conditioning specialist is a smart career path. Personal trainers work one-on-one with individuals in a gym setting, while strength and conditioning specialists work with athletes. Both are required to have in-depth knowledge about exercise instruction, program development, anatomy and nutrition, and both have the ability to change people's lives for the better.
Role of a Certified Personal Trainer
Certified personal trainers, or CPTs, often work in a health club or fitness center. They work with clients to help them get in shape, which usually consists of one-on-one interaction with the client once to several times a week. CPTs develop programs specific to their clients' needs, whether that be weight loss, muscle-building or overall conditioning.
During weekly sessions, CPTs provide exercise instruction, motivation and general nutritional guidance. As clients progress, the CPT is responsible for making changes to the program that prevent plateaus. CPTs must have knowledge of how to work with special needs clients, such as individuals living with obesity and people with mobility issues.
Role of a Strength and Conditioning Coach
A CSCS, or strength and conditioning specialist, works with athletes -- either one-on-one or with teams of athletes. These professionals develop safe and effective strength and endurance training programs aimed at improving athletic performance. They perform sport-specific testing and have extensive knowledge on nutrition, training techniques and injury prevention methods. Compared to CPTs, CSCSs have tougher standards when it comes to certification. CSCSs may also work as personal trainers.
In order to obtain either a CPT or CSCS credential, you must complete a comprehensive exam that covers a wide range of topics. Prospective CPTs will be asked to answer questions on performing client consultations and fitness assessments, program planning, exercise technique and safety and emergency protocol.
CSCS exams are more challenging and cover topics related to anatomy, exercise physiology, biomechanics of athletes, sports nutrition, exercise instruction, program design, organization and administration and testing and evaluation.
Prospective candidates must register for the exam and pay the fee before receiving study materials. Most exams are self-study, but some certifying agencies do offer live training clinics for hands-on experience. Exams are administered at independent testing facilities and may include a practical portion as well as the written part.
Four organizations that offer accredited certification include the American College of Sports Medicine, American Council on Exercise, National Academy of Sports Medicine and National Strength and Conditioning Association.
Certified personal trainers are not required to have a college degree, although they typically must have a current CPR and AED certification. CSCS trainers also must have CPR and AED certification, as well as a bachelor's degree or be enrolled as a senior in a bachelor degree program.