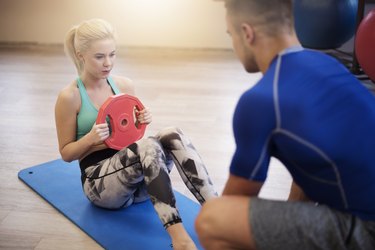 Above-average job growth, flexible schedules and the ability to positively impact lives are just a few of the perks of being a personal trainer. However, personal training is also a challenging job that requires hard work, sometimes long hours and the ability to deal with difficult people. It also takes business know-how. How much money personal trainers make varies widely, depending on where they work, how much they work and their credentials.
Income Range
In 2016, the median pay for fitness trainers and instructors was $38,160 per year and $18.34 per hour, according to the Bureau of Labor Statistics. The lowest 10 percent earned less than $19,150 and the highest 10 percent earned more than $72,980. Fitness instructors can generally work with a high school degree or equivalent and may require a personal trainer certification.
An athletic trainer, who often has a degree in exercise science, kinesiology or another related field can earn more. In 2016, the median annual pay for athletic trainers was $45,630.
Place of Work
Some gyms staff personal trainers as employees, charging set rates and paying the personal trainers a percentage of those rates. Percentages are often tiered according to credentials and experience, with entry-level trainers with basic certifications earning considerably less than more experienced trainers with advanced certifications.
Independent contractors may earn more than gym employees because they can often set their own rates. They may still pay a percentage of their hourly rate to the facility or they may pay a monthly "rent" to train in the space.
Gyms aren't the only places a personal trainer can find work. Personal trainers also work with clients in their homes, at recreational and community centers, in a clinical/rehab setting, at sports facilities and at corporate health facilities. Pay will vary from place to place and depending on whether the trainer is an employee or independent contractor.
Working with clients in their homes as a private trainer offers the greatest freedom for trainers to set their own rates without having to pay out a percentage of their rates. They have no overhead and no employer, however how much they earn depends on their costs for equipment, travel, insurance and other expenses not incurred when working out of a designated facility.
Group Sizes
Personal trainers can charge the most for one-on-one training. However, small group training can be more profitable for a trainer -- and economical for the trainees. In a small group training session, each trainee pays slightly less than the fee for individual training and receives a portion of the trainer's time during a typical one-hour session. The trainer, in turn, receives fees from three or four trainees that add up to more than one individual would have paid for a session.
Considerations
Personal trainers who work for themselves also may need to spend money on advertising in order to attract clients. Personal trainers typically carry liability insurance, current CPR and first-aid certification and may have to invest significant amounts of money in continuing education or renewing their personal trainer certifications periodically.
If a trainer works as an employee, the employer may cover some or all of these costs. If the trainer works as a contractor, she is usually responsible for these costs, which can significantly reduce her take-home salary.