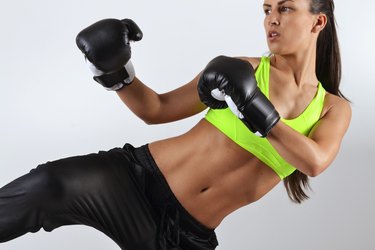 Kickboxing is one of the best ways to burn fat. You use your entire body to throw kicks and punches into the air, working most of the major muscles in your body. It also burns hundreds of calories per hour because it's so intense.
However, it's hard to kickbox if you've never been taught proper technique. That's why kickboxing DVDs are so convenient and helpful. You can learn proper technique and go through an entire workout at home.
Tae Bo Kickboxing & Kwon
Fitness star Billy Blanks is famous for his Tae Bo DVD series, which is one of the most well-known kickboxing workouts in the world. His energy and expert instruction will help you get through the workout.
Blanks takes you through about 75 minutes of butt-kicking cardio kickboxing in this DVD. It mixes punches, kicks and other martial arts moves with fun and upbeat music for a fast-paced workout. There are a few different levels of difficulty in this DVD, each of which is about 30 minutes long. The different levels let you start at a difficulty appropriate for you, instead of jumping into something too hard.
By the end you will have worked your legs, arms, back, chest and ab muscles.
Jillian Michaels Kickbox FastFix
There are three 20-minute workouts in this kickboxing DVD. The first focuses on toning the upper body, the second is geared towards the lower body, and the third is all about abs.
Every DVD is packed with cardio kickboxing, which keeps your heart rate elevated and helps you burn fat. The instructor, Jillian Michaels, is one of the most well-known trainers in the world and has been featured on the TV show The Biggest Loser, so she knows how to kick butt.
P90X Kenpo X
As part of the infamous P90X DVD series taught by Tony Horton, Kenpo X is a kickboxing workout designed to provide a high-intensity cardio experience. It's helps you develop balance, flexibility and endurance all while burning fat. Since you're learning punches and kicks this DVD also serves as a lesson in self-defense.
Tony Horton is a world-renowned trainer and he guides you through proper punching and kicking technique with enthusiasm.
Les Mills Combat
This DVD is an adaptation of the famous Bodycombat classes offered by Les Mills, which has created a host of successful group exercise classes. You can burn up to 740 calories with one Bodycombat workout, which is no small feat. You can do either 60, 45, or 30-minute workouts.
Do this workout up to three times per week for maximum fat burning benefits. It's totally non-contact and draws from seven different martial arts disciplines. The DVD also comes with a diet plan, a fitness booklet with tips for properly executing the moves in the DVD and a tape measure to track your progress.
Cardio Burn Kickbox
This DVD from the yoga company Gaiam features Patricia Moreno as the lead instructor. She brings over 20 years of training and nutrition expertise to the table and makes you work in this 50-minute DVD. There is also a yoga-inspired warm-up and cool-down to go along with the intense kickboxing experience to create a well-rounded workout.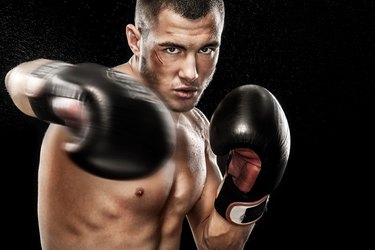 Martial Fusion Fat Burning Cardio Kickboxing
Amazon.com touts this DVD as the most highly-recommended kickboxing workout. For 60 minutes you'll practice various martial arts moves, interspersed with other cardio exercises like jumping jacks and squats. You won't stop moving for the entire 60 minutes.
However, it's not the best DVD for someone who is in very good shape. It's designed more for someone who is intermediate or just starting out.
10-Minute Solution Kickbox Bootcamp
There are five different 10-minute kickboxing workouts that were designed by Keli Roberts as part of this DVD series. The first workout is Basic Training, followed by Ultimate Buns & Thighs, Arm & Shoulder Sculptor, Washboard Abs and Fat Burning Blast.
Do each workout separately, mix and match workouts, or do them all straight through for 50 minutes of fat burning. When you put all of the workouts together you get exercises that work the legs, upper body, and core, as well as the cardio kickboxing aspect for your lungs and heart. It's truly a total body workout. There's also a seven-day meal plan included with the DVD series.