Push-up bars are more commonly referred to as push-up handles or push-up stands. Easily available for $50 or less, push-up stands don't actually do anything to help you push your chest up from the ground, but they do let you orient your wrists at a more comfortable angle. This can, in turn, make push-ups feel easier because you don't have to contend with persistent wrist discomfort.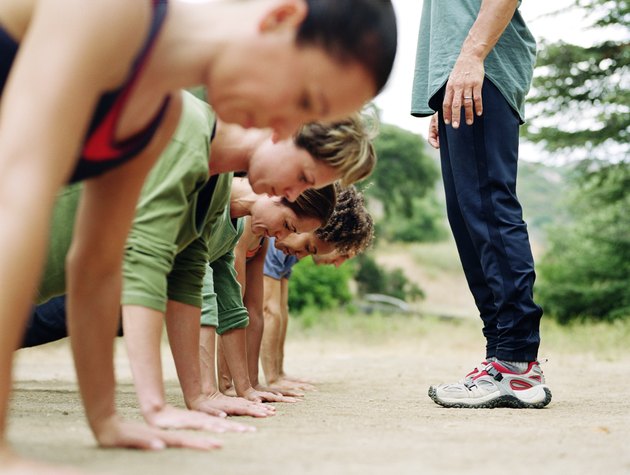 Purpose
Standard push-ups, done off your hands on the floor, might hyperextend your wrists or simply cause wrist pain and discomfort because of the angle your wrists are forced to work at under load. Push-up bars give you a pair of raised, stable bars to grip, letting you orient your wrists at a straighter, more natural angle.
Appearance
Some push-up bars are as simple as two U-shaped bars with a small crossbar at both ends of each bar for added stability. There's usually padding on the belly of the U, where you place your hands, and some sort of non-skid rubber on the crossbars to keep the handles from slipping beneath you. You might encounter superficial variations on this no-frills setup, but the basic design doesn't vary much. The one exception is rotating push-up bars. These resemble the grab handle just inside and above a car door, mounted on a rotating disc base.
Convenience
Standard push-ups are convenient exercises. They are good for use at home, at work or while traveling, specifically because they don't require any extra equipment. Although most push-up handles are fairly small and light, having to remember to bring something along decreases the convenience factor, as does having to actually pay for a piece of equipment.
Range of Motion
The standard conservative range of motion for push-ups requires lowering your chest and shoulders until they are even with your elbows. Athletes who need to build strength in a more extreme range of motion, such as swimmers, might lower the chest to the floor. The added height afforded by using push-up bars allows you an even greater range of motion. This greater range of motion puts your shoulders in an unstable position, providing very little benefit over the chest-to-floor range of motion and greatly increasing your risk of injury. The simple fix for this is not to lower your chest all the way to the floor when using push-up handles.
Hand Position
One advantage of doing push-ups without push-up bars is that you can shift your hand position quickly and easily. Although you can shift stationary push-up bars with little trouble, you still need a few extra moments to get yourself properly situated on the bars again after moving them. Rotating push-up bars allow you to change your hand orientation as naturally as you would without push-up bars, but if you want to move your hands to a new position, you must move the bars and then get yourself situated on them before continuing.