Roses have been grown for centuries as an important source of food and medicine. They are not only beautiful to look at, the fruit bulbs that appear below the flower are packed with nutrients and antioxidants. Best known for their abundance of vitamin C, rose hips provide many health benefits.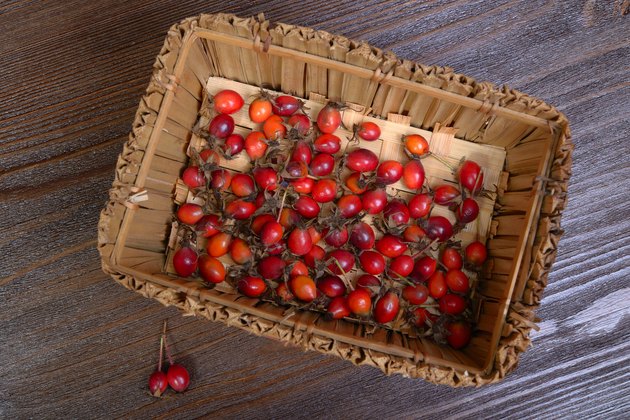 About Rose Hips
The rose hip, or rosehip, is the red-orange spherical fruit of the Rosa genus in the Rosaceae family. Seldom found on modern roses, the old-fashioned shrub-type, especially rugosas, produce a copious amount of rose hips. This rose hip bulb is typically smooth on the outside. Inside, you'll find a mash of seeds and some stringy pulp. A fresh rose hip can taste tart, like a green apple.
Rose hips contain many essential vitamins, minerals and phytochemical compounds such as ascorbic acid, phenolics and healthy fatty acids. As a result, some rose hip uses claim to be helpful in treating a variety of diseases, including skin disorders, kidney disease, diarrhea, arthritis, diabetes, obesity and cancer.
You can benefit from rose hips in many forms, such as purees, jams, syrups and sauces used as flavorings in recipes. Rose hip tea is often blended with hibiscus or flavored with mint for a mild laxative effect.
Nutritional Benefits of Rose Hips
Rose hips have 206 calories per cup (127 grams), according to the USDA. They contain very little fat and no cholesterol. With 48.5 grams of carbohydrates, providing 16 percent of your daily value on per cup, rose hips are a good source of energy to help fuel your brain, kidneys, muscles and nervous system. As with most fruits, rose hips are not a particularly good source of protein, but they do contribute 4 percent of your daily value (DV) per cup.
With their many beneficial vitamins and minerals, rose hips are a healthy source of nutrients. A cup of rose hips provides a good percentage of your recommended daily amount and includes:
Calcium: 215 milligrams or 17 percent DV
Iron: 1.3 milligrams or 7 percent DV
Potassium: 545 milligrams or 12 percent DV
Magnesium: 88 milligrams or 21 percent DV
Vitamin A: 276 micrograms or 31 percent DV
Vitamin C: 541 milligrams or 601 percent DV
Vitamin E: 7.4 milligrams or 49 percent DV
Vitamin K: 33 micrograms or 27 percent DV
Rose Hip Fiber Content
Fiber is important in your diet to keep your digestive system functioning properly_._ Rose hips are an excellent source of fiber, containing 31 grams or 122 percent DV per cup. The fiber in rose hips cannot be totally digested by your body. Remaining intact, fiber adds bulk and absorbs water, which helps soften your stool so it can easily pass through your intestinal system.
A diet high in fiber tends to be more filling than foods lower in fiber. As a natural appetite suppressant, the fiber in rose hips can help you manage your weight. The satiety effect may prevent you from overeating or snacking between meals, which could equate to a reduction in total daily calorie consumption.
Antioxidants in Rose Hips
Rose Hip Oil for Skin
The oil from rose hip seeds contains a high concentration of unsaturated fat — from 5 to 18 percent, depending on the species. These fatty acids, which include oleic, linoleic and linolenic acids, have been found to be beneficial for use in cosmetics, thanks to their therapeutic effect on skin disorders.
Rose hip oil may help reduce the appearance of scars by regenerating the cells of damaged skin. The Journal of Cosmetics, Dermatology Sciences and Applications published a study in June 2015 that aimed at analyzing the clinical course of 108 patients who underwent surgical procedures and were treated with rose hip oil.
Findings were that participants who used the oil twice daily for a 12-week period had an improved appearance of post-surgical scars, with significantly less discoloration, atrophy and redness.