On a low-carb diet, you might eat anywhere from 20 to 100 grams of carbs a day, depending on the plan. The results you want also figure in – you might be looking to lose weight, manage diabetes, or both. Some popular low-carb diets, like Atkins and South Beach, don't allow beans until you've lost some weight in the first phase of the program. You'll want to choose beans for your low-carb regimen as soon as it's permitted, because they provide essential nutrients and health benefits. Just remember to watch your portions.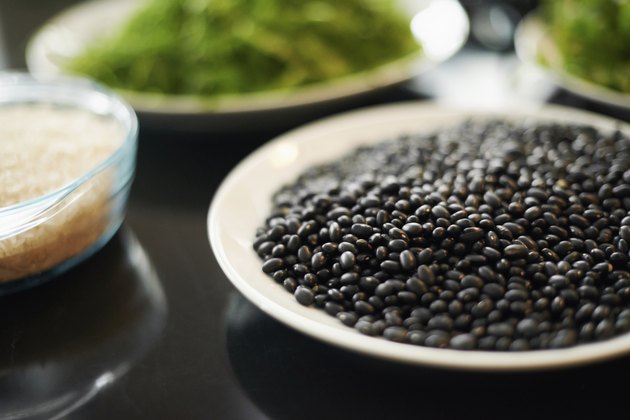 Benefits of Beans for a Low-Carb Diet
Beans provide a wealth of nutrients, including fiber and protein, two nutrients strongly associated with satiety and weight management. A cup of beans – for example, black beans, pinto beans or chickpeas – provides approximately 15 grams of protein and between 12 and 15 grams of fiber. You'll also get high amounts of B vitamins like folate and thiamine in these servings of beans. The B vitamins help your body release energy from food, and folate works with B-12 to manufacture red blood cells. Black beans, pinto beans and chickpeas are also excellent sources of minerals such as iron, magnesium, potassium and manganese.
That said, beans are also very high in carbohydrates, with a cup containing 41 to 45 grams. If you're calculating "net" carbs – the amount of total grams of carbs minus grams of fiber – they're still considered high, supplying somewhere in the vicinity of 30 grams a cup. Use 1/4 cup for your serving to control the number of carbs you eat from beans.
Choose Beans for Lunch
One way to choose beans on your low-carb diet is to use them as a filling addition to a mixed green salad for lunch. Greens of all varieties are very low in carbs and are allowed in abundance. Top two cups of leafy greens with a lean protein like grilled salmon, a quarter-cup of black beans seasoned with cumin and chili powder, and 1/2 cup of low-carb veggies like tomatoes. Slice on a serving of avocado, or about a fourth of a fruit, and top with jalapeno ranch dressing for a Mexican-inspired low-carb lunch.
Serve Beans With Dinner
A second way to choose beans is to make a cold side dish to complement your protein and non-starchy vegetables at dinner. Start with a cup of pinto beans, and add generous amounts of fresh chopped celery, red onion, red bell pepper and cilantro. Finish the cold bean dish with a vinaigrette made with olive oil and balsamic vinegar. Serve a 1/4-cup portion on the side of grilled chicken or sirloin, plus a cup of steamed asparagus or Brussels sprouts.
Snacking on Beans
You can also snack on beans on a low-carb diet. Dip broccoli florets or celery sticks into 2 tablespoons of prepared hummus – a spread made with mashed chickpeas, garlic, tahini, lemon and spices. Or try roasting cooked chickpeas with olive oil, garlic, lemon juice and curry spices; the beans become satisfyingly crispy and just right for snacking. Stick to the portion size of 1/4 cup to avoid adding too many carbs and calories to your daily plan.
The Musical Fruit?
When choosing beans for your low-carb diet, you may experience gas, although how much may depend on the individual and on the type of beans. A study in Nutrition Journal in 2011 found that eating beans may not cause as much flatulence as people commonly fear. Savvy Vegetarian.com reports that black beans, pinto beans, black-eyed peas and chickpeas produce less gas, while soybeans, split peas and navy beans may be on the gaseous side. To help minimize problems, prepare your beans from scratch by soaking them, then throwing away the soaking liquid and cooking them in a fresh pot of water. Canned beans are more likely to create gas. Finally, when you add fiber to your diet, like the generous amounts you'll get from beans, be sure to drink plenty of water to avoid cramping and discomfort.