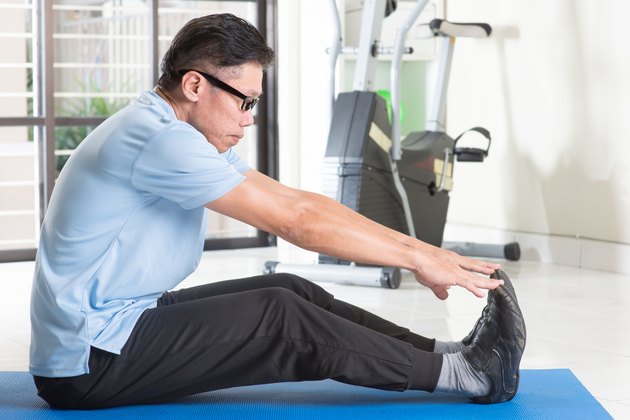 ?Working out at home is a great way to save money and time, since you don't need to drive to and from the gym or pay any membership fees. Many people think that workout videos are just for women. However, most videos are suitable for both sexes. There are also some great workout videos that men may be more comfortable with, and even have men in the videos.
P90X
P90X is commonly known as an extreme home fitness program. It is similar to taking a boot camp weight training course in your home. The program is a straightforward strength training, cardio and flexibility program. The program is built into three phases and was created to last for 90 days. However, you can repeat the program from beginning to end as many times as you would like. This program is led by Tony Horton. You will need a full set of dumbbells, a pull-up bar and an exercise mat. A resistance band is optional. This program is not for beginners, and you should perform a fit test before beginning, which is included in the program.
? Men's Health 15 Minute Workout
This great workout video is geared toward busy men trying to get or stay in shape. This workout set consists of four 15-minute workouts, so you can do one or more workouts depending on your schedule. This is also a great bargain, as the program is available for under $20. You need some basic equipment, like an exercise mat and a set of dumbbells.
The Biggest Loser: Boot Camp
This fun video led by NBC's The Biggest Loser trainer, Bob Harper, will get your heart rate up fast. You will alternate between periods of strength and cardio segments, with no rest in between. The video participants are fun and motivating, and Bob's upbeat attitude keep you pushing through the whole time. There are no difficult routines to remember, and no fancy equipment is needed. You will need an exercise mat and a set of dumbbells. A resistance band and weighted ball are optional.