Eugenia aromatica, more commonly known as clove, is added in small amounts to foods for flavoring, gum and tobacco in cigarettes. Clove oil, technically called eugenol, has anti-inflammatory, pain relieving and antibacterial effects, as noted by the National Institutes of Health. When you take clove oil internally or smoke it in cigarettes, side effects may occur, some serious.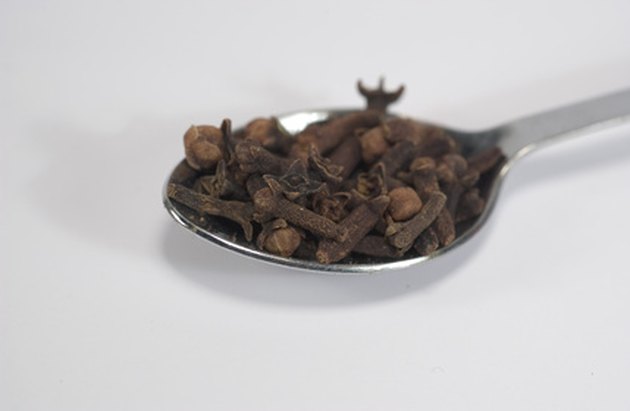 Topical Side Effects
Clove oil can have a numbing effect when applied to skin or the inside of the mouth, according to NIH, thus decreasing the ability to feel pain. In contrast, clove oil also can have more serious effects. It can cause burning sensations, tissue damage and dry, sore lips. It also may damage teeth and increase the risk of cavities. Like most other essential oils, if not diluted, clove oil can cause a rash or even burn skin when applied topically. Clove can cause blindness when applied to the eyes, according to InteliHealth. NIH notes that applying herbal creams containing clove to the penis sometimes is reported to cause erectile dysfunction or difficulty ejaculating.
Increased Bleeding
Clove oil may increase the risk of abnormal bleeding, as indicated by laboratory research, according to NIH. People with bleeding disorders such as hemophilia or who are taking drugs or herbs that have blood-thinning effects should be cautious about taking clove oil internally. These substances include anticoagulants such as warfarin and heparin, and nonsteroidal anti-inflammatory drugs such as ibuprofen, aspirin and naproxen. Patients also should stop taking clove oil several days before surgery or a dental procedure.
Reduced Blood Sugar
Clove oil taken internally may lower blood glucose levels, according to InteliHealth. People prone to low blood sugar (hypoglycemia) should be cautious about using clove oil. Additionally, individuals taking medications such as metformin or insulin to regulate blood sugar levels may need to monitor their blood glucose more closely when also taking clove oil.
Allergic Reaction
Although unlikely, some people may experience an allergic reaction to clove or clove oil. Signs as listed by the NIH include a rash, itching and shortness of breath. Some people smoking clove cigarettes have reported developing hives and difficulty breathing. An allergic reaction to clove oil should be considered a medical emergency as it can lead to anaphylaxis.
Toxicity
Large doses of undiluted clove oil can cause toxic effects. As listed by NIH, these side effects can include nausea, vomiting, sore throat, sedation, difficulty breathing, fluid in the lungs and seizures. Large amounts of undiluted clove oil also can cause blood disorders, kidney failure and liver damage. People with kidney or liver disorders or who have had seizures should not take clove oil. All these effects are more likely in young children, even with small doses. Children, as well as pregnant and breastfeeding women, should not use clove oil.