Shortness of breath, often described as suffocating or starving for air, is one of the most unpleasant sensations a person can experience. Mayo Clinic physicians list more than two dozen causes. In severe chest congestion, mucus plugs the air passages making it difficult for fresh air to get in. Many home remedies offer quick relief.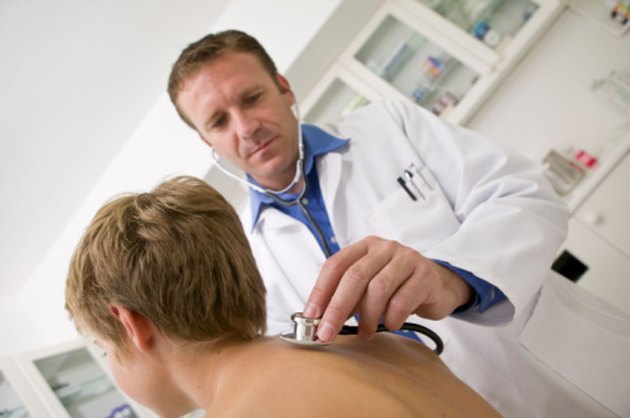 Eliminate Causes
Escape from respiratory irritants. Close your windows and turn on your air conditioner, making sure your air filter is clean, if your congestion is allergy related. Stop smoking, painting or other activities that produce airborne irritants. Mucus congestion is your lung's defense to trap and expel noxious agents.
Clear Mucus
Cough. It is your body's wisdom for expelling dangerous build-ups of mucus. Take a deep breath before each cough to make each cough more forceful. Lay on your bed with your upper body hanging over the edge so your head is near the floor and cough. This helps gravity drain the bases of your lungs.
Drink plenty of liquids to make mucus watery enough to clear easily. Hot chicken soup really works, according to Mayo Clinic physicians.
Fan Yourself
Place a fan where the air blows directly but softly on your face. Many people suffering from shortness of breath say this helps whether sleeping or sitting upright in a chair.
Use a humidifier, especially in winter. Dry air thickens mucus.
Cool the Room
Lower the temperature of your environment, though not low enough to shiver. An overly warm room often feels "stuffy" and aggravates shortness of breath.
Open a Window
Open a window and look into the distance. A sense of confinement often aggravates the sensation of suffocation and shortness of breath. A porch or patio can also be a good home remedy in good weather.
Drink Black Coffee
Drink a cup or two of strong, black coffee if your coughing and shortness of breath result from an asthma attack and your usual rescue inhaler is not available. Caffeine, and a similar compound in coco and chocolate, acts like some common asthma medications, relieving shortness of breath and improving mucus clearance. Do not use coffee as a regular asthma treatment as it may raise your heart rate and blood pressure too much.
Exercise Caution
Consult your physician from home if exertion aggravates your shortness of breath so much that going to your doctor's office is too exhausting. Severe shortness of breath and chest congestion can be signs of pneumonia, bronchitis or many other serious conditions which can become emergencies if home remedies alone are relied on for treatment.