Gluten is a protein naturally found in wheat, rye, barley and malt. People who suffer from celiac disease or gluten sensitivity need to be careful about the dishes they choose when eating Chinese food, as gluten is commonly added to processed foods as a binding agent. Choose dishes made with rice, vegetables, meat that isn't battered and soy products such as tofu to keep your meal gluten-free.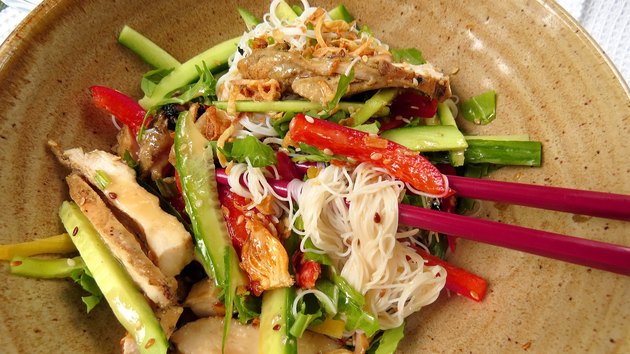 Tamari and Natural Soya Sauce
Soy sauce made through a natural fermentation rather than a chemical extraction process are considered gluten-free, even though soy sauce is made from fermented wheat. You may also choose Tamari, which is made from soy beans and is naturally gluten-free. Before ordering food in a restaurant, request that only natural soy or Tamari sauce be used to avoid any possible gluten contamination.
Gluten-Free Noodles
Tofu noodles — pressed, extra-firm tofu shaped into strands — are naturally gluten-free, as are all rice products, including rice noodles. Other gluten-free noodles featured in Chinese food include glass or cellophane noodles, also sometimes known as mung bean noodles. These are characteristically transparent when fully cooked. If you are ordering a dish that may contain wheat noodles, which contain gluten, ask for rice noodles or another gluten-free noodle instead.
MSG Is Safe
While many people are wary about the flavor agent called monosodium glutamate, or MSG, it is considered safe for those who are looking to avoid gluten in their diet. Although MSG used to be made from wheat gluten, it is now more commonly made from beets and is gluten-free. If you are unsure about MSG and its effects on your overall diet, request that dishes be made MSG-free.
Gluten-Free Chinese Dishes
Classic Chinese dishes, including stir-fried rice vermicelli and fried rice dishes, are all naturally gluten-free if you make them with natural soy sauce or Tamari. Many hot pot and sizzling-plate dishes, such as beef and broccoli and Buddha's delight, are also naturally gluten-free, as they do not include wheat products. While chow mein is made with wheat noodles, other fried noodle dishes, such as chow fun -- made with rice noodles -- are gluten-free.
Avoid Deep-Fried Foods
While some deep-fried Chinese foods are made with a cornstarch or rice flour batter, it is more common for them to be made with a wheat-flour-based batter. This is the case for many Americanized Chinese dishes, such as General Tso's chicken or lemon chicken. Avoid deep-fried Chinese foods unless you can be sure that the batter is made with a rice or cornstarch batter. Also avoid foods that use wheat flour for wrappers, such as dumplings and egg rolls.