Constipation is a common medical problem, the most common cause of which is inadequate dietary fiber intake, often coupled with insufficient exercise. Chronic constipation frequently causes abdominal pain. While the pain from constipation can occur anywhere in the abdomen, the most common location is the lower left quadrant. More serious causes of pain in the left abdomen may lead to constipation, but these causes will almost always be accompanied by additional symptoms.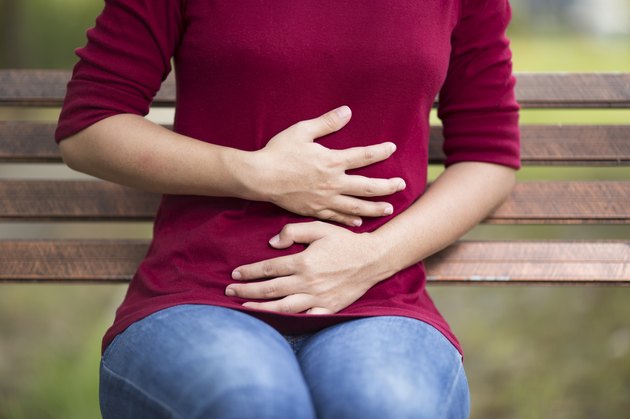 Dietary Fiber
According to the American Dietetic Association, the recommended fiber consumption for adults ranges from 25 to 36 g a day, and the average American gets about 14 g a day. It's hardly surprising, then, that inadequate fiber consumption is the most common cause of chronic constipation. Fiber is found mainly in whole plant foods, such as fruits, vegetables, beans and whole grains. Fiber-enriched foods are also available for those who have difficulty getting enough fiber from foods. Regular exercise is also an important factor in preventing constipation, since it increases the activity of the large intestine.
Medications
Medications are also a common cause of constipation. Opiates, such as Vicodin, Percocet and Oxycontin, certain iron supplements, some antipsychotic medications, antihistamines, and some heart and blood pressure medications, such as Norvasc and Procardia, can cause chronic constipation. A patient who is taking one of these medications and is having problems with constipation should talk to a doctor about it, since it may be possible to substitute a drug that is less likely to cause this problem.
Other Causes
Less commonly, more serious conditions can cause left abdominal pain accompanied by constipation. These conditions include tumors, diverticulitis, volvulus and nerve damage. These conditions will almost always be accompanied by additional symptoms, such as unexplained weight loss, fever, numbness in the inner thighs or genitals, blood in the stool or extremely intense abdominal pain. Patients experiencing these symptoms in combination with constipation and abdominal pain should seek prompt medical attention.
Is This an Emergency?
If you are experiencing serious medical symptoms, seek emergency treatment immediately.