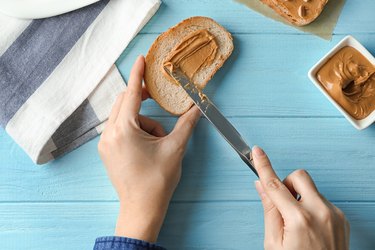 Peanut butter is a healthy, energy-packed, high-protein food. Although it is high in calories and fat, its fiber, protein, minerals and unsaturated fat content make it a smart choice when compared to other options.
A single serving of peanut butter — 2 tablespoons, or 32 grams — contains 191 calories, with most of these calories coming from its fat content. Peanut butter also contains carbohydrates, including 1.6 grams of dietary fiber, which promotes healthy digestion and also fights diseases, such as coronary heart disease.
When you prepare healthy peanut butter snacks, pay attention to portion size. Because peanut butter is so rich in calories, consuming more than one serving at a time might cause you to over-consume calories.
Kid-Friendly Snacks
Peanut butter is a kid-friendly, convenient food that can be transformed into a variety of snacks that children will love.
Peanut butter and jelly sandwiches are a classic snack. Make this old-fashioned treat healthier by using whole-grain bread instead of white. Whole grains contain more fiber, B vitamins and minerals than refined grains. Choose a low-sugar jelly options, or get creative by adding banana slices or raisins to your sandwich.
If you want something a little smaller, spread peanut butter between two crackers to make little sandwiches that are easy to pack for eating outside or packing into lunches.
Peanut butter is also a good dip for celery sticks or apple slices. Try dipping tart green apples in peanut butter for an interesting flavor combination. Juicy celery offsets the stickiness of peanut butter. For a packed lunch or outside snack, spread peanut butter into celery sticks and top with raisins, carob chips or nuts.

Instead of handing out ice pops and ice cream bars on hot summer days, slide some Popsicle sticks into bananas that have been halved width-wise. Spread a thin layer of peanut butter over the bananas, then roll them in chopped nuts or shredded coconut. Freeze them for a few hours.

For Grown-Up Tastes
Unsweetened peanut butter is a traditional complement to many Southeast Asian and Indian dishes, and the flavors easily translate to a dip. Heat the peanut butter in a pan to soften it, and add a little soy sauce, ginger, minced cilantro or garlic. Use it as a dip for fresh vegetables, shrimp, grilled eggplant or grilled chicken breast.
If you're looking for a healthy post-workout snack, add peanut butter to a smoothie. Be creative in your combinations, though peanut butter and banana with a few splashes of milk is a classic. Turn it green by adding spinach—you won't even taste the veggies.
Make your hummus dip extra-special by substituting peanut butter for the tahini. Blend it in a food processor with chickpeas, olive oil, lemon juice, garlic, salt and cumin, and then dip veggies or pita chips into it for a tasty, healthy snack.