Pilates — it does a body good. Just ask actress Kate Hudson, who has sworn by the body-conditioning workout since her teens. The 38-year-old recently documented one of her workouts on social media, and let's just say she's the unofficial spokesperson for the exercise.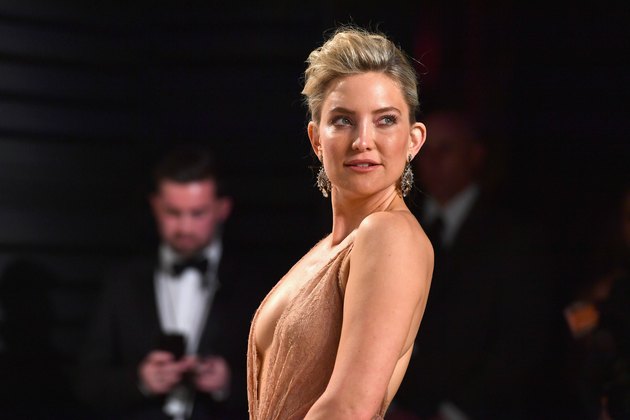 Totally on point with her form, Hudson showed off all her moves on a reformer and Gratz Cadillac, which is basically the Rolls-Royce of Pilates equipment. Joined by her longtime trainer Nicole Stuart, the actress made all the rolling, curling and lifting look easy. Obviously, it is not.
"Always my Number 1! #pilateslove," Hudson captioned the video, which she soundtracked with the pumped-up Rolling Stones rendition of "Mona."
In case you aren't familiar with Pilates, it seriously kicks butt for improving core strength and flexibility (hence Hudson's enviably strong abs so clearly on display in her video). It's also great for weight loss in general, as you can expect to burn from four to eight calories per minute.
"I was 19 when I discovered Pilates, and I'm still doing it. It's the workout my body really responds to," she told Shape in 2016. "It's all about alignment, elongating your spine and strengthening your core. It makes me feel my strongest. Pilates is always challenging. The advanced moves are amazing, but so hard."
Hudson's rock-hard bod is truly inspiring, and so is her devotion to fitness. On a recent vacation in Greece, she found herself without dumbbells. Instead of skipping her arm workout, she got creative and got her hands on two bottles of rosé, sharing her brilliance on Instagram.
"Sometimes you gotta work for it," she captioned the video of herself doing triceps extensions, biceps curls and overhead presses.
Part of her MO is being totally fine with exercising on the fly. "When I exercise, I need to connect to myself and see how I'm feeling at the moment, because my mood is constantly changing," she explained in the Shape interview. "Some people need structure and a regimen, but I'm not a planner."
If you can't get yourself to a Pilates studio, you can still break a sweat like Hudson. She recommends trying her trainer's workout app, QE2, a full-body routine. "It keeps me in tip-top shape," she told the magazine.
Hudson's not the only star who inspires us with her strong-is-sexy approach to fitness. Emma Stone recently impressed us with her ability to deadlift 185 pounds while prepping for her role in "Battle of the Sexes," while "Wonder Woman" star Gal Gadot superhumanly packed on 17 pounds of muscle for 2016's "Batman v Superman: Dawn of Justice."
What Do YOU Think?
Are you impressed by Kate Hudson's Pilates workout? Have you ever tried Pilates? What other core-strengthening workouts are your faves?