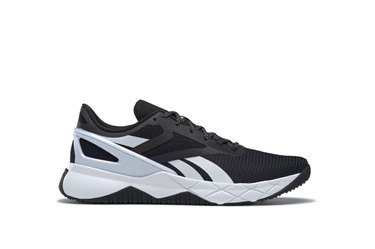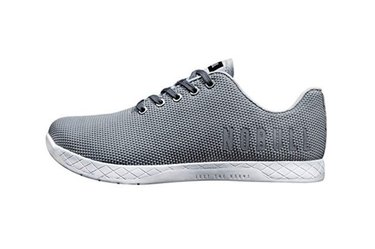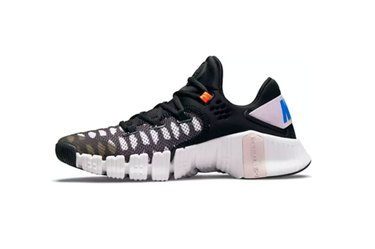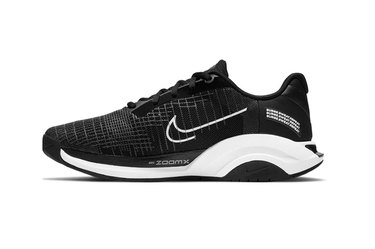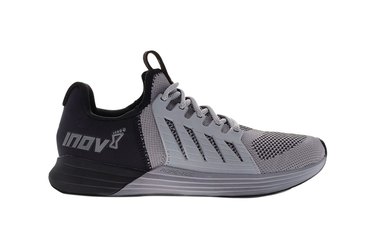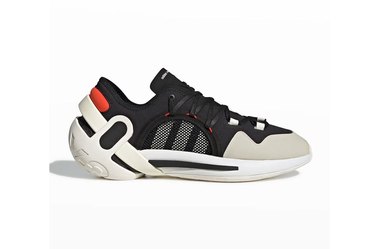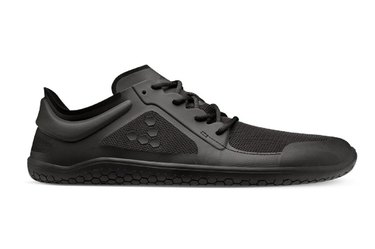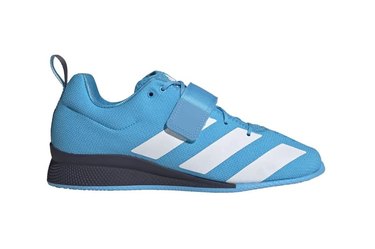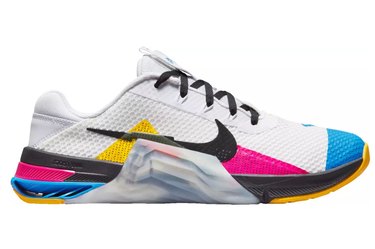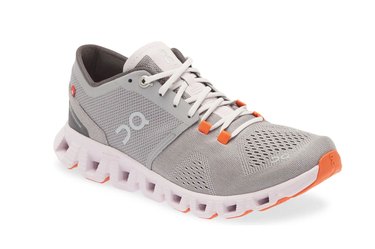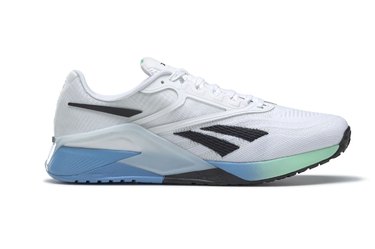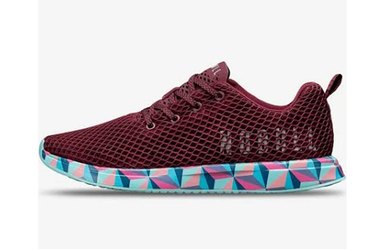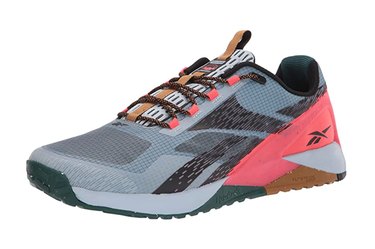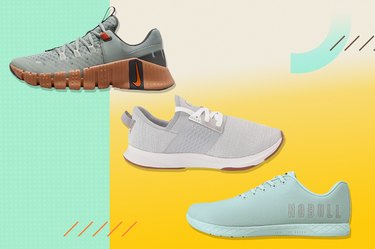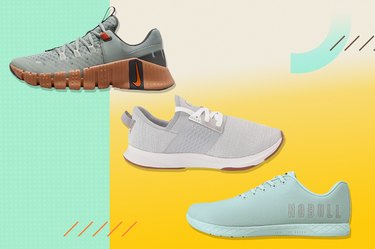 When your workouts include a little bit of everything — sprints, jumps, lifts, rope climbs and more — you need footwear that can keep up. Enter: cross-training shoes.
Unlike running shoes, cycling shoes, hiking boots or any other kicks in your closet, cross-training shoes are multi-purpose. These workhorses can take you from tire flips and sprints in the parking lot to box jumps and heavy squats in the gym.
As with any shoe, you can't just pluck a random pair of cross-trainers off the shelf and expect them to work. You have to do some digging to find the right pair. Start with our roundup of the best cross-training shoes of 2023.
The Best Cross-Training Shoes
We chatted with several personal trainers to find out which cross-training shoes they reach for when they work out. Then, we selected the following pairs based on criteria including:
Shape
Cushion
Ankle stability
Durability
Ventilation
We make deliberate choices about the language we use, but most manufacturers typically market shoes according to gender, so we have listed both women's and men's picks below.
However, the main difference between most men's and women's shoes lies in the shoe width and size. In some cases, men's shoes are built to support greater weights. So people with bigger bodies may want to opt for men's versions, whereas people with smaller bodies may prefer women's versions.
1. Most Versatile Cross-Training Shoes: NOBULL Trainers
‌Sizes: ‌varies; most colors come in size 8 to 18 for men and 6 to 11 for women
It's easy to understand why NOBULL trainers are the official footwear of CrossFit.
"They have a lightweight feel and tight hold on your foot but are flexible enough to handle sprints and other intense bursts of cardiovascular activity," ACE-certified personal trainer Makena Romagnano, CPT, tells LIVESTRONG.com.
These trainers have a flat sole that's perfect for lifting. The sidewalls also feature durable carbon rubber for added stability. Choose from many colors, patterns, fabrics and ankle heights.
2. Best for Shock Absorption: Inov-8 F-Lite G300
‌Sizes: ‌7 to 14 (men's); 6.5 to 11 (women's)
Billed as the brand's "toughest and most versatile cross-training and fitness shoe to date," these kicks were built for high-impact movements.
Their outsole and midsole are infused with Graphene — a durable, high-tech material that provides maximum support, stability and grip. Responsive cushioning equals comfort for jumping and other explosive drills, while a lightweight design ensures you stay quick on your feet.
3. Best Minimalist: VivoBarefoot Primus Lite III
‌Sizes: ‌7 to 15 (men's); 5.5 to 11.5 (women's)
If you prefer cross-trainers that offer a barefoot feel, these are for you. A wide toe box gives your toes room to spread, while a thin, flexible sole enables you to feel the ground beneath you — ideal for heavy deadlifts.
"These are my favorite all-around cross-trainers," FightCamp trainer Aaron Swenson, CPT, tells LIVESTRONG.com. "They are comfortable and allow me to move freely as I kickbox and head out straight to the street for some [running] roadwork."
Bonus: These shoes are made with more sustainable materials to reduce their environmental impact.
4. Best Cross-Training Shoes for Women: New Balance Dynasoft Nergize V3 Cross Trainer
‌Sizes: ‌5 to 12, regular and wide
These cross-training shoes from New Balance are a best seller, thanks to their super comfortable memory foam inserts, breathability and excellent traction.
The outsole's rubber is made for quick directional changes (like when you've got lots of speed skater lunges), and while there's laces, the shoe itself is constructed almost like a slip-on. And comfort is the name of the game here — the midsole and inserts are built for all-day support, the shoe itself is lightweight and it comes in wide sizes for the perfect fit.
5. Best Cross-Training Shoes for Men: Nike Free Metcon 5
The latest version of Nike's highly-rated Metcons combines flexibility with stability for ultimate versatility. The breathable upper flexes while moving to keep your feet cool during all-out cardio bursts.
The shoe also features internal webbing around your midfoot to keep you locked in during sudden stops and changes in direction. Meanwhile, a wider heel and a firm outer layer create stability for heavy lifting sessions and lots of lunges. The heel also offers a little lift, which is helpful for squats.
Pro tip: For wider feet, order a half size up.
6. Best for Weightlifting: Adidas Adipower Weightlifting 3 Shoes
‌Sizes: ‌unisex sizing; 3.5 to 16 (men's); 5 to 13.5 (women's)
If pure strength days are your jam, you can't go wrong with this pair. They're durable with a raised and supported heel — key features to look for in any weightlifting shoe, says Alan Morton, a sports conditioning coach and tutor with personal training education platform TRAINFITNESS.
These foot-hugging shoes also boast a reinforced upper and a firm midsole to give you a stable platform for lifting. The laces and midfoot strap ensure your feet stay put, while a flexible forefoot gives your toes room to splay.
While pricey, these are around what you'll pay for premium weightlifting shoes.
7. Best Budget Cross-Training Shoes: Reebok Nanoflex TR 2.0 Training Shoes
‌Sizes:‌ 6.5 to 14 (men's); 5 to 11 (women's)
At a base price of $100 a pop (and often on sale), these cross-trainers are ideal for budget-conscious athletes who don't want to sacrifice quality.
"They're great for everyday wear and good for most workout styles," ACE-certified personal trainer Amanda Capritto, CPT, tells LIVESTRONG.com. "I also found them to be especially great during HIIT workouts because of the foam midsole, which made plyometric movements seamless."
8. Best for the Gym: Nike Air ZoomX SuperRep Surge
‌Sizes: ‌6 to 15 (men's); 5 to 15 (women's)
From the treadmill to the rowing machine to the gym floor, the grippy rubber tread of this shoe will keep you grounded. Responsive foam cushioning returns energy to put a spring in every step, no matter your activity or pace.
Plus, an integrated rower clip at the heel makes it easy to hop on and off a rowing machine, and the mesh across the top is even reinforced to hold up against the machine's foot straps. And, side arc support helps brace your foot when you're ready to strength train.
9. Best Lightweight Cross-Training Shoes: Nike Metcon 8
‌Sizes: ‌3.5 to 22 (men's); 5 to 15 (women's)
While lightweight, these shoes "tick all the boxes when it comes to cross-training," Romagnano says. An inner plate in the heel helps distribute your weight more evenly, creating a more stable base for weightlifting.
These shoes also feature foam cushioning for comfort during high-intensity cardio, but not so much cushioning that it compromises the ankle stability you need for lifting, Romagnano says. Plus, the rubber tread offers more grip for rope climbs.
The Nike Metcon is also a staff favorite— it's the only strength-training shoe LIVESTRONG.com Associate Fitness Editor Bojana Galic will ever buy. Read her full review here.
10. Best for Heel Support: On Cloud X3
‌Sizes: ‌7 to 14 (men's); 5 to 11 (women's)
If you crave heel support, reach for these cross-trainers. They feature a precision-molded heel cap for added security.
What's more, these lightweight shoes contain superfoam made specifically for explosive movements in all directions and raised sidewalls boost stability for agility and plyometric drills. They're built to handle mixed-sport workouts, whether that means heading to the track, the gym or the field.
As one reviewer notes, "I really love this pair. I wear them six times per week to work out. I do mixed sports and the jumping feels better in my knees with these ones."
11. Best for Wide Feet: Reebok Nano X2
‌Sizes: ‌7 to 14 (men's); 6.5 to 11 (women's)
These cross-trainers make regular appearances in the "best for wide feet" category, and many reviewers appreciate the roomy toe box. As an all-purpose shoe, they'll carry any wide-footed athlete through plyometrics, strength training and sprints.
They incorporate Floatride Energy Foam for a responsive feel in the midsole, which boosts stability for your jumps. The outsole midfoot also features "teeth" for added traction for rope climbing.
12. Best Cross-Training Shoes for Running: NOBULL Gum Ripstop Runner
‌Sizes: ‌5 to 11 (women's); 8 to 18 (men's)
These lightweight running shoes are incredibly versatile. They can easily transition from running to outdoor and indoor training. One reviewer writes: "Love these for running! Not bad for a CrossFit workout either."
This pair of running shoes has a grippy lug pattern on the sole to boost traction and support, a firm midsole for greater foot control and a removable insole that provides a snug fit. The 10mm drop makes it great for running but can move into the gym as well.
13. Best for Outdoor Workouts: Reebok Nano X3 Adventure Shoes
‌Sizes: ‌6 to 14 (men's); 5 to 11 (women's)
These cross-trainers are the adventure version of Nano and were designed for indoor and outdoor workouts. They have a rugged sole from Vibram that helps you keep your grip on any surface, along with energy foam in the forefoot for a lightweight feel and responsive ride and a water-resistant upper.
Slip them on for bootcamp workouts in the gym or bodyweight exercises at the campground. One reviewer describes them as "like wearing an ACE bandage around your foot if that ACE bandage was made of Kevlar, with the sole of a hiking boot."
These run big, so order a half-size down.
5 Things to Consider When Shopping for Cross-Training Shoes
There are some universalities when it comes to shoe fit:You don't want them to pinch, slip, rub or restrict. Beyond that, the perfect fit depends both on personal preference and the types of activities you're doing (more on that later).
"Runners typically prefer their shoes to hug their feet a bit tighter, while weightlifters might want more room to drive their feet into the ground," Capritto says.
Cross-training shoes come in many shapes, such as minimalist, slip-on or extra-chunky. The style you choose will depend on which look you prefer and which features you need. Chunky shoes generally offer more cushioning and support, whereas low-profile trainers will be your best bet for a more natural feel.
"To avoid having to purchase multiple shoes a year, you want to make sure you find something that will last," Capritto says. Avoid shoes with materials that feel soft and cheap, as they will tear. For added durability, look for shoes that have a thick outer, rubber sole, reinforced midsole and support in the heel and ankle.
Comfort is relative. What's comfy for you may not work so well for someone else. Test several pairs of cross-trainers and pay attention to how you feel in different levels of cushioning, shoe shapes and support features.
Choose the pair that suits your preferences. And if you're able, buy from retailers —- both brick-and-mortar and online —- with a generous return policy.
The features you need in a cross-trainer will vary depending on what activities you're planning to do. Take cushioning, for example.
"Oftentimes, runners prefer more cushion to absorb the impact running has on their feet, while weightlifters prefer less cushioning, so they can have more contact with the ground for stability," Capritto says.
If your workouts involve more running than lifting, you may want to opt for more cushioning (and vice-versa). Jumping- and agility-focused workouts, on the other hand, may call for features like reinforced sidewalls and midfoot straps for added stability when landing, stopping and cutting.