The term "bungee" automatically conjures visions of daring jumps off tall bridges and swinging upside down by your ankles. Alas, none of that is involved in a bungee workout (daredevils, you'll have to get your thrills elsewhere).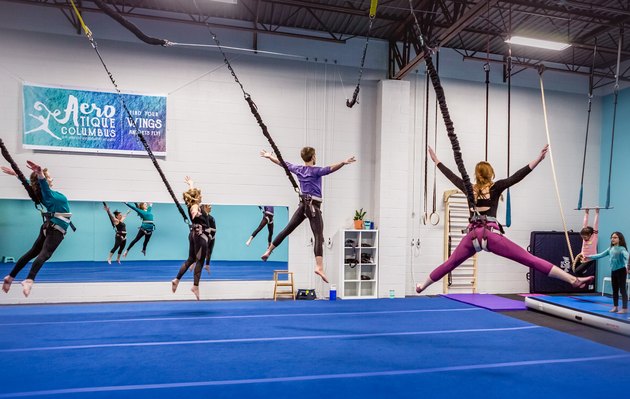 So what exactly is this new fitness craze? We talked to some instructors across the country — including Amanda Paige, owner of Tough Lotus in Chandler, Arizona and the first instructor in America to become certified in bungee fitness — to find out what it is and why you should consider giving it a try.
What Is Bungee Fitness?
"Bungee fitness is a fun alternative to traditional workouts," says Summer Vyne, owner of Bittersweet Studios in Jacksonville, Florida. "You are wearing a harness attached to bungee cords that will provide assistance and resistance throughout the class. The harness goes around your waist and legs to keep you secure and comfortable throughout the workout."
Thanks to the harness and bungee, you can expect a low-impact workout without a compromise in intensity. Bungee fitness classes work the entire body with a combination of cardio and strength moves.
"A standard class is 70 percent cardio and 30 percent strength training and includes lunges, squats, push-ups and loads of jumping," says Christine Longe, founder of The Aviary, which has two locations in Minnesota.
This out-of-the-box workout originated in Thailand. Stories to Tales Theatre, a Bangkok-based fitness studio, claims to be the first to hold classes for the workout, and it's also here where Amanda Paige trained in the method. After seeing a video of the workout, the former Broadway dancer eventually made her way to Thailand, logging in 132 hours of training.
In 2017, a video from Paige's fitness studio in Arizona went viral on Facebook (it has racked up more than 46 million views and counting) of students jumping, bounding and diving their way through a workout. This video of a class from Tough Lotus propelled bungee fitness into the mainstream, with studios across the country jumping at the opportunity to offer such a unique class. Paige, now a master trainer in bungee fitness, has since trained others in bungee fitness, helping the phenomenon grow in the States.
Benefits of Bungee Fitness
"The primary benefit is increasing heart rate and endurance, building muscle and burning calories," says Longe. And the large variety of moves you can do with the assistance of the bungee gives you a full-body workout: expect to work your core, legs, arms and back.
If you are a first-timer or do not regularly work out, don't feel deterred. "This workout is very accessible to all different ages and body types and can get people moving in a new and different way," says Lyra Gray, owner of Aerotique Columbus based in Columbus, Ohio.
Even if you've suffered workout injuries in the past — such as knee or ankle injuries from running — you may find that bungee allows for a cardio workout without the constant pounding that could flare up unstable joints or old injuries.
"People that have knee, hip or other body issues, can find a lot of benefits from the low-impact nature of bungee fitness. Additionally, for people who want more cardio in their fitness routine, but don't care for treadmills, jogging or other activities, bungee can be a wonderful alternative."
The bonus? Because it's so unique, it's a great way to either reignite your love of working out without it feeling like a huge effort or step out of your comfort zone and tackle a new challenge.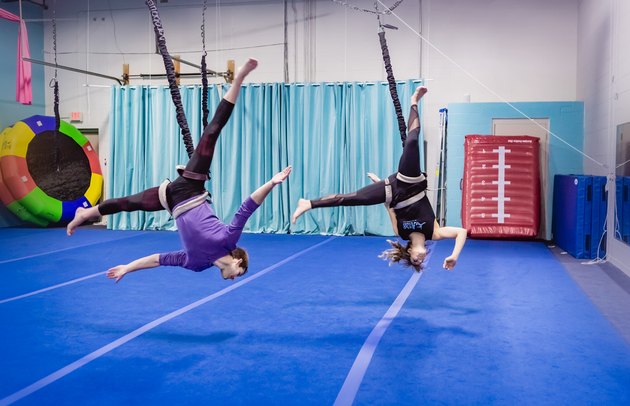 What to Expect in a Bungee Workout Class
The first few times you enter the studio, expect for there to be a learning curve. Classes do require trust in the bungee system — so some studios offer an introduction class in order for you to get comfortable with the equipment.
"I require every new client to attend my Bungee Basics class," says Tonya Mecum, owner of Total Movement Fitness in Broomfield, Colorado. "Each person has a separate set-up based on their height and weight. There is definitely a learning curve when attempting to do some basic body-weight moves while strapped into the harness, and each client learns the fundamental exercises of which our classes are built upon."
As Mecum explains, the harness and system is somewhat customizable based on the participant's height and weight. They'll adjust the harness to fit your body, but even then, Longe recommends mentally preparing to wear the equipment for the entire length of the class.
Because the harness can be a bit daunting at first, Longe says in a typical class the first five minutes is spent beneath the bungee line getting people used to the resistance and equipment.
After the familiarization period, the workout begins with a series of strength moves — such as lunges, squats and push-ups — using more and more resistance as the workout moves along. The last 30 minutes are pure cardio, and you can expect to run, leap and dive your way around the room.
It may feel a bit uncomfortable during the first class as your hips and body get used to wearing the harness, so in addition to bringing a water bottle and wearing workout apparel, Longe recommends wearing bike shorts over leggings or a second pair of leggings to reduce the sensation of the harness your first few times with the equipment.
"It's hard to prepare physically for a bungee class because there is truly nothing like it," says Paige. "A squat doesn't feel like a squat and a lunge doesn't feel like a lunge; it will all feel extremely new and unique the first time. You just have to come with an open mind and ready to laugh and sweat!"
Find a Bungee Workout Class Near You
As the workout continues to gain popularity across the country, more and more studios are able to offer it. Typically, studios that already offer aerial yoga classes are able to offer bungee fitness because the harness system is easily attachable to their ceilings. Here is a fraction of the studios currently offering the fitness phenomenon:
Don't see your city or state listed here? A quick online search or apps such as the MINDBODY app might be of help.