Planning a getaway? Traveling is all about relaxing and enjoying time with your loved ones. But while you're out having the best time, we know you want to look and feel your best and most confident. Today we're sharing our top tips for staying fit and sticking to your healthy lifestyle while on vacay. Safe travels!
Stay Hydrated
Drink up. It's essential to sip on water when you're flying in order to keep your skin hydrated and glowing and your metabolism revved. At Tone It Up, we like to pack our own water bottles so we can keep refilling them throughout the day. Once you land, stay on top of your water intake. If your vacay drink of choice is a cocktail, aim to have a glass of water between each drink. And remember, water is your best friend when you're traveling. It will make you feel so refreshed and energized.
BYO Snacks
Airports and rest stops are packed with sugary and salty food options. To avoid those pitfalls, pack your own healthy and delicious snacks to stay fueled. Our favorite clean and slimming on-the-go snacks are our plant-based, gluten-free Tone It Up Protein Bars and Tone It Up Bites, homemade trail mix, kale chips and healthy mini muffins (made with our clean Tone It Up Protein). We love these snickerdoodle muffins. All of these healthy snacks are easy and convenient to pack into any carry-on.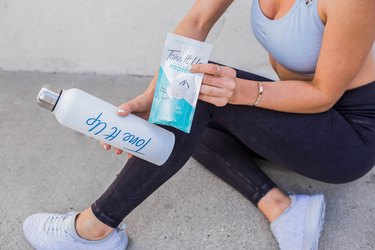 Go Explore
As soon as we land, we love to explore our new destination by taking a long walk. This is the perfect opportunity to get your body moving, explore a new place and take in all the amazing scenery. Bonus points? It also helps beat jet lag.
No Gym? No Problem
We created the Studio Tone It Up app so you can get an amazing workout in anytime and anywhere. You can choose from tons of different workouts — weight training, HIIT, yoga, barre, dance cardio, sculpt and many more. We get our sweat sesh done in our hotel room or gym and even outside. You can start a free seven-day trial of the Studio here.
What Do YOU Think?
Do you try to maintain a healthy lifestyle while vacationing? What are some of your favorite tricks to do so? Let us know in the comments section.