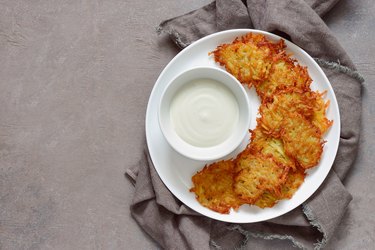 Holidays are a time to indulge in the name of family gatherings and grandma's cooking. But veering from your keto diet even just for a day can make you feel tired and sluggish — not to mention undo weeks of hard work converting to the fat-burning machine you've become.
The good news is the main ingredient being celebrated during Hanukkah is oil, which has the green light on the keto diet says Beth Warren, RDN, author of Secrets of a Kosher Girl. (Just make sure it's not a hydrogenated oil.) That means you can still create a lot of the customary Hanukkah foods — you'll just need some keto-approved substitutes for all the white flour and potatoes used in the kitchen.
And while the traditionalists at the table might put up a fight against changing Bubbe's recipes, a lot of the keto-friendly alternatives are actually going to be healthier for everyone since we're swapping out the refined carbs and adding nutrient-dense vegetables, points out New York-based registered dietician, Kara Landau, founder of Uplift Food. Continue reading for six low-carb recipes to celebrate Hanukkah without breaking your ketogenic diet.
Beef Brisket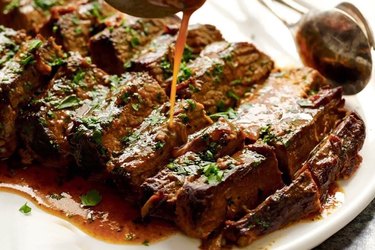 Luckily, the centerpiece of the Hanukkah menu is already keto-friendly. "Beef brisket is naturally low in carbs, so you won't need to shy away from this main," says Laura Donnelly, a LA-based nutritional therapy practitioner who specializes in low-carb diets . Make the holiday less hectic by cooking the brisket in a crock pot, like in this recipe for savory, 8-hour slow cooker brisket from Tori Avey.
Vegetable Latkes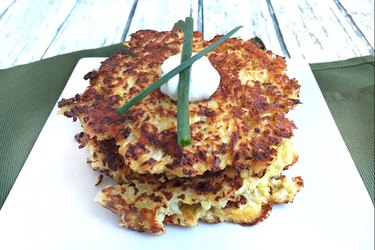 "Latkes are usually made with potato, onion, flour, and egg, but the flour can simply be omitted, and the potato swapped with a low-carb veggie alternative such as cauliflower rice, shaved zucchini, or Daikon radish," says Donnelly.
Plus, these changes will boost the nutritional value of the dish while reducing your overall calorie count. Donnelly shares that Daikon radish and zucchini are both high in vitamin C which supports immune function and facilitates digestion — something you definitely want when you're chowing down on a hearty holiday meal.
Just be sure to squeeze out excess water with a cheesecloth or paper towel so they don't get soggy, since all these vegetables are more moist than potatoes, Donnelly adds.
Almond Flour Rugelach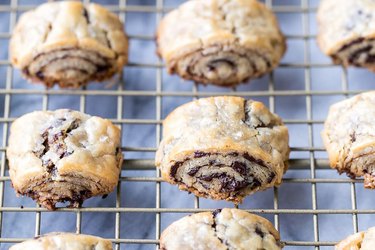 Sufganyot — the traditional fried, jelly-filled donut — are hard to make keto (and still tasty) considering you'd have to omit the sugar and switch out the sweet filling.
Instead, focus your efforts on another sweet Hanukkah favorite: rugelach. It's an easy swap to make the base an almond or coconut meal, and switching out jam for nut butter or homemade, higher-fat chocolate spread filling, says Landau.
Dark Chocolate Gelt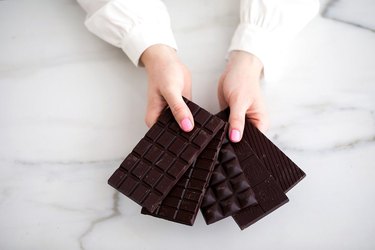 They may be meant for kids, but we all know it's the parents who eat at least half the bag of chocolate gelt. The chocolate coins you buy from a store might actually be keto-friendly if they're dark chocolate — but most companies don't disclose what percentage cacao they use, Warren says.
Luckily, gelt is super easy to make at home — and the only swap you really need is to make sure your chocolate is at least 85% cacao for optimal fat and minimal carbs, she says.
This easy recipe from Amy Kritzer at What Jew Wanna Eat will teach you how to temper chocolate — which is basically all you need to know. But for the seriously crafty, Kritzer goes through how to pour the geld into fun molds, add edible glitter and, of course, wrap the coins in candy foil so they look like the real thing.
Low-Carb Matzo Balls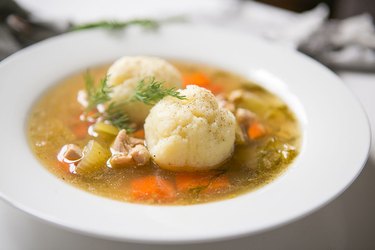 Homemade chicken soup is likely the first thing that comes to mind when you think about your mom's cooking, so it's a good thing Landau reassures it's really easy to turn the family recipe keto. "The broth is already suitable and low-carb, and considering the fat content of a matzo ball, making the recipe keto-friendly is as simple as switching out the matzo meal for a grain-free alternative such as almond meal and psyllium husk," she explains.
This recipe from Primal Palate uses a gluten-free matzo ball mix that'll deliver less than 4 carbs per serving, plus a flavorful and nutrient-rich bone broth that'll have you slurping to the last spoonful.
Spaghetti Squash Kugel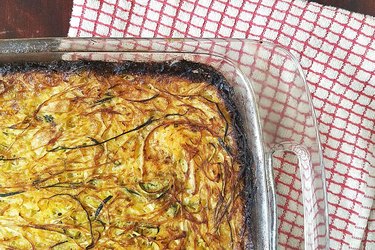 This traditional side dish is another that can be easily "ketofied" by swapping out the egg noodles for a low-carb veggie, says Donnelly. Trading starchy carbohydrates for nutrient-dense vegetables increases vitamin and mineral content while also stabilizing blood sugar and eliminating a sugar crash later, she adds.
If savory is your jam, Donnelly recommends using cooked cabbage. But spaghetti squash, with its natural nutty and sweet flavor, is a great swap for the well-loved sweet version. This recipe from Moms and Crafters uses spiralized zucchini and spaghetti squash together, giving you a boost of B vitamins and minerals like potassium. If you like your kugel extra sweet, Donnelly recommends swapping the traditional sugar or dried fruit for natural, sugar-free, carb-free sweeteners like stevia, monk fruit or erythritol.