Ketogenic diets like the popular Atkins diet cause rapid weight loss by sending the body into a condition known as ketosis. Unfortunately, they may also lead to health problems, including insomnia or poor quality sleep. The relationship between ketosis and insomnia is not fully understood, since much of the evidence for the link is anecdotal, but a better understanding of ketogenic diets and healthy sleep may help you make the right decisions about your weight-loss plan. Speak with your doctor if your insomnia is chronic, and before starting any weight-loss regimen.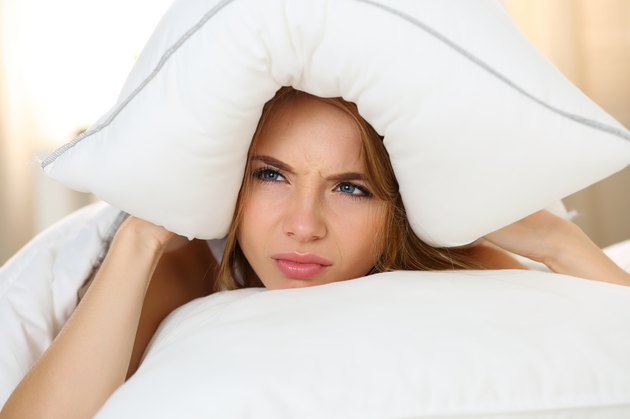 How Ketogenic Diets Work
A ketogenic diet is high in fat and low in carbohydrates and protein. A healthy body burns carbohydrates for energy, so if no dietary carbohydrates are present, it turns to the energy stores glycogen and fat, leading to rapid weight loss. When fat tissues break down, carbon fragments called ketones are released into the blood, causing ketosis. Weight loss can be rapid in the beginning, which may cause the often-reported sense of euphoria and unusually high energy. This may contribute to sleep problems.
Insomnia
Insomnia is a difficulty falling asleep or staying asleep, or a pattern of chronically poor sleep. The condition can be caused by mental states like anxiety or depression, substance abuse, hormonal or lifestyle changes and some medications or illnesses. Dietary factors like caffeine or other stimulants, or changes in diet, can also play a part. Insomnia can often be treated with lifestyle changes like stress reduction, exercise, and quitting caffeine, tobacco and alcohol consumption. Alternative treatments like acupuncture and massage may be helpful. If you suffer from insomnia, see your doctor to rule out any underlying issues.
Carbohydrates, Ketosis and Sleep
Carbohydrates are often known as "comfort foods" because of their soothing effects on the body. Whole-grain carbohydrates provide the body with a steady supply of glucose to keep energy constant, but they also improve entry of the amino acid L-tryptophan into the brain. L-tryptophan contributes to the production of serotonin, which calms the body and helps you sleep. Since ketogenic diets eliminate carbohydrates, this dietary source of L-tryptophan is also eliminated. L-tryptophan supplements have been shown to help some cases of insomnia. Speak with your doctor about whether they might be right for you.
Other Risks of Ketogenic Diets
Ketogenic diets offer quick but temporary results, and along with insomnia, can cause such negative side effects as kidney stones, constipation, electrolyte imbalance, cholesterol problems and long-term liver damage. Many participants in ketogenic diet plans report decreased vigor and dehydration. In a clinical trial published in the "American Journal of Clinical Nutrition," subjects on ketogenic and non-ketogenic diets lost roughly the same amount of weight and showed the same level of improvement in insulin function. The American Medical Association does not recommend ketogenic diets for safe weight loss.