At 38, Kim Kardashian is undeniably in the best shape of her life. Over the last year or so she has seriously firmed up her entire figure — including her bodacious backside — but not without putting in a lot of blood, sweat and tears at the gym.
The "Keeping Up with the Kardashians" star has attributed her super strong body and tiny waist to bodybuilder trainer Melissa Alcantara, who trains with her almost every single day. In case you are curious what specific exercises are responsible for the mother-of-three's perfectly shaped booty, she decided to fill us in by sharing an Instagram story of her exact workout.
"You guys, we're going so hard today," Kardashian can be heard saying in the background while filming Alcantara, flaunting some seriously impressive abs in a cropped tube top and green leggings. Instead of taking center stage, the reality star allowed her fitness pro to do the honors by demonstrating each move for her fans.
(Of course we do get a peak of Kardashian in the mirror's reflection, decked out in all-black workout gear and rocking weightlifting gloves!) Alcantara starts off by explaining that when it comes to shoulders, abs and cardio workouts, "assisted, continuous reps are better than no reps at all."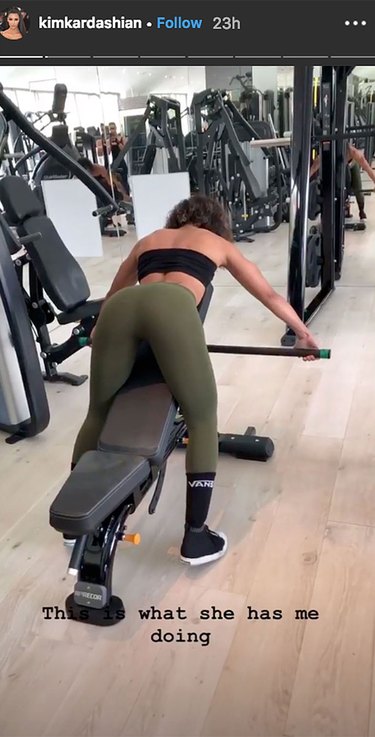 In the next clip, captioned "This is what she has me doing," Alcantara, with her chest pressed against a weight bench and her toned booty in the air, demonstrates one of the star's upper body moves — 45-degree incline shoulder rows — executed in perfect form with a weight bar. "Make sure you go over the bench," she advises.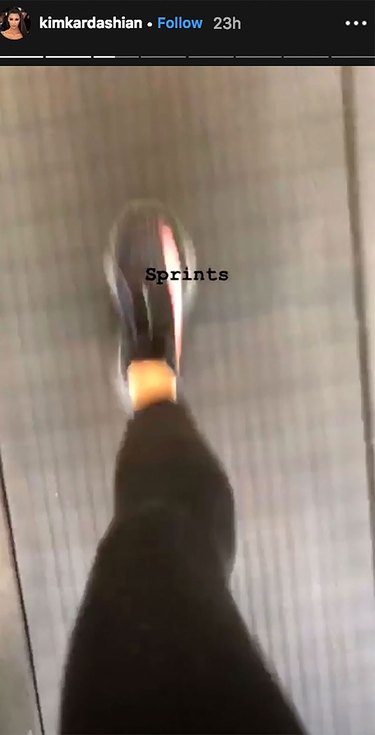 In between strength training exercises, Kardashian sprints on the treadmill — but not for very long. Alcantara recently revealed to Women's Health that she keeps Kim's cardio to a minimum — 85 percent of Kim's training is weight-oriented, with just 15 percent devoted to cardio. While many people use cardio as their go-to workout to lose weight, strength training can be just as effective for fat loss, especially in the long run. Adding short bursts of cardio in between strength training sets can accelerate calorie burn and improve fat loss, so it isn't surprising that Alcantara has Kim doing short but grueling sprints.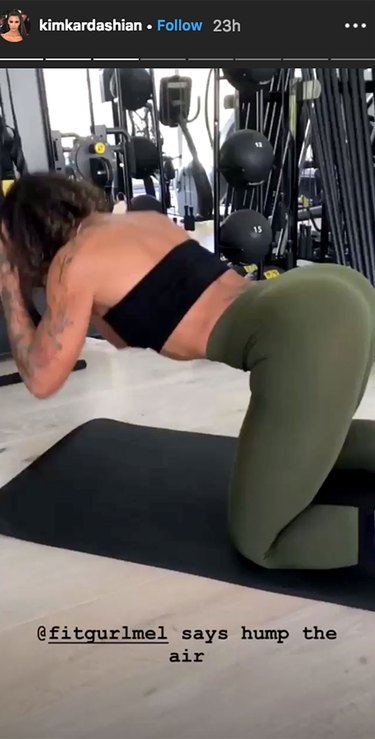 In the final clip of Kim's fitness segment, Alcantara demonstrates a gut and butt-busting move, which not only works the core, but also the glutes and booty. Kneeling on a mat, she holds onto cable weights. Then, folding in her head she basically does a cat/cow-like pose while pulling down on the weights, never letting her elbows hit the mat. "@fitgurlmel says hump the ground," Kardashian jokingly captioned the clip.
Kardashian recently revealed that she has been training with Alcantara since September 2017, and has dropped 20 pounds in the process. "I work out about an hour-and-a-half every single day, heavy weights," she told E! News, according to People. "I've lost 20 pounds and I'm really proud of that. I was almost 140 forever and now I'm like 116 and it just feels good," she continued. "I didn't see results right away, but when you stick with something and you're consistent, you will. So, I love it."
Alcantara revealed to WomensHealthMag.com that they divide their week up by body parts, alternating between leg and butt, chest and triceps, and back and biceps. Unsurprisingly, Karadashian's favorite is butt and legs day. Kim loves to work the back of her legs — the hamstrings and the booty!" says Alcantara. Plus, "we'll have one day entirely dedicated to abs," she added.
Kim also maintains a super strict diet, and follows an Atkins-esque diet by eating lots of protein, high-fiber carbs and healthy fats with every meal. She even maintains that adding good carbohydrates — like veggies, whole grains and sweet potatoes — is partially responsible for her slimmed-down figure.
Before she started training with Alcantara, she was trying to eat little-to-no carbs, but the body builder advised her to incorporate them into her diet. "In just a few weeks, I see my body tightening up. I've shrunk and come into place," said on "The View."