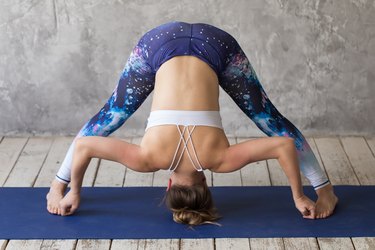 Have you seen Sandra Bullock lately? The actress hit the red carpet premiere of her popular Netflix movie "Bird Box" looking freaking phenomenal, to say the least.
"I'm sleeping in a container that is devoid of outside carcinogens, that helps lift what you don't have and — come on, please!" Bullock joked in a recent interview with Entertainment Tonight, when asked about her secret to longevity.
In all seriousness, in case you are curious just how someone manages to make fifty-something resemble thirty-something, we have rounded up all of the Oscar winner's health and wellness tips and tricks.
Sandra Bullock Workout
According to Bullock's "Bird Box" costar, the actress makes fitness a priority. "The truth is, before set everyday, she would show up in her workout [gear]," Trevante Rhodes told ET. "So she works out every day."
Additionally Bullock revealed to InStyle that she does Pilates, kickboxing, weight training. "When I'm in Austin, I run or ride a bike," she explained. "If I can work out every day, I will." However, she does admit that there are times she will take a few weeks off. "I'm, like, you know what? I talk enough to burn calories," she jokes.
How much timed does she spend getting her fitness on? Her trainer, Simone De La Rue, previously told RadarOnline that she puts in an hour a day, six times a week. "She is extremely motivated and driven," she explained.
Her Go-To Method
Bullock has been working out with De La Rue, creator of the Body By Simone technique, for many years. The method involves dance cardio, yoga, and Pilates and is pretty effective in toning the entire body. "In each one-hour [Body By Simone] session, we do a full-body workout," she previously told Women's Health.
"There's always cardio like dance, jump roping or rebounding. Then we alternate between 10-minute intervals of high-intensity cardio and strength training moves that focus on different body parts."
She Uses Resistance Bands
De La Rue also likes using resistance bands, previously explaining to LIVESTRONG that they are a great way to tone muscles with minimal equipment. Her favorite move? "I love band curlers because they sculpt lean arms and shoulders," she says.
Stand on a resistance band holding each end with palms facing you.
Curl your hands toward your shoulders, keeping your elbows close to your body.
Slowly lower back to start, resisting the pull of the band.
Do at least 20 reps.
Plank-Like Move
Bullock often wears off-the-shoulder and strapless gowns, flaunting her seriously stunning shoulders. De La Rue maintains that one move — the One-Arm Superwoman Press — is responsible for her gorgeous upper body. "It targets the muscles in the shoulders along with those in the upper back and chest, for long, lean definition," she told Health.
Starting in plank position with your hands directly below your shoulders, keep your core tight and your body in a straight line.
Lift your right arm and left leg so they are parallel with the floor.
Hold this pose for 3 seconds and then return to plank.
Next, lower your chest toward the ground to perform a push-up. This is one rep. Repeat the whole process with the opposite arm and leg.
Work up to two sets of 10 reps, making sure to rest 30 to 60 seconds in-between sets. Do the routine five times a week.
Sandra Bullock Diet
Sandra Bullock's health is due in part to her diet revealed to InStyle. "Like last night I had brown rice and black beans and some steamed vegetables," she explained. She is all about eating fresh food in small portions.
Her nutritionist, Cynthia Pasquella, revealed that she is a fan of pre-packaged meals from a food delivery service. And, according to Shape, at one time she was just one of the many stars who followed The Zone diet, which promotes eating foods that don't cause large spikes in your blood sugar levels.
Bullock and Her Cheat Day
While she eats healthy most of the time, she sets aside one day a week to indulge. "I start Friday night and I end Saturday night," she told InStyle about her set-aside splurge day. The star will make lists of what she is going to eat on her cheat days to keep her motivated through the week. "I love sweets, like Viennese pastry, raw cookie dough, or a nice bowl of Lucky Charms with milk that I eat in bed watching SNL," she explained. "That's heaven right there!"
While many nutrition experts shy away from using the phrase "cheat day," they do admit it can help make eating healthy most of the time a little bit easier. An added bonus? It can even help you lose weight according to the American Council on Exercise.
Jim White, registered dietitian and spokesperson for the American Dietetic Association, previously explained to LIVESTRONG that after several days of consuming fewer calories than you burn, splurging can actually speed your metabolism while stocking up glycogen for tomorrow's workout. However, "it's not a license to binge," he warns.
So there you have it! The Bullock regimen is pretty doable, no?