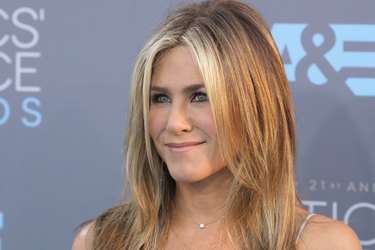 Jennifer Aniston just turned 50, and doesn't look a day older than she did twenty years ago. So just what is the secret to her longevity? According to the star, it isn't that complicated. "There are women who've hit 50 who are stunners, like shocking. We just take better care of ourselves," she revealed to Harper's Bazaar.
Healthy living isn't just another fad for Aniston — it's a way of life. While other stars are off doing crash diets and cleanses, the former "Friends" actress walks-the-walk 365 days a year. "I don't let eating habits get out of control where I need a reset button," she revealed to Yahoo Food. "My general philosophy is to eat healthy. It's pretty clear: eat as much organic fruits and veggies as you can, keep sugar [intake] low, drink tons and tons of water, and get good sleep."
Here is everything Jennifer Aniston eats in a day — as well as all of her other methods — of making 50 look like 30.
Breakfast
Aniston starts her day with a super nutritious but filling breakfast. The star revealed to Bon Appétit that she has three go-to meals in the morning. Sometimes, she fuels up with a smoothie made with bananas, cherries, protein powder, almonds, cacao powder, almond milk and all sorts of other "weird antioxidant stuff." Her second breakfast of choice is eggs over-easy.
"I crack them into a bowl and I'll add a white or two into that and pour it all into the pan to get more protein, sans too much yolk age," she described. "I'll have that with avocado toast sprinkled with olive oil and salt and pepper." Her final option is oatmeal, "with egg whites whipped into it right at the end," which she explains gives you an added dose of lean protein. Genius, right?
She may also drink a single cup of coffee or warm lemon water.
Lunch
Aniston revealed to Harper's Bazaar that an average lunch is "a salad with protein" or a chicken burger wrapped in lettuce. The star is famously consistent with her diet. Courteney Cox recently revealed that the two ate the same exact "Jennifer salad" every day for 10 years — a twist on a Cobb, with garbanzo beans added, and turkey bacon instead of regular bacon.
These days, her ideal salad is a little bit different. Last year on the Living Proof Instagram account, Aniston shared a snap of her "perfect salad' consisting of bulgar, cucumbers, parsley, mint, red onion, garbanzo beans, feta cheese and pistachios.
Snacks
A huge fan of Mexican food, it's no surprise Aniston loves munching on tortilla chips, "homemade, really good, fluffy-crispy tortilla chips," with guacamole and salsa, she told Bon Appétit. Another one of her favorite snacks is frozen grapes. "I like the red ones—they're really easy and delicious. They give you that frozen crunch," she told Women's Health .
And, in an interview with Elle she revealed apple and almond butter or apple and some nuts also fill her up in between meals.
Dinner
While Aniston told Elle that her dinners are "probably the same" as lunch for the most part, she does indulge on occasion.
Aniston revealed to Bon Appétit that her signature recipe is lean carbonara, a healthier take on the rich, high-calorie classic. "On the pasta, I put eggs, cheese, turkey bacon, and a little sautéed red onion and garlic," she explains. "It's simple—no cream, no butter, no oil, no nothing. Sometimes I'll add a little pasta water if needed." Um, yum!
When entertaining, she might whip up a vegetable lasagna, replacing the pasta noodles with veggies. "You have zucchini, eggplant that acts as a paste, and you layer it with different cheeses and put it in the oven," she told Yahoo Food.
Hydration
Aniston is a huge proponent of drinking a lot of water — 100 ounces per day — but she also has another trick to keeping her skin and hair hydrated: royal jelly. "It's from beehives," she told Women's Health. "I got it in France, but you can get it anywhere. I noticed if you take a spoon of that a day, it helps." She also suggests eating really good fruits and vegetables, less fried food, healthy lean proteins and avoiding soda and alcohol — for the most part at least.
Alcohol
Aniston loves herself a good margarita, but she opts for a healthier version that the sugary original. "It's basically silver tequila with lime juice shaken and over rocks," she explained to InStyle. "And some people like a little Cointreau, some don't. It's a cleaner margarita. No sugar, no mixes, no agave. I don't like sweet drinks."
Exercise
Aniston explained to Women's Health that her exercise mantra is "variety is key." Why? "Mixing it up is always fun because that way you know you're excited, and it's muscle confusion. It keeps your body awake," she said. Some of her favorite ways to break a sweat include cycling, yoga and barre method. One workout you won't find her doing? "I'm not into boot camp, I don't need to do all of this—I just want to stay fit! (Laughs) I don't want to get yelled at—at all. Please stop yelling at me," she joked.
She revealed to Harper's Bazaar that she works out a whopping five days a week. She usually gets her workout over with in the morning and does "a 15-minute-quad thing followed by 15 on the elliptical, 15 Spinning, then 15 minutes of running. She also does portions of the "Body by Simone" DVD (from trainer Simone de la Rue) for floor work. "It's so freakin' hard, it's unbelievable," she admits.
Aniston also recently discovered boxing, telling InStyle that she loves it. "It's the longest workout I've actually stayed with consistently other than yoga," she confessed. "There's something about the mental aspect of boxing — the drills, your brain has to work, you're not just sitting on a bike. It's amazing." Additionally, she explains that it is "a great way to get aggression out."
Jennifer Aniston clearly knows the secret to longevity, and her devotion to healthy living is inspiring to all!