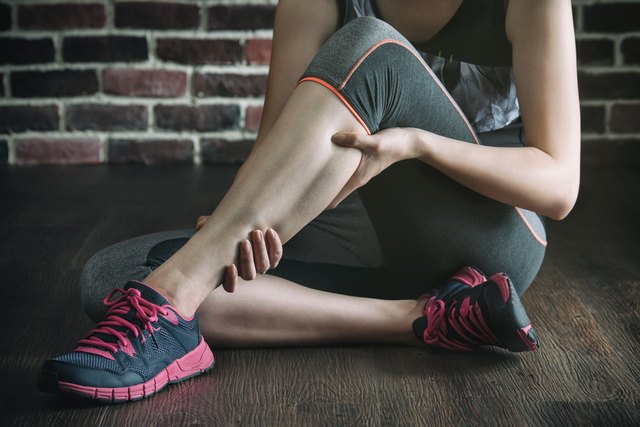 If you feel a tingling sensation in your legs after exercise, you may wonder if it's a cause for concern. Tingling feelings in the legs are usually caused by impingement of one or more nerves, such as by a muscle or tendon.
In most cases, it's nothing to worry about, but if the nerve circulation continues to worsen, tingling can progress to numbness and mobility may be affected. If the tingling occurs only after exercise, the cause is mostly musculoskeletal in origin and there's a lot you can do about it.
Here's a look at some of the possible causes and remedies.
Degenerative Disc Disease
It's not unusual for the vertebral disks that are the spine's natural shock absorbers to become damaged or slip out of place. When this happens, part of the disk or its gelatinous filling may press on the spinal cord or a root nerve, impinging on nerve circulation and causing tingling. This is known as degenerative disk disease.
Exercise may cause the damaged disk to shift position or rub against the nerves, causing a tingling sensation that subsides after the source of irritation is withdrawn.
Sometimes the vertebral discs that cushion the spine can slip out of place or become damaged, pressing on spinal chord and irritating the large nerves that down each leg from the spine to the foot. This is known as sciatica.
In more severe cases, it can manifest not just as tingling but pain — sometimes extreme — that radiates down the legs. Although surgery is sometimes required for cases involving pain and numbness, the American College of Physicians' most recent practice guidelines recommend much less invasive measures such as stretching, yoga and massage.
Muscle Tightness and Inflammation
Exercise can cause muscles to become inflamed or go into spasm. When this occurs, a muscle may swell or bunch up around a nerve, impeding circulation and causing a tingling sensation to run down one or both legs.
In particular, the large muscles below the waist, such as the piriformis and the gluteal muscles, can go into spasm and clamp down on the sciatic nerve. This is another cause of sciatica that exercise is likely to activate, particularly if you're running, doing squats or performing exercises that flex the lower back.
More extreme conditions like piriformis syndrome can cause excruciating pain when they put the squeeze on the large sciatic nerve.
Prevention and Care
If the tingling is mild and lasts only a little while after you exercise, you may not need to do anything as long as it doesn't bother you. However, if the tingling turns into numbness or pain, it's a good idea to see a doctor. Remember the importance of warming up before exercising; warm-ups are the ounce of prevention that help you avoid serious injury that could sideline you for weeks.
You may also benefit from doing stretches for sciatica that will help un-knot the large gluteal muscles that could be impinging on your sciatic nerve. You might also try doing stretches for piriformis syndrome, a condition in which that muscle is continually in spasm and impinging on the nerve.
If you've recently injured a muscle or are experiencing lower back pain along with the tingling, you might find heat and non-steroidal anti-inflammatory drugs (NSAIDS) such as ibuoprofen and naproxen helpful.