Muscle discomfort often occurs after weightlifting. Reduced mobility after strength training, however, may represent a problematic exercise program. For example, extremely sore muscles can interfere with your intended exercise frequency. With a better understanding of muscle physiology and exercise recovery, you can reduce the severity of future muscle soreness and maintain limb mobility.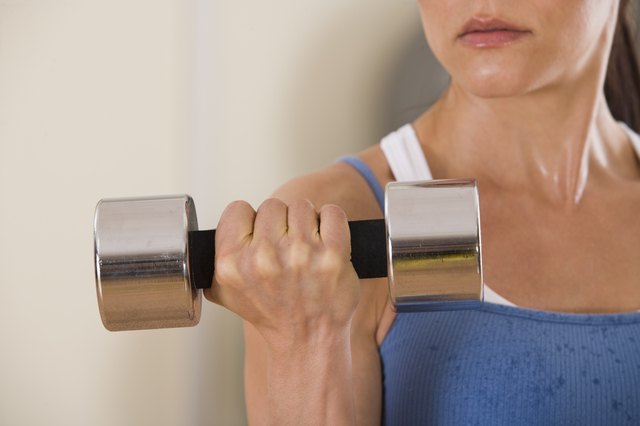 Weightlifting and Muscle Breakdown
Resistance training causes microscopic breakdown of activated muscle. According to the sliding filament theory of muscle contraction, muscle fibers pull against each other and overlap during movement, or contraction. During low-intensity actions, such as standing or casual walking, fibers slide back and forth easily. On the other hand, weightlifting requires greater effort and increases friction between working muscles. With increased intramuscular friction, features of your muscle fibers, known as actin and myosin, tear away from the outside of numerous muscle fibers.
Symptoms of Weightlifting Recovery
Weight-trained muscle must heal after a workout. Symptoms of the healing process -- known as DOMS, or delayed onset muscle soreness -- include reduced strength, swelling, tenderness and general discomfort. In some cases, swelling associated with DOMS can limit your range of motion at any joint, including your elbow joint. For example, after a difficult upper-body weightlifting session, you may feel pain reaching up while hooking your seat belt or relaxing your arm straight, at your side. This occurs as your bicep, located between your shoulder and inner-elbow, swells and places pressure on the connective tissue located on the outside of your muscle.
Exercise Intensity and Muscle Discomfort
Severity of post-exercise muscle swelling depends on weightlifting intensity and fitness level. Many novice weightlifters experience DOMS during their first months of training. Even a seasoned weightlifter may experiences DOMS after attempting an above-average weightlifting intensity. For example, increasing your lifting load or frequency of performance for a given exercise increases exercise intensity and subsequent likelihood for DOMS. In addition, performing multiple exercises for the same muscle -- such as three different variations of the bicep curl -- increases muscle breakdown and consequent healing and discomfort after exercise.
Treating Sore Muscles
Generally, even the most intense DOMS, resulting in decreased mobility, subsides within five to 10 days. Although you can stretch your affected muscles, you should not weight train sore or swollen muscles. Take the time to use DOMS symptoms as an assessment of your workout routine. For instance, decreased mobility will likely keep you out of the gym for many days. Moderating future workout intensity protects your muscles and enables uninterrupted training programs. As always, consult your healthcare provider before starting a weightlifting program.