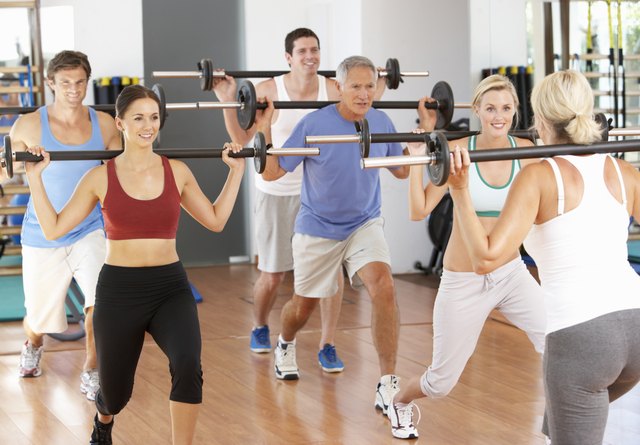 It's quite natural to experience some soreness after a workout, and this is even more true following the first day of an exercise program. You're working the muscles at a different intensity and workload than what they're used to, so it stands to reason that they feel somewhat sore or even tender after the activity. If, however, you're in constant pain, it could be an indication that you've pushed your body further than its current exercise capacity.
Soreness
Even if you're relatively new to exercise, you've probably heard someone talk about muscle burn. When you force the muscles to repeatedly contract and relax, you're causing stress within their fibers. Like any other form of stress or strain, the body responds in the form of pain. This pain, however, is more of a burning sensation that can lead to a little soreness a day or two after your workout, so it isn't usually a cause for alarm.
Fitness
Besides being new to the activity, the soreness is likely a result of your fitness level. If you're not accustomed to working out, your muscles are going to reach a point of fatigue at a much faster rate than someone who's more physically fit, so you're going to feel a little sore after exercising. The soreness could also be an indication that you've pushed yourself further than your fitness level. The next time out, lessen the intensity and duration to alleviate some of the discomfort you're feeling.
Recovery
While soreness or tenderness is often natural, your body is probably telling you that you need to take a day or two off before getting back to your workout. If you're working the muscles against resistance, like lifting weights or other weight-bearing activities, you need to take a break between workouts. For smaller muscle groups, such as those in the arms and lower legs, you usually need two days for recovery, whereas larger muscle groups tend to need three days for full recuperation.
Pain
If you're experiencing true pain, you may have pulled a muscle or tendon or even torn a ligament. In this situation, you'll need to rest and ice the affected body part as well as talk to a doctor. Medical professionals can best assess the severity of an injury and suggest the most appropriate form of treatment.